Nicole Peikert and Jarrett Weispfennig, originally of Osakis, have known each other for most of their lives, but it wasn't until the last month of high school that they saw each other in a new light. They are now planning a lifetime of having fun together.
"It's weird that we knew each other, but our circles didn't really connect until our senior year," said Nicole. "We started hanging out together and became really good friends."
"Our friend groups grew together about that time and we just hit it off," said Jarrett. "We started talking more and more."
After graduating, they both attended St. Cloud State for nursing.
"The first year we were dating was really fun. We are really similar people in a lot of ways," Nicole said. "We were getting to know each other and getting to know each other's families."
At one point, the couple looked at rings together, so getting engaged was on the radar for both of them.
Nicole said, "There has never been any shyness; that is a huge piece for both of us."
"We are really open with our communication and that's super important," said Jarrett.
While looking at rings, there was one in particular that Nicole had really liked. Jarrett went back to the jewelry store within a week to buy it. He paid it off as soon as he could, saving every extra dollar he could.
"Anything we do together is super fun," Jarrett said. "She completes me. It's always fun no matter what we're doing. I feel really comfortable – so I proposed."
The proposal happened during a trip to Gooseberry Falls State Park near Duluth. They had been to Duluth with Nicole's family and wanted to go back, to go hiking and camping.
When it came time to think about setting a date, they decided to get married after graduation. That would give them more time to save, more time to plan.  Their wedding date was set for August 8, 2020.
But COVID-19 interfered in their lives, in many ways. During their last semester at SCSU, their nursing capstones (similar to internships) were cut short.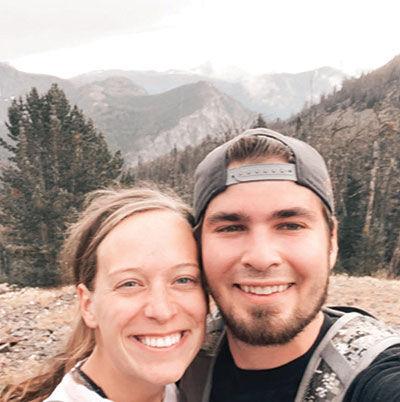 "We did one-third of them on-site, then had to do nursing models online," Jarrett said.
In June, they had to make the difficult decision to postpone their wedding.
"It had been really up in the air," said Jarrett. "But we wanted the ceremony and reception on the same day, and we also wanted to have at least 100 people there."
The new date was then set for April 30, 2021. Their reservation and deposit for Gathered Oaks in Alexandria was carried over to the new date.
They didn't want their original wedding date to just slip by, so they took a mini road trip to South Dakota in August 2020 and hiked up to 10,000 feet.
"We did that over the time our wedding was supposed to be. That way, we were still able to do something fun," said Nicole.
When they graduated in May, the job market was really tight so they each picked up more hours at the jobs they had then. In October, they both found nursing jobs. Jarrett works at St. Cloud Hospital and Nicole at Benton County Public Health in Foley.
"It was really hard at first to adjust, with Jarrett working shifts and me being full-time Monday through Friday, but we're getting into a rhythm," Nicole said. "We have date nights and are more intentional about our time together."
Now that the wedding is getting closer, plans are being fine-tuned. Jarrett's uncle is a pastor and will be marrying the couple.
Hidden in Nicole's bouquet will be a pair of dice in honor of her Grandpa Stan Chastek's memory.
"There will also be something in my stepdad Scott Thorfinnson's memory, but I don't know what yet," she said.  "Maybe something Western."
Nicole's mom designed all the flowers and bouquets. The ceremony will feature a wooden board with a cross on it and three strings fastened to the cross.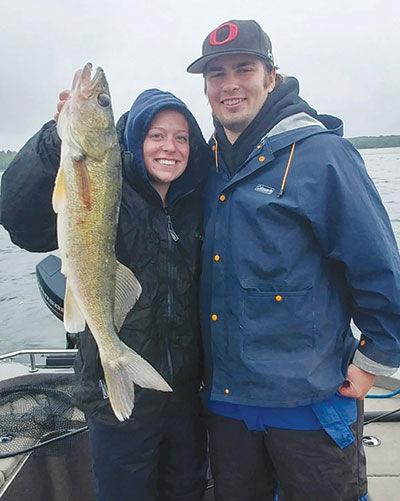 "We will braid the strings together at the ceremony," said Nicole.
She referenced the Bible verse from Ecclesiastes 4:12, "Though one may be overpowered, two can defend themselves. A cord of three strands is not quickly broken."
"God is really important in our lives," she said. "This is a cool symbol."
The caterer chosen for the wedding was to be Raaper's Eatery and Ale in Alexandria, which was destroyed in a fire in February 2020.
"But they are still catering for us. It's going to be a burger bar," Nicole said.
One thing they are not thinking much about is a honeymoon.
"The last year was terrible, and we don't have any PTO from our new jobs," said Nicole. "Maybe we'll have a weekend getaway."
In the midst of a tumultuous year with many big changes, Nicole and Jarrett have been steadied by their relationship and are looking forward to journeying through life together.
"The coolest part about us is that we agree on most of the hardest things in life. We have that support from each other," she said. "We're getting stronger the longer we're together. I'm really excited to do life with Jarrett."
"I want to spend the rest of my life together with Nicole; anything we do together is special," said Jarrett. "I want to raise a family with her. I want her in my life."