Bill Bayer will be the first to state, "I am not a mechanic." He has, however, used his mechanical knowledge and self-taught skills in body repair to restore vehicles at his farm place near Belgrade.
Bayer's career at Bayer Built in Belgrade spanned 33 years, beginning in dispatch, to his long-time position as a truck driver. He retired from Bayer Built 4 years ago, which has allowed him more time for driving school bus for the BBE District, as well as vehicle restoration.
His pride and joy is a 1965 Ford Galaxie 500 which he has put much time and resources into. Despite its collector plates, Bayer says it is not what he considers a "collectible" car. It is not a sports car or even a rare one. It simply is meaningful to him.
At the age of 17, Bayer, with his father, went to a dealership in Willmar for the purpose of buying a truck. Bayer had hinted that he would like to buy a car. As they were looking around, none other than a blue Ford Galaxie with a white top drove by.
Bayer laughs and points out, "They staged the whole thing."
Bayer drove that car for two years, and then sold it to his brother.
About 16 years ago, Bayer happened to notice a 1965 Galaxie for sale, with Minnesota plates but no rust, so he knew it was not from Minnesota. It was blue with a white vinyl top. After waiting a couple weeks, he called on it and learned the owner used it for commuting to the Cities, but it was from Bend, Oregon. He purchased the car for $2,100.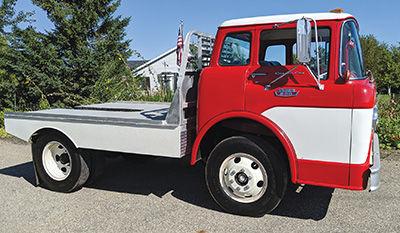 Bayer stripped and gutted the car, taking it down to the metal. He removed the vinyl top, and gave it a whole new interior. He bought another Galaxie for parts from Mora. He found seats at a swap meet in St. Paul. The headliner was replaced, which he notes was his biggest challenge. The bumpers were re-chromed at a plant in Brainerd. It was painted Ford's original color by Noah Bayer, who he states is "one of the best painters around." Noah works for Bayer Truck & Equipment of Elrosa .
The Galaxie, with 43,000 miles, has fender skirts, and chrome dish rims with baby moon hubcaps. Bayer drives this car often, at least twice weekly. He's driven it to several car shows over the summer, including one in Sunburg, and classic car nights at local A&W restaurants, often joined by his wife, Arlene, and they enjoy the family-like relationships with other classic car owners.
Bayer also enjoys driving another vehicle he has fixed up - a 1965 Ford C-600. Just recently, he drove it to haul a tractor to his son in Monticello. It only goes 50-55 mph, but Bayer states it is a comfortable vehicle, one he enjoys for scenic drives.
The C-600 came from Norfolk, and was used during combining season. It was beat up, and had a grain box on. Bayer took off the grain box and found a flat bed with a ball hitch for it. He did the body work and primed it, while his son's friend painted it. He also welded on a lip to hide the frame, and painted on a bed liner. The truck has 44,000 miles, and required very little mechanical work. Bayer plans to put the truck up for sale next spring.
He appreciates the positive feedback when he is out and about driving the C-600. "People will give a thumbs up," which he enjoys.
Bayer notes it is much easier today to find parts for vehicles. "You can buy almost any part for any vehicle online," but states that parts usually need a little body work due to some damage from shipping. "Be careful of parts. Some from China may not match 100%."
To keep his vehicles in good shape over the winter months, he starts them every two weeks, which keeps the seals lubricated. He rotates between drive and park for about 15 minutes.
To deter mice, Bounce dryer sheets are effective. He places them under the hood, in the trunk, under the seats, and basically spread around the car. Mice don't like the smell.
Bayer has a few future projects. There is a 1956 F-100 in his shop which he hopes to complete by next spring. It will definitely be a keeper, and he states it's "very collectible." Also in his possession is a 1960 F-500 2-ton flatbed "Rat Rod" truck he was given. Although it had sat outside since 1983, with a little engine clean-up, Bayer was surprised when it fired right up.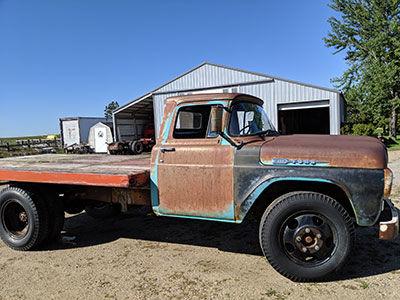 He also was given a 1946 Chevrolet with a one-ton frame, which would fit nicely on an ambulance frame Bayer has. He does point out he is partial to Fords, but that won't stop him from restoring the old Chevy.
Bayer likes to jump around on projects. He will start another while thinking of ideas for the previous one. Bayer never has a lack of projects, however. At their farm place, he and Arlene also have 8 horses, and they enjoy trail riding locally and at Custer, SD.
"I like to tinker, and I like to take things apart. The putting things back together is more of a challenge." says Bayer, who finds that taking pictures helps him keep track. "I will never be bored," Bayer said with a smile.