Only a few years ago, conversations began between local Paynesville school representatives, the Paynesville Area Community Foundation and local township and city representatives about how to work together to create richer opportunities for the community's youth. The ideas generated turned into action as partnerships were formed between the Paynesville School District and the community.
"It's amazing how our small community has come together to do big things," said Michelle Schmitz, co-chair of the Paynesville Area Community Foundation (PACF).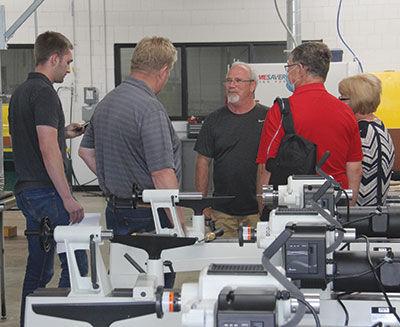 Several different committees worked with the local school board and the PACF to raise the public's awareness ahead of the annual town gala. Working together, these groups raised close to $710,000 for career and technical education (CTE) programming.
For a relatively small town of approximately 2,500 people, this was quite an accomplishment.
"This was an enormously successful campaign to address emerging employment needs as well as providing new opportunities for local students to live, work and grow locally," Schmitz said.
Of the amount raised, $110,000 was used to kick-start the program to fund necessary equipment, building renovation and initial teaching staff. The rest was seed money for a CTE endowment fund to help carry the program into the foreseeable future. The goal is to bring the endowment to $1 million.
"By forming a partnership between school and community, we're bringing expertise to the school and we're also making students aware of opportunities right here in the community," said Maggie Utsch, co-chair of PACF. "In addition to preparing our students academically and socially, we want to give a clear path to those students going straight to work after high school."
In 2019, 65.7% of Paynesville voters approved a $16.09 million referendum to build and renovate a new CTE facility and community center, now named the Paynesville Area Community Center (PACC).
The efforts of the foundation and the community culminated in a grand ribbon-cutting celebration and open house, Aug. 12, at the new facility. It was an event designed to celebrate philanthropy and all of the community support that made the project possible.
Tours of the new PACC and CTE space were given to all who attended, and teachers, staff and students were available to answer questions.
"It was an emotional moment that was years in the making," Utsch said. "It genuinely felt like an event that belonged to the whole community."
The school's Innovation Center – which is a part of the CTE programming – includes 20 learning stations for students with tools such as laser engravers, CNC routers, 3D and vinyl printers, lathe equipment, virtual welders, injection molders and more.
The new community center houses four basketball courts, four volleyball courts, a two-lane walking track, numerous pickleball courts, a multi-purpose fitness center, a wrestling room, and Community Education offices.
"Paynesville Area Schools is very grateful for community support in being able to lead the way in innovation and 21st-Century learning," said Schmitz. "It's amazing, all the incredible things taking place, and we were so excited for the community to see how their support has made an impact. Between the community foundation fundraising and the help of the taxpayers believing in the hope of the future by passing the referendum, we have only just begun."
Speaking on behalf of the entire community, Schmitz added, "We've created some amazing things, but we won't stop there. We need to continue to be innovative to stay relevant."