Kyle and Amber Lieser were in the midst of planning a large traditional church wedding when pandemic restrictions were put in place a year ago. The 500 guests were no longer a possibility. Three nights of celebrations would not happen. No bridal shower. No bachelor or bachelorette parties. That was all an extreme disappointment, but a pandemic was not going to keep them from getting married.
"It was the first weekend of the stay-at-home order. We put together a wedding with 30 guests and held it in our garage," said Amber. "One of Kyle's friends became an ordained minister two days before the wedding so he could marry us. It was the bridal party and our immediate families. All of our siblings were in the wedding."
One of the unique things about their wedding is the vows that Amber wrote. Kyle was content with whatever she came up with, and didn't look them over before the ceremony. He was surprised to find himself hearing Amber promise to let him "watch my bobber for the rest of our lives."
"He's always telling me to 'watch your own bobber,' so I wanted to include that," she said.
Kyle is from Spring Hill and graduated from Belgrade-Brooten-Elrosa in 2008. Amber grew up in New Munich and graduated from Melrose High School in 2013. They didn't meet until January 2017, when Amber and some friends stopped by the Greenwald Pub for some burgers while Kyle was working.
"He was very friendly and I thought he was cute," she said. "I found out that the pub was his second job. He was a computer programmer by day."
Their first date was to one of Kyle's friend's wedding. They continued getting to know one another better.
"After I saw him with his nieces, I knew he would be a really good dad," Amber said. "He's very considerate. He's also very level-headed. Since I'm a little dramatic sometimes, that levels things out."
When Kyle planned his proposal of marriage, Amber was completely taken by surprise.
It was February 2019, and the couple was in Florida with friends, something they do every year. Kyle took Amanda out for a fancy dinner, where she was intrigued by an ice bar. Kyle wanted to leave early, but when they returned to the house they were renting, Amber blew right past all the proposal things that Kyle had set up.
"Our friends were outside by the pool and I wanted to tell them about the ice bar. He had to pull me back so he could point out the 'Will you marry me?' sign that was floating in the pool," she said. "I had no idea. I didn't really realize he was proposing until he got down on one knee."
They chose a date in May 2020. The timing would be perfect. Amber would be almost done with her nurse practitioner studies at that point.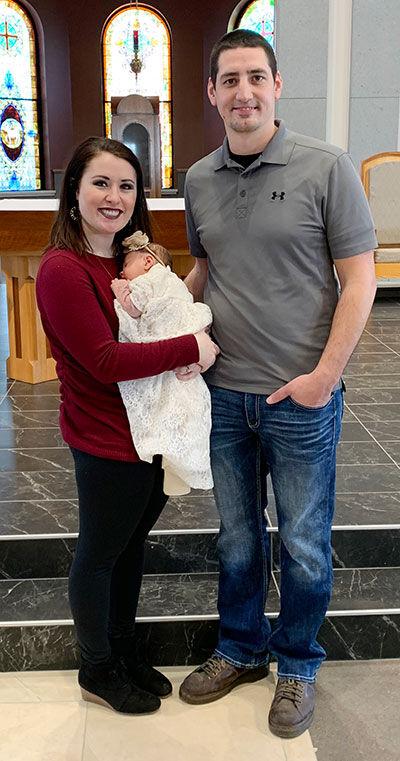 "We wanted to start our family right away," she said.
Fast forward to May, and suddenly the wedding plans would not work with the stay-at-home order. Necessity is the mother of invention, though, and their small wedding in their garage made special memories for them.
Their original honeymoon was canceled, so they went to Fargo, "because it was open."
The Liesers' family has grown by one since their wedding. Little McKenzie was born January 26.
"We actually did get pregnant when we hoped we would," said Amber.
The impromptu second wedding dress was made more meaningful when Amber had a seamstress fashion it into a baptismal gown for McKenzie. She was baptized at St. Mary's Church in Melrose, where they are members.
Now, the Liesers are making plans for a wedding blessing, May 15, 2021.
"Deacon Rick, who was originally going to marry us, will be doing it," said Amber. "It's kind of like a renewal of vows."
Many of the original wedding plans are being used for the blessing day, while there are new details, too.
Amber will be wearing her original wedding dress. McKenzie will wear her special baptismal gown. The entire wedding party will be wearing their dresses and tuxes.
"Kyle's parents will walk him down the aisle, then he will come back and get McKenzie and me, because now we're a family," Amber said.
There will be a change in venue, with the blessing taking place in Greenwald. The original plan was for the couple to stop at the Greenwald Pub — where they first met — for some drinks after their wedding in New Munich, before going to the reception in Freeport. It's just that much closer to stop at the pub, now.
The challenges the Liesers faced while getting married during a pandemic produced some positive things, too.
"I think it made us a stronger couple. There were a lot of discussions; we worked as a team," Amber said. "We didn't get to be married in the church the way we wanted, but now we can do this. It's not many women who get to marry the same man twice."