Junior Matthias Algarin is a state champion.
However, it was not without some drama for the Pierz athlete, who was back to the Class A State Track and Field Meet for the third time.
"On my first triple jump I went up and came down with a big crunch and sprained my ankle," Algarin said.
He failed to even make the pit on his third jump, but gutted himself to a jump that qualified for the finals on his final attempt.
Once in the finals, he was able to pull together a great leap of 45 feet, 3.75 inches to become the state champion.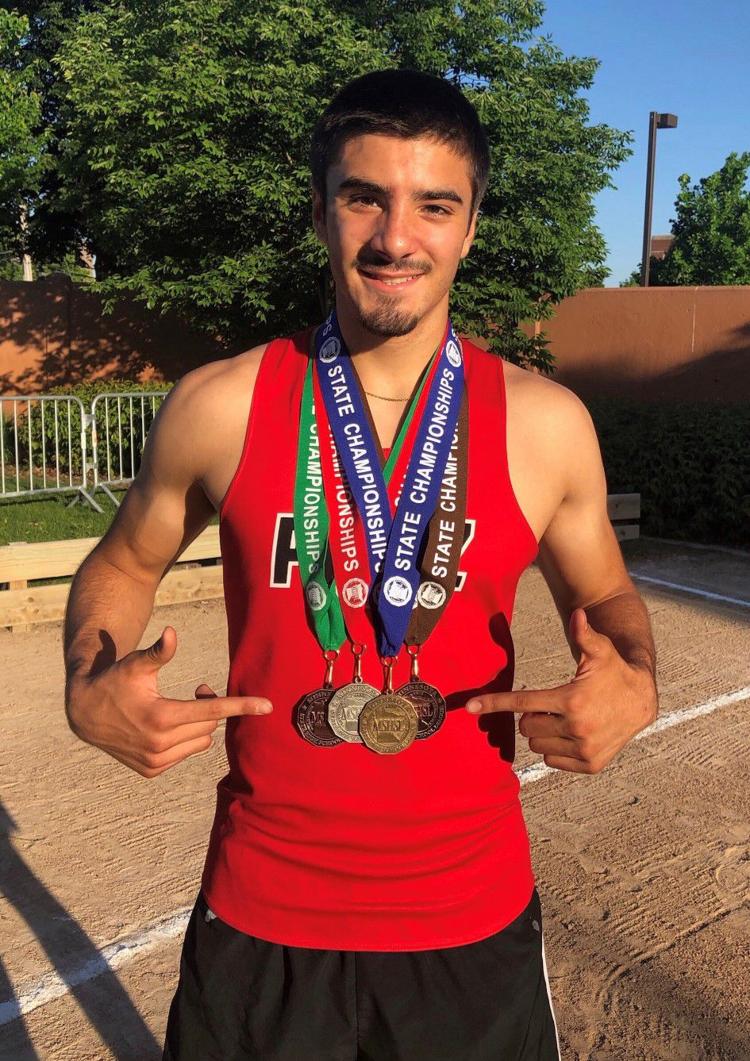 During this, Algarin, who won Section 5A titles in the triple jump, long jump, 100 and 200 meter dashes, was competing in the dash prelims. He wasn't even sure if he should be with his ankle.
"I went out there and just ran anyway," Algarin said. "It was pretty exhausting, especially being hurt, but all in all it was a good learning experience. Plus, this was state. There isn't anything after this."
Algarin wound up making the finals in all four events, earning the four medals, including the blue champion's medal.
In Saturday's finals, he did not do as well as he liked, but did manage to finish as a runner-up in the long jump (22 feet, 7 inches), fifth in the 100 meter dash (11.29) and ninth in the 200 meters (22.67).
Algarin's finish was a big reason that Pierz' team finished in third place with a total of 36 points.
"This was the best finish the boys team had ever had down at the state meet," said head coach Craig Johnshoy. "I am so proud of all of their hard work, how they handled the heat and how they were able to stay focused to what they had to do."
Five other Pierz boys competed, and all came home with a medal around their necks.
Senior Zachary Becker, who was the Section 5A Champion in the 300 hurdles, made the final and finished in fifth place with a time of 40.34.
Becker was also part of the 4x200 relay team along with seniors Alex Gross, Colton Kasper and junior Carter Moulzolf.
That relay made the finals as well, finishing ninth with a time of 1:32.06, which was a school record.
The 4x100 relay team of Moulzolf, Gross, Kasper and senior Ryan Stangl were just shy of a school record with a ninth place time of 44.75.
Moulzolf was also ninth int he 300 hurdles with a 41.17 finish.
"Everybody came home with a medal, and that is pretty rare," Algarin said. "I'm glad I could do my part to help the team to that finish."
Pierz was not the only one at the state meet though.
Little Falls freshman Dani Schirmers competed as the lone Flyer in the Class AA meet.
She made the finals of the 100 meter hurdles with a time of 15.57 and bested that with an eighth place time of 15.47.
Royalton junior Christopher Borash also medaled, finishing ninth in the 1600 meters.
Borash had a time of 4:33.21, and according to coach Michael Marschel was the first in a long line of Borash's to qualify for state in track as a junior.
"He ran a good race in a very tough field, and I'm proud of his efforts," Marschel said.
As for Algarin, he is looking to come home with four medals again next year, with one important difference — they'll all be same color, blue.
"I wan't to come back and get all No. 1 medals (next year)," Algarin said. "I honestly think it is something that I can do."