During the spring, summer and fall, Raycer Frank can be found on the dirt course at his family home, practicing for Snocross racing on his dirt bike. Once winter hits, snow or not, snowmobile racing begins full swing.
The training and schedule can be quite grueling, but Raycer gives his all. With natural talent and ability, coming from a family of racing, Raycer is achieving tremendous success already — at only 15 years of age.
Raycer has completed two stops out of eight total on the national circuit. He is currently in first place as points leader in the Sport Lite class. Points accumulate throughout the eight events; they are earned based on finishes in two early qualifier races and the final race. The first Snocross National was held in Duluth Nov. 29 - Dec. 1. The next Snocross National was held two weeks later in Fargo, N.D., Dec. 13 - 15. Raycer finished first at both events, out of the 70 competitors in his class.
"We race almost every weekend all winter between regional and national tours," said Ryan Frank, Raycer's dad. "The Minnesota regional tour is for practice and testing."
Last year, Raycer began competing the Sport Lite class halfway through the year at age 14. The class is for racers ages 16 - 22, but select racers can begin at age 14, if granted approval.
The remainder of the National Snocross Tour includes events in Shakopee; Deadwood, S.D.; Dubuque, Iowa; Salamanca, N.Y.; Michigan; and the Grande Finale in Lake Geneva, Wis.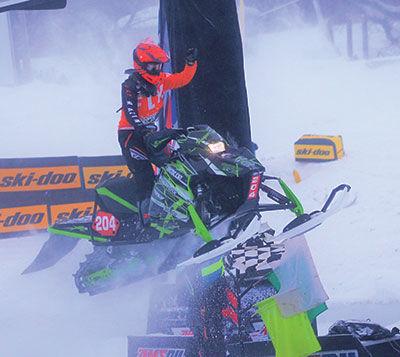 As a top contender, Raycer competes against other racers throughout the U.S. and Canada, although over half of racers on the national circuit are from Minnesota.
Training includes a lot of motocross and Snap Fitness workouts. Raycer and his dad describe motocross as similar to Snocross, but snowmobiles make for much rougher riding than a dirt bike. Raycer has a racing sled and a practice sled; the Arctic Cat ZR 6000. It is a machine built strictly for racing and cannot be purchased by consumers.
Raycer has a full-time mechanic, David Otto, on his team, who was a factory mechanic for 10 years with Arctic Cat, and also a welding instructor at Central Lakes College. His dad also does mechanical work on his sleds. He has a team of supporters, including Arctic Cat, Country Cat of Sauk Centre, Speedwerx, Fly Racing Snow, Rox Speed FX, Inc., Stud Boy Traction, SpeedPunks Specialized Images, FOX shocks, Newstyle Customs, ThermoSeal Insulation, Yarmon Ford, RFC Portable Buildings, Bork Lumber & Steel Inc., Yarmon Ford, Keller Electric LLC, Kari Schaefer-Realtor and Eric Frank Construction, LLC.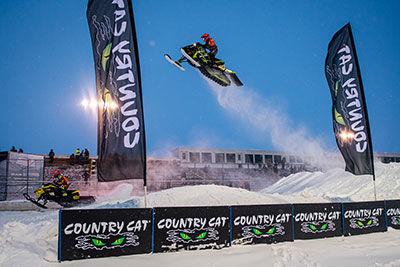 Raycer's racing number, 204, has special meaning. It was his dad's racing number as well. Ryan raced for Polaris for three years on the semi-pro (now called pro-lite) class. At age 19, he won points champion for the semi-pro class. Ryan ended his Snocross career in 2004 — the year Raycer was born. Just a few years later, at the young age of 4, Raycer began racing snowmobiles, following his dad's footsteps.
"When he was little, he had a lot of natural talent," Ryan said.
There also is a deep family history of Arctic Cat machines, which began with Ryan's great-great-grandpa Ray Frank, Raycer's namesake.
Despite his injuries, training and time away from school, Raycer is dedicated to Snocross — in fact, this year he dropped all his other sports to solely train for Snocross — with the goal of being the points champion for the Sport Lite National Snocross circuit this season and hopes of racing Snocross professionally one day.
A points championship would open the door for more sponsors, more support and more funding. Raycer's progress in Snocross can be followed on his Facebook page. Snocross can be viewed on CBS Sports, and more information is available at snocross.com.