There is a lot more to plowing snow on Minnesota's interstates and highways than people may think. But with 30,585 miles to cover, safety is number one for the Minnesota Department of Transportation (MnDOT) snow plow operators.
    Every year, MnDOT offers two training opportunities at Camp Ripley for new plow operators to learn how to operate the truck safely. Passing the two-week-long intensive training is required, said Rick Shomion, MnDOT maintenance training coordinator.
    "They learn everything from speed and space management to dealing with railroad crossings, different plow types and pivot points in the rodeos," he said.
    The obstacle course area, where the drivers practice their skills around hundreds of orange cones, is referred to as the "rodeo." Each cone represents a challenge drivers may face when plowing snow, such as navigating around light poles, parked and moving cars and more.
    While the participants are required to hold a Class A or Class B commercial driver's license (CDL), not everyone comes to the training with a lot driving experience.
    "Some people who just came here two weeks ago just got their commercial driver's license. It's a challenge for some, but it's nice to see the progress, from going through an obstacle course and knocking everything over to five, six days later, they are looking in the mirrors and are just driving through it," said Steve Cepress, MnDOT transportation operation supervisor.
    Cepress said although the training is offered to new snow plow operators, many are already employed by the state of Minnesota. In some instances it is simply a matter of their job description changing to include plowing snow.
    However, for Adam Haaf of Rice it is his first time — an opportunity he has waited for several years to open.
    "I love plowing snow and I always have. Going out two in morning in the middle of a blizzard, I enjoy that," he said.
    While Haaf does not have any previous experience driving large snow plow trucks, he is familiar with operating heavy equipment.
    Growing up on a farm near Sauk Rapids, Haaf said driving machinery in general made him feel more comfortable driving MnDOT's snow plow.
    "I used a pickup truck and a plow before. I have also plowed with skidloaders, Bobcats, V-plow and equipment like that," he said.
    He credits his dad for teaching him a lot about defensive driving. Haaf also served as a heavy equipment operator in the Minnesota National Guard from 1997 to 2003.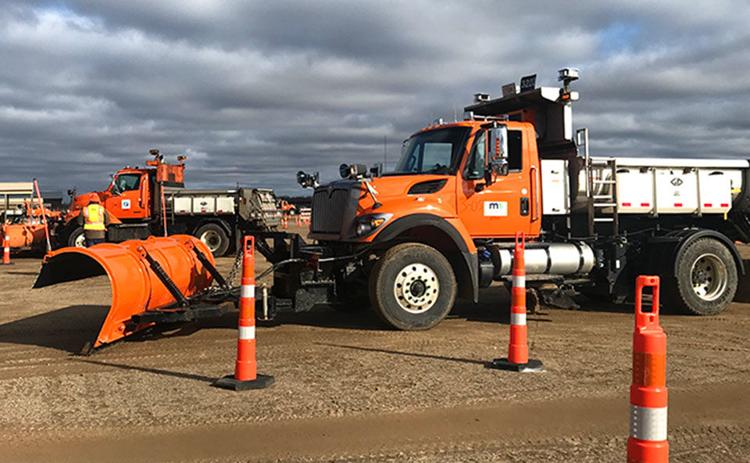 "You have to know what is going on around you," he said.
    One thing people may not always think about when seeing a snow plow is how much the driver has to pay attention to. It is not as simple as just traveling down the road and plowing snow.
    Besides driving the truck and watching out for mailboxes, vehicles, light poles and being continuously alert of their surroundings, they also control other functions, such as the plow, the wing, applying salt and sand and more.
    "This is way bigger than anything I have plowed with before. The first time I sat in one, I thought I was sitting in a spaceship. It was overwhelming at first. There are so many buttons," he said.
    The participants are also taught and tested on how to check the plows before they drive to make sure that everything is as it should,
    In addition, the participants also have to pass a road test where a MnDOT trainer rides along with them to see and give feedback on their driving skills.
    After Haaf has completed MnDOT's training, he will be plowing snow in the Sauk Centre area, along I-94 and surrounding highways. He is looking forward to it, he said.
    Haaf said he is thankful to his wife, Tanya, and their daughter, Samantha, 13, for their support as he embarks on a new career.
    Plowing in a variety of conditions is not the only challenge for plow truck drivers. While some drivers may understand the dangers of following a plow truck too closely or passing it, others do not. It is a grim reality for snow plow operators.
    "When you're driving a snow plow, you are going to get hit at some point. I have been hit three times," Cepress said.
    When loaded, a single-axle plow (two sets of wheels I the back) can weigh up to 50,000 pounds and a tandem-axle plow (two sets of wheels in the back) can weigh more than 70,000 pounds when they are loaded.
    "Many times they'll hit you in the wing when they come around you because they can't see through the     snow," Cepress said.
    Shomion encourages people to be safety minded when driving near plow trucks and to plan for more time when traveling during snowy and icy conditions and without risking the lives of others or themselves.
    "Some people think about the safety aspect, but there are also some who seem to be in a hurry and a lot of times passes us when the safest place for them to be is behind us. Our men and women out there are trying to keep it safe for them to get from point A to point B. The best place is to stay back and away from the trucks," he said.