When David Wienhold of Alexandria was growing up in Long Prairie, he could hardly wait until he was able to hunt along with his family members. He is the youngest of his family and eagerly observed his brother, sister and their dad hunting on their 500 acres. He went out a few times with his dad before he could hunt, so he knew what to expect.
When the firearms safety class nearest to home was taking place later in the fall, "My mom drove to Alexandria so I could take the class in time for bow hunting season," he said.
Bow season begins in mid-September and runs through Dec. 31 each year, while gun season is only two weeks in early November.
"Bow hunting is a lot harder. The deer has to be within 20-40 yards for a person to take an ethical shot," Wienhold said. "I wait until a really big one comes by."
Sometimes, that means he doesn't get a deer at all, which is what happened in 2018.
The bow limit is usually one buck or doe in Minnesota, but hunters can also get a management tag to get a doe.
Before leaving to hunt, Wienhold takes careful precautions to prevent the deer from knowing he is in the area. This includes a shower with scent-free soap, clothes washed with unscented detergent and spraying himself down with scent killer.
When Wienhold was 13, he shot his first deer. "A pretty small deer. I was pretty nervous," he said.
In 2012, he shot his first mature buck. He lost track of time one Saturday and rushed to get out hunting. It was late, but there was still a lot of daylight left.
"I was sitting about 100 yards off a clover field edge with a meadow on one side of me and a thick woods on the other. I saw a few does, fawns and small bucks moving through the woods. The sun had started to set when I heard a branch break in the thick part of the woods. Before I could even stand up and grab my bow a nice buck stepped out of the woods 20 yards away. I slowly stood up and reached for my bow. The deer stopped 15 yards away from me and I was able to make the shot."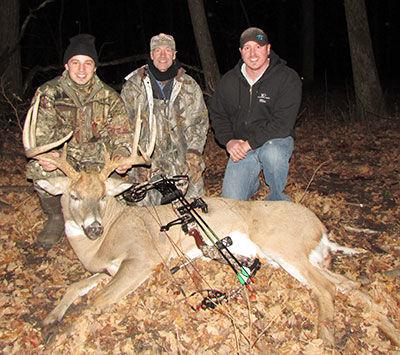 After several hunts, it was very satisfying to shoot that 15-pointer with a gross score of 175 1/8 inches.
After that successful 2012 season, Wienhold spent all the time he could hunting. In 2014, he was sitting in a strip of woods between a corn field and a bean field with a swamp behind him, a pinch point that deer frequently travel.
"The rut was starting to heat up and I knew that any doe I saw could potentially have a mature buck following her. As the hunt went on, I had two does walk 20 yards from my stand, stop and look behind them. I grabbed my binoculars to see what they were looking at and spotted a mature 9-pointer. All three deer stood still for what felt like an eternity. A totally different doe ran past the buck and he took off after her, disappearing into the swamp."
When the two deer reappeared and the doe walked 30 yards from his stand, it gave Wienhold an opportunity to shoot. The buck had a gross score of 160 inches.
After purchasing a camera to mount on his bow, Wienhold had filmed that hunt. After watching, he bought a camcorder to film all of his hunts.
"When we get in from hunting we always talk about how the hunt went and what we saw so it was cool to be able to show video footage," he said.
The next year, he again shot a mature buck. After hunting nearly every day and seeing a lot of nice deer, one afternoon he sat in a stand on the edge of a field for a couple hours and only saw a doe and a fawn.
"Right at sunset I noticed a dark spot moving in the grass. With binoculars I saw a nice buck following a doe walking my direction. I turned my camera on. They kept getting closer and closer and I was trying to stay calm so I could film and stay focused so I could make a shot when given the opportunity. The deer made it to 50 yards and stopped, just out of bow range. After several minutes the buck took a few steps and was now standing 40 yards away broadside. I let the arrow fly. He was a 9-pointer with a gross score of 160 5/8 inches," said Wienhold.
It was the 2017 hunt that became one for the record books. He had seen several nice deer that he passed up and was sitting at the edge of a bean field in early November. There were a lot of does out in the field and he had high hopes of a buck showing up. A 140-inch 10-pointer stepped out of the woods and started walking towards the does. Then an even bigger buck stepped out right behind the other.
"They both walked right past the does so I decided to try and rattle in, hoping that the big one would come my way. As I rattled, the smaller one came to 20 yards but the big one disappeared into the woods," Wienhold said.
It was two days later that the hunt got really exciting. When he climbed up in the stand, he saw a lot of blood to the south.
"It looked like two deer had been fighting. I climbed back in the stand and soon had deer moving all around me. The small bucks were getting into some intense fights and chasing does. Then all the deer disappeared. A little after 5 o'clock I heard a buck grunting. It was the same large buck from two days earlier. He was standing roughly 50 yards away, licking his legs. I stood up, grabbed my bow and turned my camera on. After a few minutes he started walking on a trail that would lead him right past my stand. The buck was grunting with every step he took. He gave me an opportunity and I took the shot."
After reviewing the footage, Wienhold decided to wait until morning to go tracking. The buck was found to be a giant 15-pointer with a gross score of 196 7/8 inches andwighing 225 pounds.
"A buck needs to be more than 125 inches to make the record books, but it's very rare to get even a 150-inch buck," Wienhold said. "My dad's biggest was in the mid-190s."
It was an amazing experience that not too many hunters are able to share.
After not getting a deer last year, Wienhold is more eager than ever to be back on the hunt.
"The challenge is half the fun," Wienhold said about hunting. "It's that much more rewarding when you're successful."