Dan and Crystal Ley and their children were honored by the University of Minnesota as the 2018 Stearns County Farm Family of the Year at festivities held at Farmfest in Redwood Falls, Aug. 9.
They have farmed their 320-acre operation since 2006, making them the sixth generation of the Ley family to do so.
The operation includes 55 milking cows, 60 young stock and 15 head of beef cattle. They use a tie stall barn for their dairy operation.
The farm has employed a no-till system since 2007, and has worked with the University of Minnesota Extension Service and the Soil and Water Conservation District (SWCD) in cover crop research.
The cover crop study, conducted in 2015, 2016 and 2017, is a conservation program which was conducted through a Minnesota Department of Agriculture grant.
"We wanted to see what feed value you can get out of a winter cover crop, if it is economical and how it would work to grow it and make any money off it," said Dan.
A previous research study, conducted in 2012, 2013 and 2014, involved cover crop species and establishment. The Ley family was named Stearns County Conservationist of the Year 2016.
The Ley operation is truly a family endeavor, with Dan and Crystal, and their children Ashley, 17, Derek, 16, and Alyssa, 7, all performing daily chores.
In addition to the daily farm operation, Dan and Crystal milk cows, Dan takes care of the animal health and AI breeding, and Crystal also cares for and feeds the young stock.
Ashley is a busy young lady, serving as the first Paynesville Princess 2018-19. She has spent her summer riding in parades and making community appearances. Ashley attends Paynesville Area High School, where she plays volleyball, tuba in the band, serves on the Student Council and is a part of the National Honor Society. She also works at Subway in Paynesville. Ashley's chores on the farm consist of feeding calves and other daily barn chores.
Derek attends Paynesville Area High School. Derek has many chores including daily barn chores, help bringing the cows in the barn for milking, feeding hay to the livestock and milking the cows a few nights a week. Derek also works at Teal's Market in Paynesville. He enjoys watching football with his dad and hanging out with friends.
Alyssa, the youngest of the Leys, said, "I feed the dry cows corn each morning and check their water, feed the cats and when Ashley isn't home, I help my mom feed the calves. I also feed Percy, my dog, and Kane, my brother's dog."
Dan's hometown is rural Richmond. He graduated from Paynesville High School in 1992. He attended St. Cloud Technical College to study graphic arts.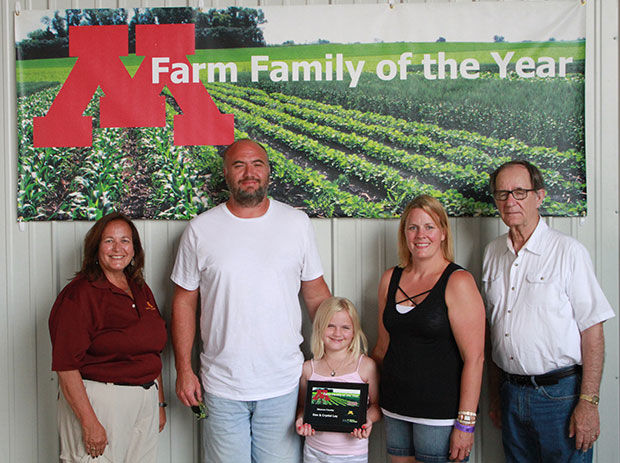 Crystal's hometown is Sauk Rapids. She graduated in 1993, then attended St. Cloud Technical College to study graphic arts. That's where the two met. They married in 1996.
Dan spent seven years and Crystal 11 years working in the St. Cloud and Twin Cities area in the printing industry. While working in printing, they also had a separate farming operation from the present Ley farm. They bought and rented land, along with raising beef cattle and working with Dan's parents, LeRoy and Sandy Ley, since 1992.
Dan and Crystal took over the original Ley farm in 2006 from LeRoy and Sandy.
The farm, which will observe its 150th anniversary next year, was homesteaded in 1869 by great-great-great-grandfather John Ley. His son, Mathias, was the second owner, followed by Mathias' son John. John's son, Art, farmed next, then LeRoy, and finally Dan.
They earned Century Farm status in 1982.
When there is a need, LeRoy and Sandy help with the farming activities.
The trip to the Minnesota Farm Families of the Year event was made by Dan, Crystal and Alyssa. They were among 81 Minnesota farm families honored and received a wall plaque and a coffee mug. They also had their photograph taken with Minnesota Agriculture Commissioner Dave Frederickson.