Lanna Walter began showing at the Stearns County Fair after her seventh-grade year.
What some might consider a late start has not held her back, with a love of animals leading her into successful fair results.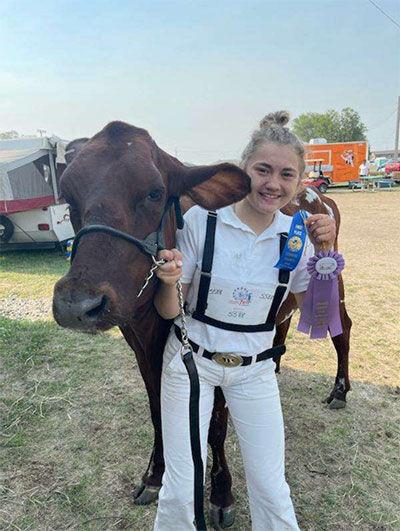 "I was drawn into 4-H by friends who talk about it," Lanna said. "They told me it was something I should do."
She is a member of the Gopher Prairie Club. Lanna and her four siblings are growing up on a farm south of Sauk Centre. The farm produces alfalfa, corn and soybeans, with an occasional wheat crop. The Walter family used to have a dairy operation, but now focuses on beef cattle — Black Angus crosses with Holstein and Brown Swiss.
The first animal that Lanna showed was a spring Holstein calf, which earned her a blue ribbon at the county fair. She was hooked.
Pandemic restrictions required a virtual fair the following year in 2020, in which she chose not to participate. But she was back at it again this year, well-prepared and eager.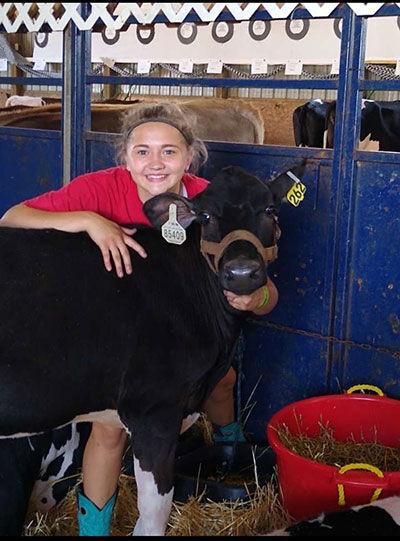 County Fair, Lanna showed a Brown Swiss winter yearling, an Ayrshire fall yearling, a Holstein 2-year-old cow and two market sheep. The Brown Swiss took First in Class and an Honorable Mention Overall. The Holstein took a blue ribbon. The Ayrshire took First in Class and Overall Champion. One of the sheep took a red ribbon and the other earned Lanna Reserve Champion Senior Showman (grades 9-12). She earned her trip to the State Fair with the Ayrshire and the sheep.
"Since I could take only one species of animal (other than a horse), I took the Ayrshire," she said.
She was surprised at how many visitors actually asked questions of the exhibitors.
"Some of them were pretty weird, like 'Does a brown cow give brown milk?'" she said.
Her favorite State Fair experience was showing in the coliseum, "how big the atmosphere felt." She also enjoyed running back to the barn in the rain after the dairy judging.
"I liked hanging out with everyone and making new friends," Lanna said. "I stayed pretty much around the barns."
Her Ayrshire also brought home some awards for Lanna: Champion Total Merit Ayrshire Heifer and Reserve Champion Ayrshire Heifer.
Next year, she has to decide whether to show pigs or sheep, in addition to dairy.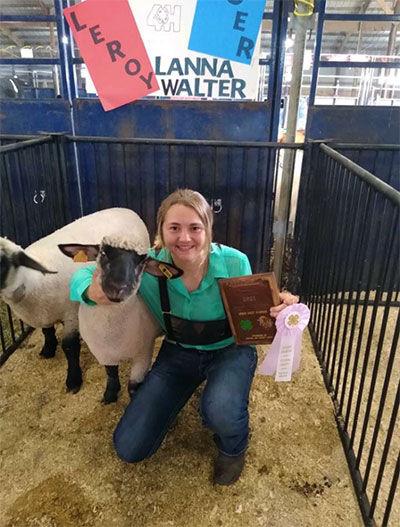 "My dad wants to keep things somewhat easy," she said.
This year she showed only the animals, but is looking to maybe get more involved in club projects for next year.
Of the five Walter siblings, it's only the two youngest who show at the fair. Lanna
's younger sister, Haddie, started showing this year.
"If my Ayrshire gives me a heifer calf, I'll show it next year," she said. "If the Brown Swiss has a heifer calf, Haddie will show it."
Since Lanna's two heifers will be milk cows next year, she is almost positive she will show them next year. She watched her cow being born and had a lot of fun watching her grow.
"I love cows and animals," she said. "Now that I started showing, I want to keep going. My kids will be showing!"