Many different avenues exist to help disabled people and veterans, and Jordan Henrichs has taken advantage of several of them. He owns a vending business, At-Eze, which employs and supports people with disabilities and veterans. He works with the non-profit Band of Brothers Outdoors, providing outdoor recreational therapy for veterans. He is also a member of the Minnesota National Guard and is a civilian contractor working full-time at Camp Ripley. Henrichs knows many veterans, some of whom are disabled.
 "My uncle Darren is a paralyzed vet," he said. "But one of the main reasons I do what I do is because of my best friend in high school who had brain surgery that went wrong."
Henrichs' best high school friend was Tyson Meissner. Even though Henrichs attended school in Evansville and Meissner was a student in Brandon, they played sports together and forged a strong friendship. While still in high school, Meissner ended up with multiple neurological effects from brain surgery that was needed to remove a mass. He has been in a wheelchair ever since and requires daily help. Henrichs is one of the people helping him.
One of the ways Henrichs has walked beside his friend was helping him through college. Henrichs joined the Guard after high school in part for the education benefits.
"I wanted to go to college," he said.
Wanting to help Meissner do something he would otherwise not be able to do, they attended classes together and Henrichs took notes for both of them. They graduated from Alexandria Technical College in 2018, together. They majored in business management and retail sales.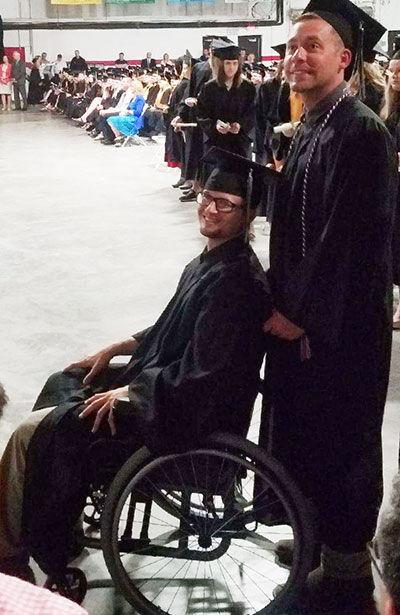 "It was very difficult for him to find and keep employment," Henrichs said. "I knew I wanted to start or own a business that helps the disabled."
It was a huge struggle to find Meissner employment after graduation, but Henrichs was able to find a job for him at Walmart that worked for a while. When the job didn't work out, Meissner moved in with Henrichs for several months, so Henrichs could be his full-time personal care attendant.
"When COVID hit, we had to move him back in with his parents," said Henrichs. "Now he's working with Walmart again."
Henrichs found a vending business to purchase. At-Eze is based in Long Prairie, with employees who are all disabled and/or vets. He doesn't make any money from the business. Right now, all proceeds are used to pay off the business. His goal is to eventually give all the profits to support people with disabilities.
"We're getting closer to being back on our feet financially, from the pandemic," he said.
For the time being, because of pandemic restrictions, Henrichs is doing most of the work himself.
About five years ago, Henrichs learned of a fairly new non-profit organization called Band of Brothers Outdoors, based in Breckenridge. He is now the event coordinator, planning all hunting and fishing events. He is also a guide.
"We have hunted pheasant, turkeys, water fowl and have done all deer hunting (including muzzle loading). We have gone prairie dog hunting in South Dakota," he said.
Henrichs built six by eight-foot handicapped accessible deer stands on his 80-acre farm near Bertha. He has another 61 acres that is also used for hunting.
In addition to his work with Band of Brothers Outdoors, Henrichs takes people hunting on his own.
"I take anyone, any age, first-time hunters. I took my 77-year-old grandpa deer hunting in 2020, and he got the largest buck ever in his life with a crossbow," said Henrichs.
He has gone hunting for turkey and bear in Wisconsin. One of the most memorable hunts involved a young woman hunting for the first time.
"Trinity is the daughter of a gentleman my uncle knows. She has a rare disease where she can't use her arms. But she has a custom-built rifle with a fiber optic sight," said Henrichs.
He built her a box to sit on so she would be tall enough to shoot from a deer stand. Trinity uses her foot to shoot, while sitting in a custom-made chair.
On the third day of the hunt, she shot a big buck at 100 yards.
"She was unbelievably excited — it was spectacular," Henrichs said. "We tagged it and loaded it in my truck. She always wanted to gut a deer, and we did that at my house."
With everything set up in an old granary with a heater, Trinity used her toes to gut the deer. It took her an hour.
"She skinned the deer with the knife in her toes," said Henrichs. "I gave just a little bit of assistance, pulling down the hide."
Henrichs has taken his uncle Darren deer hunting. He also took his young cousin, Owen, who shot his first deer. In 2019, he took Meissner turkey hunting, where he got his first turkey.
Henrichs wants to take as many people out hunting as he can. It's an activity he wants to share with anyone who is interested.
"I do it because I get just as much enjoyment out of watching someone else as doing it myself," he said. "The high I feel, the goosebumps — that is unparalleled. I can't even begin to explain it.
Someone once told Henrichs that he needed to start living for himself.
He responded, "But if I don't live my life for others, who will?"