Trucking has been a constant throughout Jim Derichs' life. The profession that his dad joined became the one that Derichs continued and it has now been more than 50 years of trucking for him from his lifelong home in Elrosa.
"I can't really say when I started driving, because it was before I had a driver's license," he said. "My dad and I would go down south and pick up a load of corn and he'd let me drive."
Derichs' dad, Harold, first worked for Jerome Bauer. In 1970, he bought the business from Bauer and renamed it Derichs Trucking. That's what he did until his death in 1987.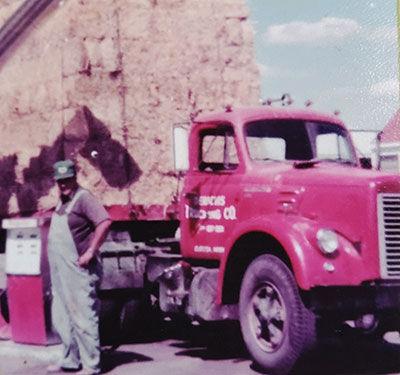 "My dad had been in trucking his whole life. It's in the blood," Derichs said.
After his father's death, Derichs bought the trucks from his mother. Although he's had other jobs over the years — such as working two jobs at both Cenex and Harry's Bar in Elrosa for seven years — he didn't stay away from trucking for too long.
Now and then, there have been other guys on the payroll helping during especially busy times, but mainly it has been just Derichs.
Whereas Harold Derichs used to take loads to Wisconsin, the Dakotas and into Canada, the work now stays in Minnesota.
"We haul grain, hay, straw, fertilizer and all agricultural products," Derichs said.
There have been other memorable hauls of a more unique nature, including huge pieces of farm machinery, pre-cast walls and lumber.
"I hauled a 16-row corn head that was just about as long as the trailer," he remembers.
Over the past few years, there have been bumper crops, which has provided more than enough to haul and to keep Derichs on the road.
There are some circumstances which can be quite challenging for a trucker, such as trying to get in or out of some farmyards. This is especially tough when hauling hay and straw with trailers that are 10 feet longer than usual. Icy roads can also be an issue.
But most of the time, hauling is a great way of life and one that's given Derichs a great deal of satisfaction. One of the best things about what he does has been being his own boss, working his schedule out if he needs a day off now and then.
"It's a good thing, especially right now (with the pandemic restrictions)," he said.
What he values the most about his work is the farmers, the people.
"I like being out on a farm, satisfying the customers, working with farmers and elevators," Derichs said.
The world of ag trucking has been changing. With many farms getting bigger, they often have their own trucks and drivers, and don't need an independent hauler. Derichs has filled a niche with smaller farms and has a thriving trucking business with his one truck and three trailers.
Derichs' retirement years are now on the horizon, when he can spend more time with his wife and their three grown children and one grandchild. He's been a busy man for many years, serving on the fire department and as a first-responder. But he also likes to do a lot of hunting, fishing and camping.
"I've seen it from a lot of truckers — they hardly ever quit. Even though it's hard to walk away from the customers, I hope to retire in a few years," he said.
Then again, retiring might not be so easy.
"I might slow down, but might keep hauling for some of them," he said.