Jake Friedrichs of Osakis lives to hunt and he's lived that way for most of his life. Long before he was old enough to hunt and even before he started going along with his dad, uncle and older brother, he made his own hunting tools and honed his skills.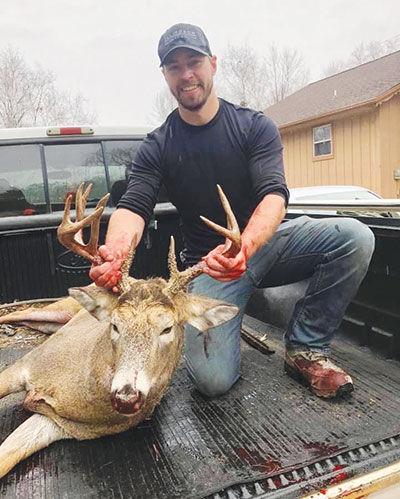 "I spent most of the time in the woods, growing up — making forts, shooting a BB gun. I made my own bows out of PVC or heavy sticks," he said.
He started going along on deer hunts when he was eight, gathering knowledge and making memories.
His first hunt was at age 12, with his dad, John, his uncle/godfather Kevin, and his brother Michael. They were on his parents' land near Little Sauk, between Long Prairie and Sauk Centre. The very first evening out, Jake saw a white-tailed deer just before dark. He was in a deer stand and heard a crunch behind him.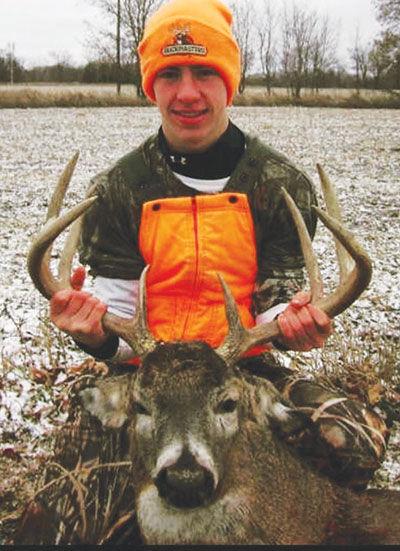 "I got really nervous. I moved as slowly as I could, turned carefully and took a shot, dropped a doe," he said. "It was the coolest thing ever, the biggest rush ever. I put my thumb up in the air to show my uncle who was across the field and he stuck his thumb in the air too. It was super cool — a memory I'll never forget."
It was also Jake's first time to field dress a deer.
"That was an experience I'll never forget," he said. "The smell is distinct."
The Friedrichs family does their own butchering and processing at home.
"The shooting part is the easiest part," Jake said. "It takes hours and hours over two to three days with all the quartering, wrapping and splitting up the meat between us."
When it comes to making sausage, the pork is purchased ahead of time. The venison is ground and spread out on a tabletop, it is mixed by hand with the pork and seasonings. With eight hands on the job, it's doesn't take so long. Jake, Michael, mom Lynn and John all pitch in.
Any hunter has unlikely stories to share and Jake is no exception. While making a quick midday stop to let the dog out at his brother's house in 2019, Jake decided to look in the woods there. He closed his car door quietly and went looking.
"I saw a doe get up and I was just about to shoot when a buck decided to get up as well and follow the doe. They went in a low spot and I lost sight of both. Eventually the doe walked up out of the low spot and the buck followed. I took the buck down and called my family and not one of them believed me — that I had a large buck on the ground," Jake said.
Looking back to an earlier hunt, the largest deer Jake shot was in 2008. He was alone in a stand when he heard footsteps behind him. The doe trotted under the stand. Jake was ready to squeeze the trigger when he heard a louder noise.
"I looked down and saw nothing but antlers. The buck was on a dead run through the woods. I fired one round off. I missed and was more than saddened. Seconds later the noise came back and it was him running back in my general direction. I tried to grunt but nothing worked so I decided to yell really loud and he froze. That is when I put him down. He was so heavy, when we strung him up in the tree he lifted the four-wheeler up."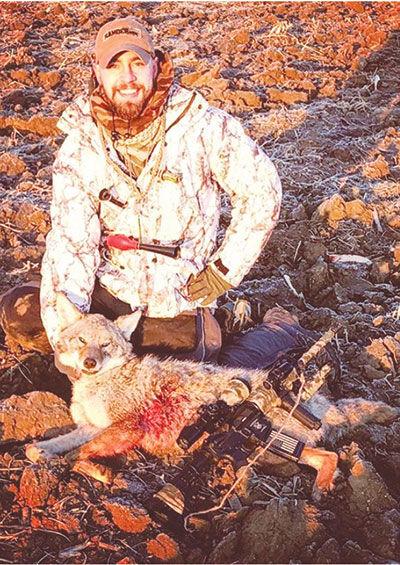 Hunting is something Jake never misses if at all possible. During his six years serving in the National Guard, he was deployed to Iraq in 2011 and 2012, and had to miss hunting.
"There's always something to hunt," he said. "There's nothing better than bacon-wrapped duck or goose."
Compared to hunting deer, "duck hunting is a whole other animal. It's about getting up between 1 a.m. - 4 a.m. to get to out spot on public land. Sometimes, we camp out there the night before," Jake said. "It's a long process to put out dozens of decoys."
A duck hunter has to make sure the calls are right. Decoys have to be set the right way.
"There are so many things that can go wrong. In the end, even though everything is perfect, they might just decide to fly over without stopping," he said.
While ducks can be found mostly in swamps and sloughs, geese like fields more. Jake also hunts pheasants and sometimes grouse. Most of his bird hunting buddies are friends from the Guard.
During a goose hunt in November 2014, near Rochester, Jake and some buddies who were in Iraq with him were able to hunt with well-known hunters and guide service including Scott Threinen and Robbie Iverson, "two of the best goose callers in the world. We hunted out of dug-in pit blinds in the field. It was at this hunt I realized that no matter how good you are at calling or setting up, geese can just fly away for no good reason," Jake said.
Jake also hunts coyotes.
"They are a huge nuisance. They kill a lot of fawns," he said. "They have amazing eyes and can smell really well. I enjoy the challenge."
The best time to go after coyotes is during a full moon (or early in the morning) when there is snow on the ground. They are much easier to see then.
One coyote-hunting tournament Jake went to was near Montevideo. He remembers one of the best shots he has ever made. He was sitting next to an old silo that was halfway fallen down. His electric caller died so he decided to use hand calls for the first time. He used a couple of quick barks and howls and after 15 minutes of calling he saw a coyote at a dead sprint at 300 yards. He stood up and let two quick shots off with his .223 and hit the coyote with both rounds. The coyote took third place in the tournament.
No matter how well a hunt goes, what matters most to Jake are the laughs, the memories.
"I have a passion for hunting for the bonding with friends. I get more joy now seeing people get their first deer. I like to bring people along who have never been hunting," he said. "I can't remember one duck I've shot, but I can remember the memories made in the duck blind."