It might not be an exaggeration to say that Brian Mathiason eats, breathes and sleeps hunting, if only because of the majority of the years of his life that he has spent hunting all manner of birds and deer. That could be expanded just a bit to also encompass fishing, which he does in winter or summer, as time allows. Living on a lake makes that even easier.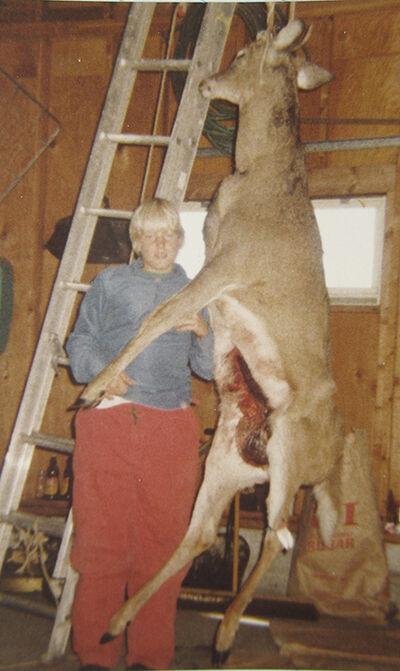 "I first remember hunting with my dad when I was maybe 10 years old," said Brian.
He took a firearm safety class and went hunting for himself when he was 12. He shot a deer that year — his very first.
"My dad, Uncle Vernie Iverson and I hunted many years together. I shot a seven-pointer that first year. I still have the rack," he said.
Brian lived in Belgrade almost his whole life until he and his wife, Nancy, built a new home on Rice Lake near Paynesville in 2019. Nancy enjoys bow hunting and their two grown sons, Michael and Justin, hunt with their dad quite often.
Since they moved into their new house, "My wife said, 'no mounts in the house'" so they are in the man cave on the hunting land," Brian said. However, there isn't any room left for mounts now in the man cave section of the pole barn, so the overflow is in the storage part.
He first bow hunted for deer at age 14, and started using a muzzleloader in his mid-30s.
"I like both — they are more challenging," he said. "Using the bow, you get to see how deer react better. I can see so much more when they aren't spooked. They behave more naturally."
The largest deer he's shot has been with a bow — a unique 16-point buck that was in full velvet. It was the first night of bow season.
"I was going to let it pass by, hoping to get a larger one, but then I noticed that it was in full velvet," he said. "That is very rare in Minnesota."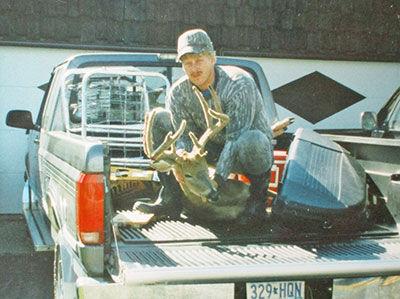 Muzzleloading is nice to overlap with late-season bow hunting.
"Why not have a gun in hand too for those 16 days? You only have one shot, but it's much more accurate. You can shoot up to 200 yards, instead of maybe 75-100 yards with a shotgun," Brian said
Brian's first turkey hunting was in 1986, right after high school. A friend's dad, Duane Swenson, took him hunting near Lanesboro.
"The first six years, I didn't get a bird," Brian said. "But if I had to pick, my passion is for turkey hunting."
Calling the bird in is one of the most challenging aspects of hunting turkeys. There are quite a variety of calls to use, including mouth calls, box calls and slate calls.
"What works the best, most of the time, is a mouth call," he said. "I've shot more than 50 turkeys."
Michael and Justin hunt turkeys with their dad every year.
One of the highlights of a dedicated turkey hunting life is to finish the "Grand Slam." There are four different regions/types of birds that combine for it: Rio Grande, Merriam's, Osceola and Eastern.
All three Mathiason men have three of these turkeys under their belts. The last one is the Osceola, and they have a trip planned in spring 2021 to Osceola, Florida.
"It's a personal achievement," Brian said. "Since I first started hunting turkeys, it's been one of my goals in life."
Then there is the World Slam. There are six turkey species required to earn it: Eastern, Rio Grande, Florida, Merriam's, Gould's and Ocellated. That would require travel to Mexico and Argentina. There is no word yet whether the Mathiasons would next set their sights on that lofty goal.
Brian used to hunt pheasants, when he had a dog to flush them out. When Michael got a dog, Brian started hunting pheasants again with him.
He enjoys hunting so much that he wants to share it with others who might not have that chance. For about five or six years, he mentored young kids during turkey hunts with a local group affiliated with the Turkey Federation.
"To see their expressions when they've shot a bird is just unexplainable — unforgettable," he said.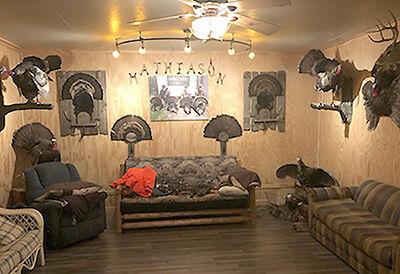 Brian ushered his father-in-law into hunting at age 50. He shot a deer his first year out. Brian's dad is 77 and still hunts deer and turkey every year.
Justin is definitely a turkey and goose hunter, Brian said. Michael is more of a deer hunter. His wife, Sara, enjoys hunting with him. Maybe their daughters will pick up the family tradition and carry on.
"I'll keep hunting as long as I can. I really enjoy it," said Brian. "I told the boys they'll probably have to push me around in a wheelchair."