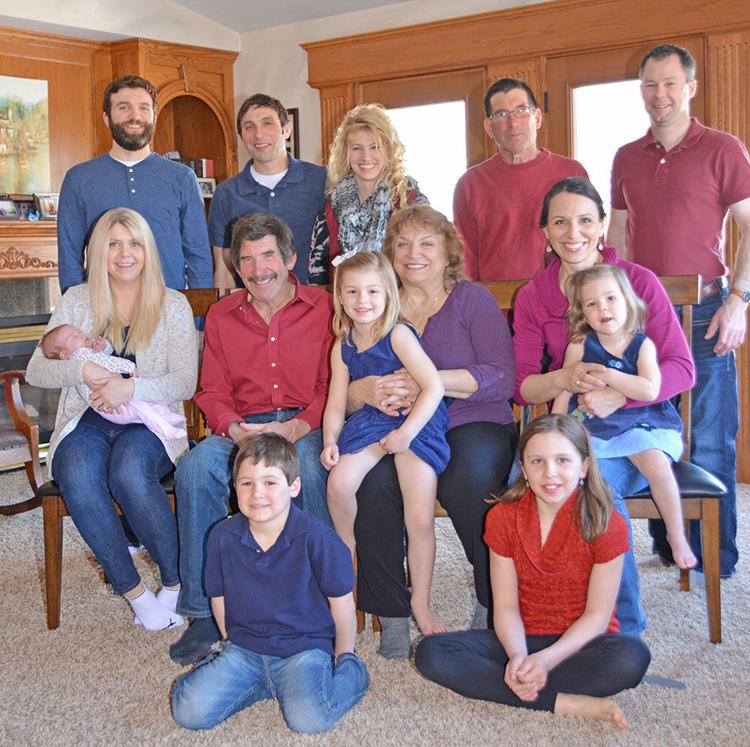 When Mill Creek Dairy in Kimball hosted "Breakfast on the Farm" in 2010, more than 1,600 people attended.
    This year, they expect about the same, if not more, will attend Breakfast on the Farm, rain or shine, Saturday, June 1, from 7:30 a.m. to 12:30 p.m.
    Besides guided tours around the farm, there will be a petting zoo, a children's obstacle course, horse-drawn wagon rides, a variety of vendors and more.
    Food, such as milk, sausage, cheese, scrambled eggs and more can be purchased at a low cost with children 5 and under eating free.
    Other typical farm animals, such as beef, swine and sheep will be exhibited, as well.
    Since parking is limited, visitors can park at the Rocori High School in Cold Spring and catch a ride to and from the farm on charter buses that will travel between the two locations continuously during the event.
    Mill Creek Dairy has been in the Gregory family for many years. At first, it was all one big farm, said Donna Gregory, but as time went by, her husband Tom's grandpa  John divided it between his three sons, Villard, Jerome and Lawrence.
    "Even though they all had their own land, they farmed it together because it was adjoining land," she said,
    Donna said she and Tom moved to the farm in 1980 after his dad, Villard, said he was ready to retire.
    Sometime later, Tom's brother, Ed, bought his uncle Jerome's farm across the road and his cousin, Jim, took over from his dad, Lawrence, a little further down the road. They continue the tradition of working together.
    Donna said moving from Jacksonville, Fla. to Kimball was a big step for her. She was a city girl.
    "It was very different. Jacksonville is like Minneapolis, it's busy. Out here it's isolated in comparison," she said.
    However, she has embraced farm life and the different kind of pace. She also works part-time at the St. Cloud Hospital as a registered nurse.
    Mill Creek Dairy is the home to about 550 Holstein milk cows, 550 heifers, 100 dry cows and many calves.
    The Gregory family uses a double 12 parallel parlor. It's something they have used as long as Donna can remember.
    "It's easier on your back that the cows are above you rather than under, so you don't have to squat," she said.
    The cows are milked three times a day and each cow produces about 85 pounds of milk. While milking three times a day helps generate more income, it also makes the cows more comfortable, especially the high-producing cows, she said.
    Initially, the milk cows were housed on Tom and Donna's side of the road, but in 1997, they decided it was time to expand and the new milk barn was built on Ed's land.
    The milk barn is also equipped with a manure separator, which enables them to turn the animals' manure into bedding.         As about 30 percent of the moisture is removed from the manure, it has become a better alternative to using wood shavings or straw. The cows are doing better at it, too, Donna said.
    The young stock and calves are kept in open pens with straw bedding and are grouped by age. The younger calves, ages birth to 10 days, are kept in separate, smaller pens in an enclosed area.
    The calves are bottle fed colostrum (the first milk). As a way to let others know a calf has been fed, Donna said whoever feeds a calf, marks its forehead with a livestock marker. It serves as an indicator as to how many times it has been fed that day.
    Besides all of the tasks that come with operating a farm, they each also have specific responsibilities. Ed mixes the feed for the different groups of cattle, Nick cares for the young stock, calves and crops and Tom feeds the dry cows. Donna bottle feeds and cares for the calves.
    The family is looking forward to Breakfast on the Farm. It's a way to give people a greater insight into farming.
    "Some people don't know what farming really is. We're hoping they will have a greater understanding of where their food comes from and how it is produced," Donna said.