"The sky's the limit," said Paynesville High School's Land Transportation Program (LTP) instructor, Mike Guenther, when he refers to the future possibilities for his unusual hands-on newly expanded auto mechanics program.
The enthusiastic Paynesville native, Guenther came up through the ranks in what was then called the auto mechanics program, taking the classes while in high school, then coming back while attending St. Cloud Tech to help out in the program. After completing his teaching degree at Bemidji State, and then owning his own shop, Guenther joined the Paynesville teaching staff 17 years ago.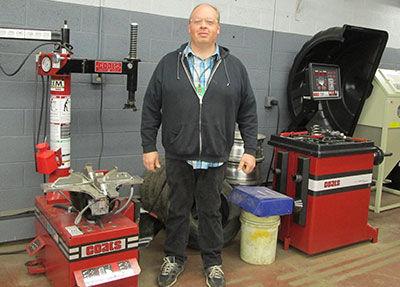 The new program at Paynesville took a giant leap this past year when the Paynesville Area Community Foundation recognized the need for trained auto mechanics based on business and industry needs, and gifted the program with $20,000 worth of new equipment for the school shop.
The Coats tire changer and Coats tire balancer, and the four-post hydraulic lift are new equipment acquired through the grant.
The class offerings at Paynesville High School have also attracted interest from Ridgewater and St. Cloud Technical colleges.
"They really want us to send students their direction as a feeder program," Guenther said.
He teaches a general auto credit class which is linked to the Discovery Program at St. Cloud Tech.
"Kids can bypass general auto service when they get to St. Cloud Tech, and also at Ridgewater."
"Everybody drives a car," Guenther said, and even if all of his students don't become auto mechanics, they will have learned general service, maintenance and light repair. He also wants girls to learn when something is wrong with their cars, what's making a noise, and to get an idea of what auto repairs cost.
Taking it up a level, Guenther said, "Dealerships are crying out. They are willing to give incentives to students who go into the program. They pay for college. There is a high demand for people in the automotive industry."
While Guenther works mostly with high school boys, he is eager to expand the program to girls, and, "Hopefully, we would like to expand into the middle school grades where students are beginning to explore their new interests and possibilities."
Students who have been enrolled in the LTP for several years will have a very well-rounded education. They will know how to do oil changes, brake jobs, engine rebuilds, work on transmissions and make major repairs.
"We have torn whole cars apart and put them back together," he said. "Some of these students have experience that some technicians never have."
The students work on tractors, motorcycles, four-wheelers, snowmobiles and outdoor power equipment.
They work on auto body rust repair, which brings up another of Guenther's wishes.
"We don't have a paint booth yet. We want to expand to a paint booth." A new auto body course would make use of the paint booth/refinishing facility.
Some of those wishes may come true in the not-too-distant future. The Paynesville School District is researching an expansion program which could include a facility for the Land Transportation Program.
Putting the auto mechanics program into a new building would be a great benefit. Presently the program is located across the north parking lot and down a vacated street in a separate building with a long and varied history over its many years.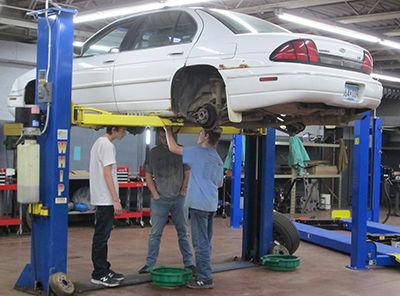 "With students walking over to class, cleaning up, and walking back to the next class, there is only about 35 minutes of class time available currently.
Geunther would like to expand to a two hour block in the future for more instructional and hands-on activity time," he says.
Guenther is hoping to add diesel mechanics to the program in the future, as well as hybrids and alternative fuel education.
Many of Guenther's students have continued on to technical colleges and followed careers into the automotive industry. Some work at Koronis Motors as technicians. One former student is a service shop manager at an area Ford dealership. One of the girls who took Guenther's classes studied auto body at St. Cloud Tech and is an estimator in a St. Cloud shop.
Guenther holds the ASE (Automotive Service Excellence) master certifications. He partnered with St. Cloud Technical College last summer to get the local course certified.
But, Guenther is not all classroom and instruction.
"I am an old car kind of person," he said. "I like to drag race at Brainerd and Grove Creek. I'm kind of a performance type of person."
He takes pride in his 1934 Chevy street rod, described as "kind of like the car from American Graffiti."