Rather than spending a childhood dreaming of being a police officer and doing everything he could to reach that goal, George Trierweiler spent a career in law enforcement rather by happenstance. And he couldn't be more pleased with the direction his life took.
"I knew I didn't want to be a truck driver," he said.
He was born at home in Sauk Centre and grew up here, graduating from high school in 1964. He married Shirley Kummer and they moved to Minneapolis, where they lived on Minnehaha Avenue. George worked for Sears Roebuck and Company on Lake Street.
"My dad was a truck driver all of his life and my mom was still working in the grocery business at age 86," said George. "I really liked working for Sears."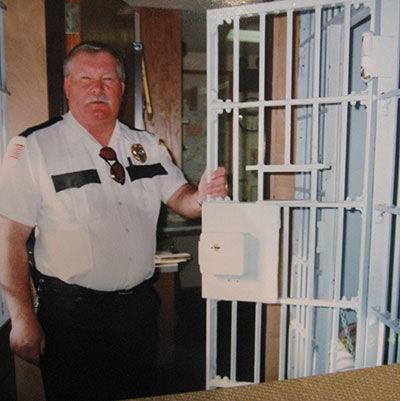 As much as he enjoyed that job, both George and Shirley wanted very much to return to a more rural life. They were driving home to Sauk Centre every weekend to get together with friends and family. George liked to go duck hunting and fishing.
"We liked it down there in Minneapolis. There was a corner grocery store on Franklin Avenue we went to. But we were used to small towns," he said.
When the opportunity rose to work for Holsum Bread in St. Cloud, they moved closer to home. When a job opened with the City of Sauk Centre, a maintenance position paying $1.25 per hour, they were able to move home.
"When we got the chance to come back, we decided to do it — and we've been here ever since," he said with a smile.
That was a time when sanding of streets was done manually, with someone (usually the street commissioner) driving a truck full of sand and two men in the back with shovels, flinging sand onto the streets — no matter what the weather was.
Not long after that, George knew a position was going to open in the police department, so he talked to Chief John Hardigan.
"He told me, 'You'd have to go to school for law enforcement first,'" George said. "I knew it would mean higher pay and no more changing shifts. It would also mean I wouldn't have to go out in below-zero weather to unplug storm sewers."
It was 1971 when George completed his eight weeks of training at the Alexandria Vo-Tech College. His classmates came from sheriff's departments in Todd, Douglas and Pope counties, among others. He received his certificate and continued his training to get licensed with the State of Minnesota.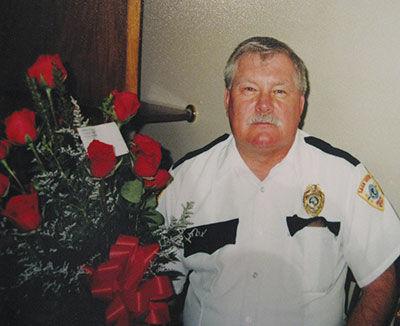 "The training we had then is nothing like the training they have today," he said.
George joined the Sauk Centre Police Department in 1972, as a patrolman. He worked the night shift for two years, being the only officer on duty.
"We checked every business' door, usually after the bars closed and everyone had cleaned up and left. We walked through the alleys, checking back doors. Sometimes they just forgot to lock up. We called the dispatcher, who called them to come down and lock the door. We waited until they came," George. said
One night, George had checked the Creamery at 3 a.m., shortly after his shift ended, he received a phone call at home from the chief, who asked about the time the Creamery was checked. It turns out that George was being watched, and at about 3:15 a.m., burglars broke in. An inside clock was broken, telling the time of the crime.
George was promoted to assistant chief in about 1975. As far as he is aware, he is the only person to ever hold that position in the department. Now, the number two man in the department holds the title of sergeant.
In 1980, after the death of Chief Hardigan, George was promoted to police chief.
One afternoon as George was on the way back to the old police station on Sinclair Lewis Boulevard from a call, he heard from dispatch that there was a bank robbery in progress downtown. As he drove past the station and toward the bank, he could see the bank manager outside pointing to the robber as he crossed the street.
"I parked the squad car sideways in the street to block traffic and laid my shotgun out on the hood. The robber had his hand in his jacket. I told him to stop and lay down in the street or I'd shoot him. He ignored me so I told him again and then he got down. It turns out he had a butcher knife in his jacket," George remembers.
At that time, in the old City Hall and Police Station, there were three jail cells. The robber was locked up there and in "no time at all" there was an FBI agent from St. Cloud there to pick him up. The police found out later that the robber's accomplice was waiting in a parked car for him. When she saw him being apprehended, she took off.
It was George Tierweiler who hired the first female police officer in the department. She was Pam Jenson, hired in the mid 1980s. She later retired as a captain with the Stearns County Sheriff.
George remembers that everyone was as prepared as possible for the new millennium, Jan. 1, 2000.
"Everyone was on duty that night, but we never had a problem," he said.
There are moments that hold a special place in the chief's heart, such as a time when he did school patrol at 8 a.m. every morning.
"There was one little girl who wouldn't cross unless I carried her. It's things like that I remember best — the good things," George said.
Another high point was the result of a medical call that he answered along with Mike Denny. A man had a heart attack and was lying on the sidewalk.
"We did CPR and brought him back," George said. "We each received a lifesaving award for that."
But one thing that began happening in increasing numbers was suicide. It was heartwrenching answering a suicide call, especially when the person was a friend. One of those calls was the last straw for George.
"The last suicide call I went to was for a fellow firefighter," he said. "When that happened, I went home and told Shirley, 'I just don't know if I want to do this any more.'"
George knew that he had enough time in to retire with a full pension. He had been on the police force 28 years, with five more years in city maintenance. It was just time. So he retired at age 55, in 2000.
What he remembers the most is the camaraderie with other policemen, getting to know them and trusting them.
"If the state troopers called, or another sheriff's department, if Melrose called, we'd run down there and help them. We helped each other out – it was like a brotherhood," he said.
It wasn't until about five years ago that George visited a doctor about the pains in his finger joints. He was told it was rheumatoid arthritis, for which he takes medication once a week.
"I attribute that to standing on the back of a truck in -10 or -30 weather shoveling sand. It's not like sitting in a heated cab with an automatic sander," he said.
Not too long ago, George and Shirley were sitting at Lucky's in Meire Grove when a retired state trooper, 91-year-old Bud Nordine, walked in with his wife, Darla. The four sat together and talked for a good long while.
"Something like that doesn't happen too often," George said. "Most of the people I worked with are dead or retired somewhere else."
It was a good long career filled with helping people in the community.
"I loved it," he said.