Fishing with Veterans is a non-profit group based in Glenwood that hosts a number of special fishing events and trips each year as a unique way to gather veterans and have fun. Since its beginnings in 2014, both the veterans and the hosts have found the events truly satisfying.
"Fishing is such a release," said Fishing with Veterans Board Member Nancy Koep. "There are no worries out on the water. All of us board members have made many good friendships with veterans."
"I am an Iraq War vet," said Board Member Jason Wegscheid of Wadena. "I loved what they did so much I pursued a spot with the organization to help give back. It's good to give vets a break from anything that may be going on in their lives and to just hang out, fish, and have a good time."
Koep, who lives in Glenwood, has been active with Fishing with Veterans since almost the beginning. Her love of fishing and the fact that she already had the equipment made it the perfect way to give back.
Each volunteer board member takes one fishing trip a year and does the planning. In 2019, Koep started a new event, a Fishing with Veterans all-women event. It was the perfect joining together of her experience and interests.
"We saw that not a lot of women were not getting involved in the fishing events and trips and thought that this would be a way to change that," Koep said.
The event is being planned again to take place on Lake Minnewaka in Glenwood the third weekend in June.
Koep has fished nearly her entire life. Her family owned a resort near Battle Lake and whenever her chores were done, "I always got to go fishing."
Panfish were on the menu then. But when she hooked a bullhead, she would put it in the boat and go back to shore to have her dad release it. The third time it happened, he gently pointed out that she should just cut the line and tie on a new hook.
One of the most meaningful fishing trips for Koep was the first time she met Dale Beihoffer and his daughter, Jennifer.
"I had the honor of meeting him at a Leech Lake Saturday event three years ago. My son, Evan, was with me, taking a 99-year-old vet and his daughter fishing," Koep said. "We listened to his stories of being in the Navy. It was a windy, rough day but Dale's response was, 'This isn't rough.'"
With her son along on the trip and there on the boat listening, Koep could see that it gave him a whole new respect for veterans. Dale recently turned 101 years young and Koep still keeps in contact.
A story on the group's website tells of a time shortly after Fishing with Veterans began, when some professional guides volunteered to provide a veteran as well as a plus-one on a guided fishing trip. To everyone's surprise, two veterans who served in Vietnam together and hadn't seen each other in more than 40 years, signed up to go on a guided trip together.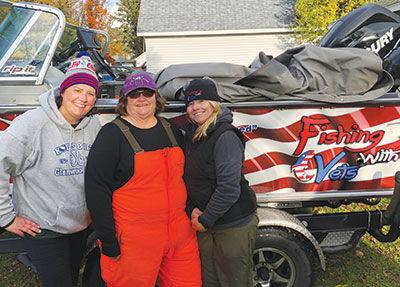 Wegscheid introduced veteran Mike Kesselring of Burnsville to Fishing with Veterans. "I hadn't been ice fishing in almost 25 years due to serving in the Army and then working," Kesselring said. "It brought me back to the simpler things in life, and (the realization) that friends and family are one of the most important things in life."
The group hosts many different fishing events that take place from January through October, in Minnesota, South Dakota and North Dakota. This includes an annual trip to Lake of the Woods in the fall. More than 400 veterans have participated in some way with these trips and events.
Wegscheid's introduction to the group came when he went as a veteran on the very first Fishing with Vets trip to Lake of the Woods in 2015.
Fishing with Vets provides all lodging, food, bait, and guides for all veterans attending an event.
Additionally, each year there are fundraising events. On Sept. 12 - 13, the second annual Veteran Hero Softball Tournament will be held in Wadena. On Sept. 19, the second annual four-wheeling fundraiser will be held at Schnorr Mudfest in Chisholm.
"It's such a blessing to offer these trips. The memories we get to make with veterans is what I love the most," said Wegscheid. "And the lifelong friendships we make. Just the fun of being with 20 vets on a trip, hearing stories about their service and the things they accomplished is the best."