What began as a need to make some extra money developed into a cottage business for two Sauk Centre youths. Dunn Brothers Popsicles has competed two successful summer seasons and continues to provide popsicles to delight the sweet tooth of anyone wanting to order them.
Fourth-grader Linus Dunn wanted a specific Lego item, a piano that played music via a phone app. The cost was pretty steep at $350, so his parents, Joel and Emily, suggested he find a way to earn the funds he needed.
"During the spring quarantine of 2020, I wanted to make money and I had the idea of a lemonade stand. My mom said it wouldn't be profitable," Linus said. "Then I had the idea to make lemonade popsicles."
Linus had just picked some fresh strawberries that he could use in the popsicles. Emily helped develop a recipe and Dunn Brothers Popsicles was born, with the strawberry lemonade flavor.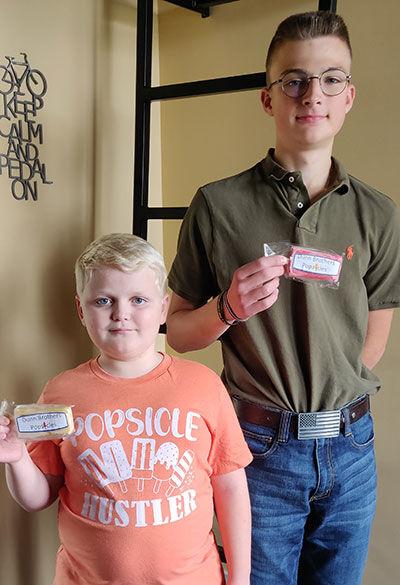 "I asked my brother, Harry, if he would help me with the popsicles. He said he would help if he could become a partner," Linus said. "I was OK with that because I wanted the name to be Dunn Brothers Popsicles. Harry became the muscle and silent partner that I needed."
Linus and Harry, a sophomore, sold about 200 lemonade popsicles at the end of their driveway during the summer of 2020.
"We had good reviews from those who bought them," Linus said.
Once the funds for the Lego piano were accumulated, all profits were put back into the business. Now, the brothers are saving to buy a popsicle maker.
They started selling again in early summer of 2021. In about midsummer, they added a Peaches 'n' Cream flavor. They sold about 2,000 popsicles during the summer.
Once Emily realized how many popsicles she was making, she thought it would be wise to get a cottage food producer permit. She contacted the Minnesota Department of Agriculture and took an online training course and examination.
"I'm glad we decided to register for the cottage food producer because then people know that we follow health and safety guidelines. They can feel confident in buying the boys' popsicles. The boys can now sell at vendor events, donate popsicles for fundraisers and deliver directly to consumers," Emily said.
"Even though I know how to make the popsicles, with the permit my mom must be the one in the kitchen making them," Linus said.
Neighborhood friends help the Dunn Brothers sell. They are paid with one free popsicle for every hour worked in the stand.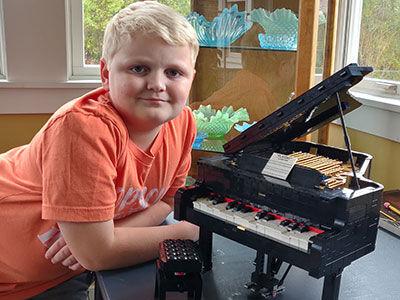 "It usually works out well, because when we're tired of working, we go play and Harry takes over for us," Linus said.
"I like the popsicle business because it's been improving my mental math skills," Harry said. "It's always fun to harass my brother a bit, too."
Next-door neighbor Don Leukam got in on the action this past summer as well. He has a golf beverage cart, a "cooler on wheels."
"One thing led to another and I offered to drive Linus around. I just sat back and let him handle it all. He's a pretty good young business guy," Leukam said. "He and Harry did the research. The popsicles are more than a treat; they're more like a meal."
The cart took them all over Sauk Centre, from Sinclair Lewis Park, the campground, the splash pad and Challenge Park to the hospital and clinic, too.
"We've also delivered to the police department  and the employees at Dan Welle," Linus said.
"I think it's great that the boys decided to start this business. It teaches them the value of a dollar and how to do something productive with their time," Emily said. "It's been a great learning experience for them."
Harry took an informal poll of customers and determined that adults choose the Peaches 'n' Cream flavor the most, while young people choose the Strawberry Lemonade. The Dunn brothers are working on developing more flavors. In the meantime, people can still order popsicles.
"The turnaround time is about three to four days," Emily said. "It depends on freezer space."
Lemonade popsicles can be ordered through the boys' Facebook page, by the half dozen or dozen. Find them at Dunn Brothers Popsicles or #popsiclehustler.