Operation Kandy Kane is a local program that supplies Christmas food and gifts to veterans and their families. Julie Peterson, with the inspiration of her daughter, Chelsy Blake Peterson, started the program in 2016. The program has been made more poignant than ever for Julie, following the death of her daughter earlier this year.
"It got a late start this year. I wasn't going to do it, because Chelsy always helped me. She had the energy to keep doing this every year," Julie said. "But then a friend told me that Chelsy would want me to do it."
The program is moving into high gear now as Christmas approaches.
"We provide gifts for whole families and boxes filled with holiday meal ingredients for whoever has a need," said Julie.
Julie is a volunteer veterans' outreach associate for Bootstrap Comrades, an organization based in Eagle Bend that assists area veterans and their families. She is a Sauk Centre native and graduate of Sauk Centre High School.
In 2018, more than 30 veterans and their families received the makings of a warm Christmas from Operation Kandy Kane, and Julie is once again busy working to fill their Christmas wishes.
Julie invites the community to join in thanking veterans at Christmas time by donating toys, by adopting a veteran or a veteran's family, or by volunteering to deliver food baskets and gifts to them.
Toys for all ages of children are needed, especially teenagers. Gifts for adults are also needed.
"Teens seem to be left out," she said.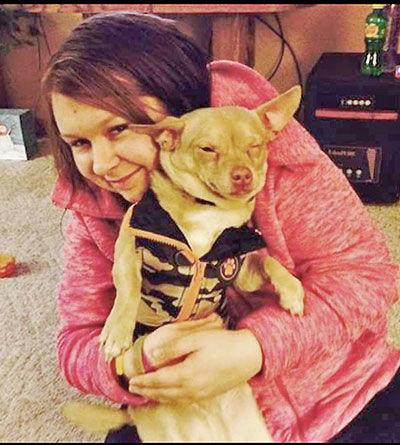 She joined Bootstrap Comrades through her acquaintance with Jode Freyholtz-London, executive director of Wellness in the Woods, which is the parent 501(c)3 organization for Bootstrap Comrades.
"I started helping because I met Jode. Wellness in the Woods needed a veterans outreach associate and I decided to do it. Then Chelsy decided we should do something for Christmas for veterans," Julie said.
Operation Kandy Kane is a name that Julie and Chelsy thought of together. It is only one of the many activities that Bootstrap Comrades sponsors every year for veterans.
Chelsy was so enthusiastic about the program that she adopted a family on her own.
"She wanted to make sure this family had a good Christmas; it was her favorite holiday," Julie remembers. "She loved ringing the bell for the Salvation Army, too."
Julie recalls one veteran who was estranged from his family. Due to bad weather, Julie and Chelsy were unable to get his gifts and meal box to him until after Christmas. When they tried to deliver it, they discovered that the man's driveway was filled with snow, as his landlord had not cleared it. The veteran trudged all the way down the driveway to pick up his things. When the ladies found out he had been alone on Christmas, they were so moved that they walked back up to his home and spent time with him while he opened his gifts.
"He told us, he couldn't remember the last time he had a Christmas present," said Julie.
One year, a family with many challenges was referred to the program. The mother of very young children (not yet school-aged) had health problems and was not working. The son had health problems too. Then the daughter had a health crisis and she was rushed to Minneapolis. With both parents there to support their little girl, the dad was not working and their meager funds were quickly used up.
"They had absolutely no money for Christmas gifts or a meal. We provided them with Christmas, when they got home after the holidays," said Julie.
In past years, new toy donations have been collected at various stores as well as other fundraising activities. With the late start this year, donations are needed more than ever to help veterans and families.
"We hope to have everything (toys and other gifts) collected by Dec. 13," Julie said.
Monetary donations will be used to purchase the food for meal boxes.
Operation Kandy Kane will include delivering food baskets — which will include all the food needed to cook a holiday meal — for veterans and families who have signed up or who have been referred to the program.
Those who want to donate food or toys or their time to Operation Kandy Kane, or to adopt a veteran or a veteran's family, can call or text Julie Peterson at (320) 534-8766.
Donations can be sent to Wellness in the Woods, 738 Third Ave. NE, Eagle Bend, MN 56446. Wellness in the Woods is a multi-county nonprofit which works with people with mental illness. Checks must be made out to Wellness in the Woods.
Donations will be accepted until Dec. 13.