When Marilyn Schroeder of Sauk Centre retired last year, one thing she envisioned was "sewing all day long whenever I can," she said. At the time, she couldn't have foreseen the present quarantine circumstances and how she would answer a call to help.
Marilyn has been a seamstress for years, and a quilter, doing alterations for people and some requested projects for family and friends. In March of this year, she received a request from the Pines and Needles Quilt Guild president, Ginny Thomas, asking if she and other quilters would be able to make much-needed face masks for CentraCare Health in Sauk Centre.
"A link was sent out to guild members to find a pattern and the materials that were needed at a website called 'The Turban Project.' The directions were only one page," said Marilyn.
So she went to work. Being a quilter of long standing, she already had a fabric "stash" ready to use.
"I had a stash of elastic from making American Girl dolls clothes for my granddaughter and my niece and to sell. There were five or six different kinds of elastic filling three shoeboxes," she said with a laugh.
Shortly after that first request, her nephew's wife asked for masks for her coworkers at Fairview Southdale. Marilyn made 56 for them. She made a number of masks for Getty Street Assisted Living, Fairway Pines Assisted Living and Alternative Senior Care. Then she was asked to make a dozen masks for an assisted living facility in Melrose. A couple of days later, Melrose called again for a dozen more. Calls came in from families of people with health issues.
At one point, Marilyn felt like things were getting a bit crazy and she stopped making masks at 518. But the need was too great and she started again.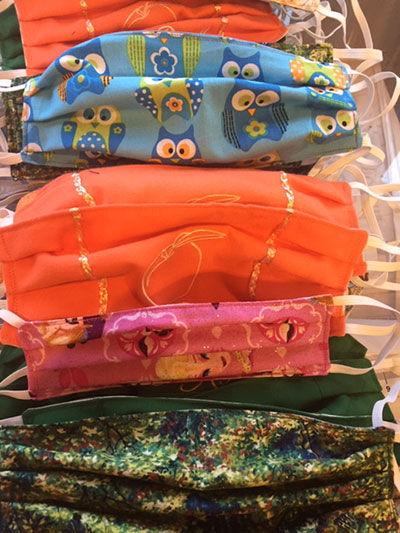 A cousin in St. Cloud asked for masks for her coworkers. People offered to pay for the masks. Even with her fabric and elastic stashes, Marilyn has needed to purchase some supplies.
"Some of them, I give away. Some of them are sold. With some, I just tell the people to pay it forward," she said. "Everyone's situation is different."
She has told many people to pay it forward by going to a local shop such as Schaefer's Market and buying food for the food shelf. There are many ways to help other people and local businesses at the same time.
A guy from the National Wildlife Turkey Federation, that takes disabled veterans on turkey hunts, heard about Marilyn's masks when he was at the pub in Greenwald and he asked for 10 masks made with camouflage fabric. She sent photos of some of the fabric she had ready, including one with turkeys on it. The turkey fabric was approved and he asked for 10 more masks.
"The next day, after showing the turkey fabric photo to friends, he called again and asked for 50 masks instead of 20. I had a whole bolt of the fabric so there was plenty," Marilyn said.
One thing Marilyn has been conscious of, is the many male nurses who will be wearing the masks. Although the pattern called for "pretty fabric," she has made sure to use "something a guy would wear" too.
At this point, she has made more than 600 masks. She has used about 220 yards of elastic and more than 37 yards of fabric. A yard of fabric is enough for 14 masks.
"I've spent more on postage than for supplies," she said.
One tip she discovered is to iron the masks very flat and then squeeze all the air out of the mailing envelopes. That way, the packages cost less to ship.
She has touched untold numbers of lives with the hundreds of masks she has prepared.
Ginny Thomas of the quilt guild has said to the quilters that she "says a prayer over the masks as she sews them."
Marilyn does that too,. She also makes sure to tell everyone she hands the masks to, to "Wear them in good health. I always hope they will be worn as a precaution and not have to be worn because someone has the virus," she said.