Chris and Hanna Lundeen of Grey Eagle are dedicated and enthusiastic about their interest in promoting clean water in the state of Minnesota. Their passion took the form of a small business, Clean Lakes MN, which they maintain from their home.
"We wanted something that would help protect Minnesota lakes and rivers, our water," said Chris.
Both Hanna and Chris maintain full-time jobs, and Chris actually works in water resources. But their apparel and lake-related business is a way for them to give directly to groups and organizations that help guard clean water.
"When we started in 2017, we dedicated 10% of our sales to donate. In 2020, we increased to 15%. We said when we started that once our business increased, our percentage would also increase," said Hanna.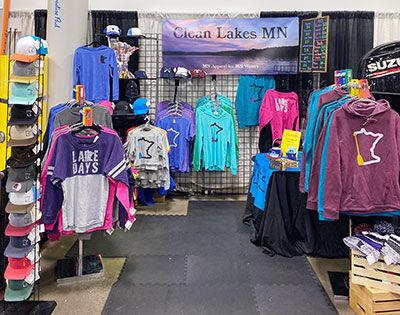 Some of the organizations that the Lundeens have given contributions to include Freshwater Society, Friends of the Boundary Waters, One Tree Planted and 1% for the Planet. During the pandemic lockdown in spring 2020, they wanted to do something to help families needing food during tough times. For a while, they donated 10% of sales to Second Harvest Heartland, sending in a donation weekly to make sure the funds got to people in need as soon as possible.
Chris and Hanna grew up on/near lakes. Chris was in a Twin Cities suburb and Hanna in Melrose. But Chris's family has for generations had the lake property in Grey Eagle, where he and Hanna and their two children live. There was a cabin there dating from the late 1800s, which was torn down when Chris was growing up.
"Since we grew up on lakes, we want our daughters to grow up on lakes too," Hanna said.
The idea to start a business grew out of their desire to do something more to protect Minnesota lakes and rivers. They chose apparel as a way to begin conversations with people about clean water.
"There wasn't a lot of money for the startup," said Chris.
Doing things the way they have, at home, has kept overhead costs very low. They still have their items printed at a shop in Sartell.
The Clean Lakes MN website is the easiest way to find the apparel, hats and mugs that are decorated with logos the Lundeens have designed themselves. The merchandise is also sold through various retail locations throughout the state, from Grand Marais to Alexandria. Hanna and Chris do a handful of art and handcraft shows and other events every year.  Their largest is the Minneapolis Boat Show.
"We have a room dedicated to the business. We do orders at night and ship on the way to work the next morning," Chris said.
The best-selling item is a trucker hat with the Clean Lakes MN paddle logo.
"We add new items from time to time and add new colors," Hanna said.
There are some changes in 2021. Moving toward decreasing the environmental impact of the business, the Lundeens are using more sustainable products, apparel and packaging.
"Although we love writing personal messages on our packing slips, we will moving to electronic packing slips only to reduce our paper consumption," their website stated.
There are also some new events on the horizon, such as a pop-up boutique in Brainerd at the Northern Pacific Railroad shops.  They hope to expand into more retail locations.
The Lundeens love their small family business, creating awareness about protecting water quality and giving 15% of the profits to help protect Minnesota lakes and rivers for future generations.
"I like meeting new people and talking with other people," Hanna said.
With apparel as a starting point, they can have conversations with a wide variety of people in different locations.
"It's about people talking about water quality issues around the state," Chris said. "We explain a lot to people about how we started. People talk to us about lake life and spending time with their families.
No matter what the Lundeens do, it always points back to their passion for clean water.