The Little Free Library at the Sinclair Lewis Campground in Sauk Centre has been successfully operating for two years, but something has gone awry.
"A month ago someone came and took the majority of the books," said Little Free Library 40305 founder Gail Wagner. "They took 20 or 30 books, paperbacks and adult reading. Are they stealing with intent to resell them? Why take 30 books, rather than one or two?"
The premise for the tiny libraries is, "You can take a book free to keep, and maybe return it after you read it, or replace it, and pay it forward," Gail said.
The campground Little Free Library has been well received. "The last couple years people have been very generous," she said, but last fall, "The week after Labor Day someone came and took most of the books."
That was a disappointment, but Wagner, friends and coworkers collected books over the winter to restock the shelves.
And then in July the books disappeared again.
The little library is located in the shelter building at the campgrounds. "It's the most convenient place for it. There are tables inside for people to sit."
But, there is no supervision, and after two thefts of so many of the books, regulation and monitoring of the free library are under discussion.
It is interesting that the children's books were not taken. "Adult books seem to be the target," Gail said.
The Sinclair Lewis Campground is the third Little Free Library that Wagner has established. The first, in honor of her late mother, was established in 2015 at Gail and Rick Wagner's home in Linwood Township, 30 miles north of the Twin Cities.
"The obsession began!" she said. She started a Little Free Library in her office building on the University of Minnesota Twin Cities Campus the following spring.
The Sinclair Lewis Campground has been a part of Rick Wagner's family summer traditions for 50 years, and when Gail and Rick came to camp she thought, "It would be fun to do a library here."
While the incidents in Sauk Centre have been disheartening, Gail is already thinking about establishing Little Free Library number four. This one would be in Littleton, Colo., at her daughter's home, in honor of her anticipated first grandbaby in September.
Gail's love of books began as a child growing up in Mounds View. "I remember as a child the bookmobile arriving once a month at the end of our street," she said. "Having books available at the end of the street was amazing!"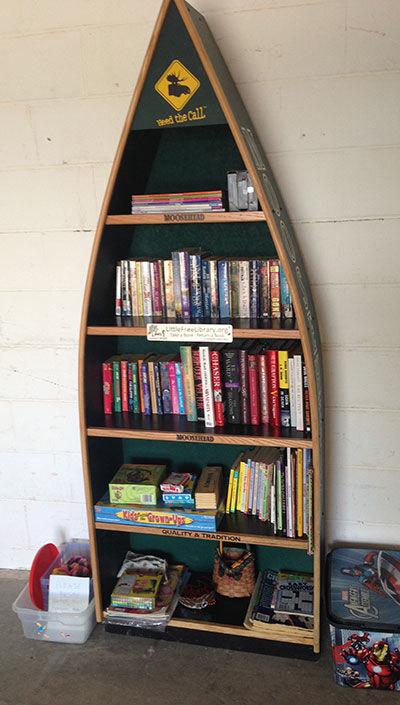 She still loves to read books. "It's nice to relax, especially being in a high paced job," she said, "to sit on the couch with all the animals around me or on me, and to read a book."
The menagerie includes three dogs and a cat.
Gail has a couple of favorite books. "The Color Purple" tops the list. "I loved the movie, I loved the book," she said.
But a children's book, "Jenny's Birthday Book" by Esther Averill was a childhood favorite. Just recently Gail found a copy on eBay, which she plans to pass it on to her new grandchild.
Founding a Little Free Library is simple. Search littlefreelibrary.org. The website has a registration form, and also offers resources, support groups, and PDFs for brochures. Plans and information for ordering plaques for the libraries is also there.
Little Free Library website also locates every library on a world map, so people can find a library wherever they are, by country, state, city, or even ZIP code.
When Gail founded her first little library her charter number was in the 20,000 range. Two years later, the Sinclair Lewis Campground library charter number was 40,305. And now, two years later, there are more than 70,000 Little Free Libraries in 85 countries around the world.
When Todd Bol founded the first Little Free Library in Hudson, Wis., in 2008, he hoped for 10,000.
There are two Little Free Libraries in Sauk Centre, the campgrounds, and the Community Gardens. Alexandria has many Little Free Libraries. Osakis has three, Glenwood has two, and Albany also has one location.