While Arctic air temperatures plunged to the single digits on Veterans Day, blacksmiths' forge flames, red-hot iron and friendly camaraderie kept 101 veterans warm and hopping at Ken's Custom Iron near Avon.
Veterans of all ages, many who never blacksmithed before, took hand hammers to the metal for the fourth annual Blacksmithing for Veterans event at Ken and MaryLou Zitur's shop. Veterans came from as far as North Dakota and as near as St. Anna to try the trade or to build on their skills.
"We wanted to give back to the veterans," said Ken Zitur, owner of Ken's Custom Iron, who has more than 40 years of blacksmithing experience. "We heard about a lot of positive things that came out of this. Blacksmithing is good therapy," he said.
The event, lasting from 9 a.m. to 3 p.m., allowed veterans to place metal in the fire, remove it when hot and pound it with a hand hammer to shape it into fire pokers, steak turners, hooks or whatever they chose. Several stations were set up and groups of about five people worked together or took turns at each station. Periodically Ken and MaryLou Zitur, Jason Shockman, Paul Jensen and Doug LaBourde gave demonstrations. Employees at Ken's Custom Iron, including Ken, MaryLou, Samantha and Justin Rule and Noah Opatz helped with the event.
"I'm very proud they're doing this for these guys," said Dewayne Clark, a veteran from Breckenridge. "It's not every day most people get to try blacksmithing. The meal was catered. This means a lot."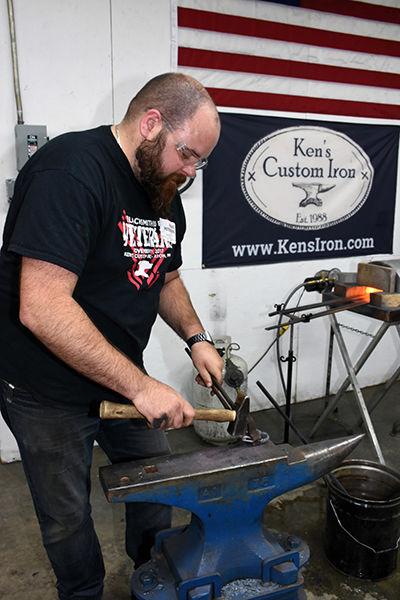 Nine sponsors pitched in to cover expenses including the metal and the meal for the event, which was free for veterans and open to all military personnel. T-shirts were sold with proceeds going to Eagle's Healing Nest in Sauk Centre.
"It's fantastic," said Paul Petersen of Otsego. "We absolutely enjoyed it. Being able to create something out of a chunk of metal is fantastic."
Working beside Peter-sen, Justin Schottmuller of Buffalo, who attended previous Blacksmithing for Veterans events at Ken's Custom Iron, chimed in with his praises.
"Knowing I enjoy this inspired me to make cabinets instead of doing warehouse work," Schottmuller said. "I enjoy working with my own hands."
Samantha Rule, Ken and MaryLou's daughter, customer care manager at the shop and a veteran herself, said the event provides the veterans with a fun experience and introduces them to a hobby that could be beneficial for them.
"We had someone tell us it was the first time in 15 years he didn't think about his PTSD," she said. "It's an intense craft that requires a lot of attention so you don't hurt yourself."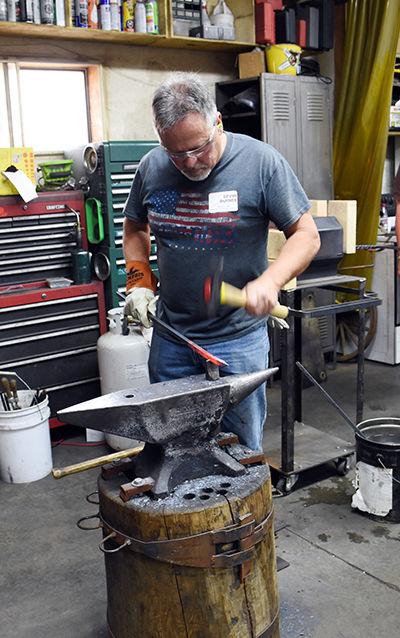 The blacksmithing process keeps the mind and body busy, Zitur said.
"You heat something up, pound your frustrations into it and turn it into something useful," he said.
Dennis Davis, a veteran from Andover who heard about the event from his mother who lives in Idaho, finds woodworking therapeutic and notes how blacksmithing could also be helpful.
"When you're able to create something from scratch, you have a purpose," he said. "That's imperative for mental health. Besides just sitting at home, it gets us out doing things, making things that will last."
Clark, who has been blacksmithing since 2011 and wanted to meet other blacksmiths at the event, said blacksmithing can be an outlet to work through anxiety.
"All the other stressors fade away and you just focus on the metal," he said.
Ken's Custom Iron makes tools for beginning blacksmiths and MZ75 power hammers, offers classes and is a modern-day metal fabricating shop. Their team operates the blacksmith shop at Pioneer Days in Albany every fall.
For more information about Ken's Custom Iron, classes, or next year's Blacksmithing for Veterans event, call (320) 746-8161.