Alexis Woeste of Long Prairie has been involved with the 4-H program for more than six years.
She belongs to the Golden Gophers 4-H Club. She keeps busy with online school, participating in Long Prairie-Grey Eagle basketball, softball and cross country. But one of her main interests is showing at the fair every year.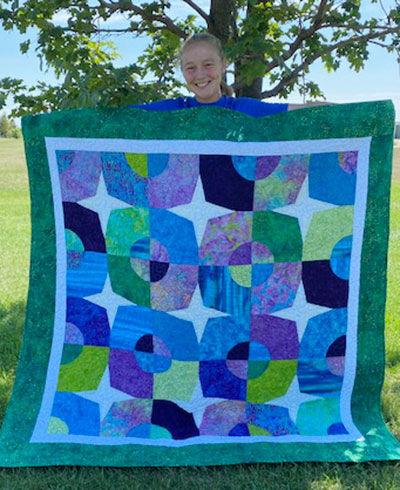 "I do it because it's fun," she said.
During her first Todd County Fair, the summer after third grade, she showed a pillowcase, a pair of pajamas and a lamb. With her lamb, she earned a Grand Champion Showman grades 3-5. That got her off to a good start.
The following year, she made her first quilt and showed a few lambs. She again earned Grand Champion Showman grades 3-5.
It was after sixth grade that she began showing dairy calves. She took a quilt, lambs and Lavender, her dairy calf. Every animal took a blue ribbon, and she also earned Grand Champion Showman grades 6-8.
That year was her first trip to the Minnesota State Fair. Her quilt took a blue ribbon, and her heifer calf took a purple ribbon.
"It was a little nerve-wracking because I didn't know what to expect, but it was a fun experience," she said. "My best memory is showing in the coliseum."
Both Alexis' dad, Tim, and her grandma, Marcia, were in 4-H, also. The family history goes back even further, since Marcia's parents met at a county fair.
The fair after seventh grade, Lavender the dairy calf was a yearling. Alexis also took other dairy heifers, lambs and a new quilt. She earned a spot at the State Fair and earned blue ribbons with both the quilt and Lavender.
She participated in the fair virtually in 2020, making a video for the Todd Cou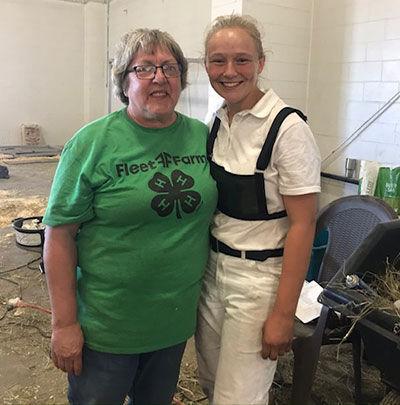 nty Fair. She didn't show either lambs or a quilt, but stuck with dairy. She had a Champion Jersey heifer, Champion Holstein heifer, and earned Champion Dairy Showman grades 6-8.
One of the heifers was also Champion Reserve. For the state fair, she made a new video and earned Champion Dairy Showman grades 6-8 with her Champion Jersey. She also had a Champion Holstein.
"It was different, but we still got to participate," she said.
There was a long list of animals/projects she took to the county fair this year. Along with a new quilt, she showed four lambs, two heifers and one cow. The lambs took Champion Market Lamb, Champion and Reserve Registered Ewe Lambs and she earned Grand Champion Sheep Showman grades 9-12. Her dairy animals earned Champion Overall Cow, Champion and Reserve Champion Heifer, with Alexis earning Grand Champion Dairy Showman grades 9-12. She earned a blue ribbon for her quilt at the State Fair and a purple ribbon for her dairy yearling.
"I was more prepared and more experienced this year; I knew what to expect and how to get animals around without running into a bunch of people," she said.
She competed in showmanship for the first year with her dairy yearling and finished in the Top 20.
All of the dairy animals that Alexis shows belong to the family. Her lambs have always been rented from Durheim Family Farm, which is a short five miles away.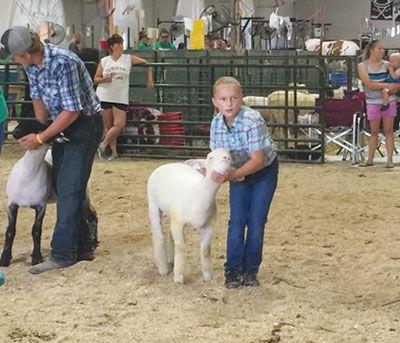 "They taught us how to take care of them, how to lead them," Alexis said.
In addition to showing through 4-H, Alexis and her younger siblings all show open class at the fair.
"They prefer to show open class because they can do it themselves," said Alexis' mom, Ammy.
This year, Brooklyn showed a dairy calf, sheep, a pillowcase and a fairy garden. She earned a State Fair trip, but won't be eligible for three more years, since she had just finished third grade.
Younger sister, Paxton, is a 4-H Cloverbud and showed a calf, sheep and a fairy garden. Maverick, age 2 ¾, showed a calf with mom's help in open class.
The Woeste family also goes to open shows, such as Youth Show during Dairy Days in Sauk Centre.
"We get more experience and learn more," Alexis said.
The Minnesota State Holstein Show was actually held in South Dakota in 2020. The family has been going there for a few years.
"I do it because it's fun. I get to experience something different than most people," Alexis said. "It teaches responsibility."