Hailey Breth is no stranger to sunrises on her family's three-generation ranch. In fact, it was on these foregrounds she discovered her passion for horses, cows, chickens and all things breeding. Rain, sun, snow, or sleet, hard work and compassion are just two of many valuable skills Breth contributes to the ranch — skills she gained in her 11 years with 4-H.
One may ask, what is 4-H? It is America's largest youth organization, where members receive advice from adult mentors, and are provided the platform for self-expression and community engagement. Observing her family member's successes in 4-H, Breth was confident in the organization and its ability to transition teens into adults. "It's a great leadership organization that helped me meet people from all over, and of course, make new friends. They also provide day and overnight camps," Breth said.
4-H is available to anyone, of any background, from grade 1 through their freshman year of college — which Breth has just reached. Although she has concluded her final year with 4-H, Breth is not walking away anytime soon.
"After your freshman year of college, the organization allows members the opportunity to volunteer, so I'm definitely looking into that," Breth said.
As may be expected, Breth's involvement with 4-H has allowed her to come out with a phone book of new friends and an unyielding resume of leadership experience. Breth encourages others to join 4-H as it offers unparalleled experiences that are deep-rooted in trust and integrity that challenges members to go out of their comfort zone.
Another feat Breth can list on the resume? Earning second place in the heifer class for the Beef Showmanship Award at the Minnesota State Fair. In conjunction with 4-H, Breth and nine others represented Stearns County.
Breth brought her heifer calf, while others brought their own breeding and market animals. When asked what it takes to rank so high in such a competitive show, Breth said, "It's all about learning how to manage and lead the animal, and become more comfortable with being around it. And, of course understanding proper grooming." Generally, the highest ranking heifer cow is dependent on its build, such as leg structure, how much milk she's producing, and how thick or heavy, she is.
Today, Breth is owner of Hailey's Tune Ups and Finishing, a business dedicated to horses. Many of Breth's clients use her services if their horse has been immobile over the winter and the owner hasn't had the opportunity to get the horse going again. Other clients may use Breth's services if their horse has just completed comprehensive training. In this case, the owner will send the horse to her for desensitizing and becoming more comfortable on trails. Alternatively, clients may want to get a head start on their horse's basic preliminaries before winter, so they will send them to Breth for lunging and desensitizing.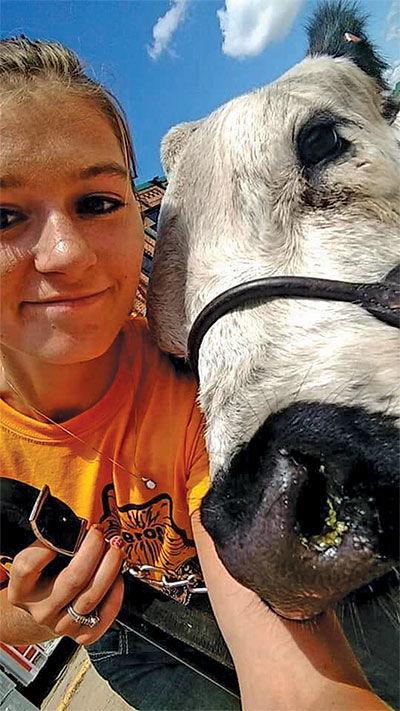 What's more? Breth and her mother Christina are partners in the Rolling Hills Cattle Company. Christina started the company when Breth was young, and when Breth graduated from high school, the two officially became partners. Breth and Christina pride themselves on traditions of fast-gaining, easy keeping, and gentle cattle that guarantee excellent milk production, high fertility, effortless calving, growth and stamina, and superior flavor and tenderness.
Breth and Christina's ranch is packed with various livestock, including: pigs, chickens, ducks, turkey, sheep, and guinee hens. Although her spare time is limited, Breth takes full advantage of it by riding horses and bulls, and chasing their British Whites along the ranch's lengthy, green meadows. British Whites are known to be a gentle breed of cow, the breed Christina and Breth submit in the annual Cattle-End Association Shows in Oklahoma. During last year's show, Christina and Breth's heifer calf was the overall champion, placing first in the competition.
Breth takes pride in their cow's reputation of being extremely mellow. "We can touch new-born calves and the parents don't mind. Or, if the bulls are fighting, we can walk up and break them apart," said Breth. Breth and Christiana raise their own bulls, and teach them obedience at a young age. Ranchers in the community have even requested that Breth and Christina raise their bulls because of their strong expertise and success with animal.
Needless to say, Breth's involvement with 4-H has provided the platform for her to become an active member in society, providing leadership, expertise, and devotion to others. Launching a lifelong career at such a young age is certainly an inspiration to other young women seeking success through their unique skillsets.