At weddings, people have love on their minds, watching the happy couple vow to love and cherish each other as long as they both shall live — but not many can say they became engaged to their partner at an actual wedding.
This was precisely how bride-to-be Rachel Lea became engaged to her fiancé, Shayne Milbrett. Both Rachel and Shayne were attendants in Shayne's sister, Cally (Milbrett) Delage's wedding to Jason Delage, in  late summer 2019.
"I was so surprised," Rachel said. "It was when the bride throws the bouquet. Instead of throwing it, she turned around and handed it to me. Then she turned me around, and Shayne was on one knee, proposing."
Rachel said the song, "This Girl is On Fire" by Alicia Keys, was playing in the background and she turned around just as the chorus started playing.
"I was crying, it was really nice,"Rachel said.
No one else knew about the proposal, except for the bride and the photographer, but luckily, someone did capture it on video. Rachel said her future sister-in-law had always wished for someone to become engaged at her wedding. Shayne made her wish a reality — he was planning to propose to Rachel anyway, and Cally was delighted to have it take place at her own wedding during the bouquet toss.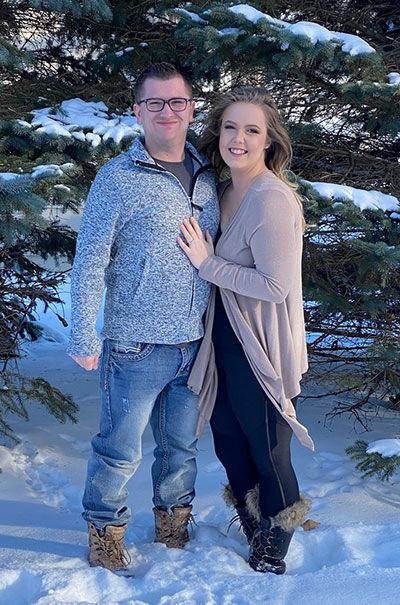 Rachel and Shayne were introduced by mutual friend, Ryan Widman, and began dating shortly after. They had been dating for three years when the engagement took place. Rachel, from Lowry, and Shane, from the Meire Grove/Greenwald area, both now live in Alexandria. The couple had looked at rings a bit, but Shayne's sister, Cally, helped him choose the engagement ring.
A June 2020 wedding is planned at St. Mary's Church in Alexandria, with Father Steve Binsfeld officiating. A reception will follow at the Broadway Ballroom and the couple is planning for 150 guests. They have chosen rose gold for their wedding color. Bridesmaids dresses and décor will be rose gold.
Bridesmaids will be Nicole Milbrett as maid of honor, Jessica Milbrett, Cally Delage and Amanda Milbrett. All four are sisters of the groom. Groomsmen include Ryan Widman as best man, Cody Lea and Ryenn Shaw (brothers of the bride) and Jason DeLage, brother-in-law.
Flower girls are Kassidy Lea and Charlotte Delage and the ring bearer is Everett Delage.
Rachel set out with her mom, Becky Lea, to look at wedding dresses and unexpectedly found "the dress" on their first outing at Jackie J's in Alexandria. She describes it as a trumpet style dress, but cannot give too many details to keep the element of surprise for the wedding day.
Shayne picked out the tuxedos for the groomsmen. Rachel describes him as "very involved" in wedding planning, which she has appreciated. Shayne's mother passed away from breast cancer when he was 16, and the couple will have a special memorial to honor her on their special day.
The couple has taken on the task of wedding planning. Rachel, a talented do-it-yourselfer, has designed the flowers and décor. She made her own bouquet, and is making the bridesmaid bouquets as well. Peonies, hydrangeas and roses will be featured.
"I like to reuse and recycle" Rachel said. Although the flowers were purchased new, Rachel has found much of the décor secondhand, such as mirrors, vases and candles. She has also found items at local craft stores, such as greenery for her flowers at Crafts Direct.
"With a glue gun and rose gold spray paint," Rachel can customize items to fit into her color scheme. She has a great eye for detail and enjoys seeing items come together to form a beautiful creation.
Rachel gets her inspiration from taking pictures of things she likes, then she puts them together, taking the elements she likes and finding a way to make it fit into her vision.
When she is finished with the wedding décor, she plans to resell her items. Doing-it-yourself has helped the couple stay within their budget and also customize items for their needs.
Rachel said, "If you are going to do it yourself, you must start right away."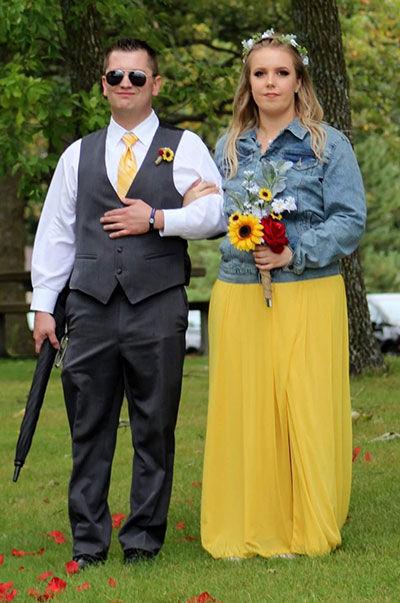 Finding the right things and putting it all together can be time consuming, and she spends much of her free time working on projects. She loves using her creativity, and would even consider wedding/event planning for others.
The couple chose a photographer from Frazee, and a DJ service based out of Minneapolis. They have a St. Cloud limousine service to transport them to the church and reception.
With several food options at their venue, the couple chose a pasta bar, and plan to have cupcakes for dessert. They are hoping to incorporate a chocolate fountain with fruit as an appetizer.
Rachel and Shayne have not set a date or location for their honeymoon, but want to save money first.
She graduated in May 2019 from the LPN program at Alex Tech College and works at Bethany on the Lake. Shayne is the general manager at the north McDonald's in Alexandria.