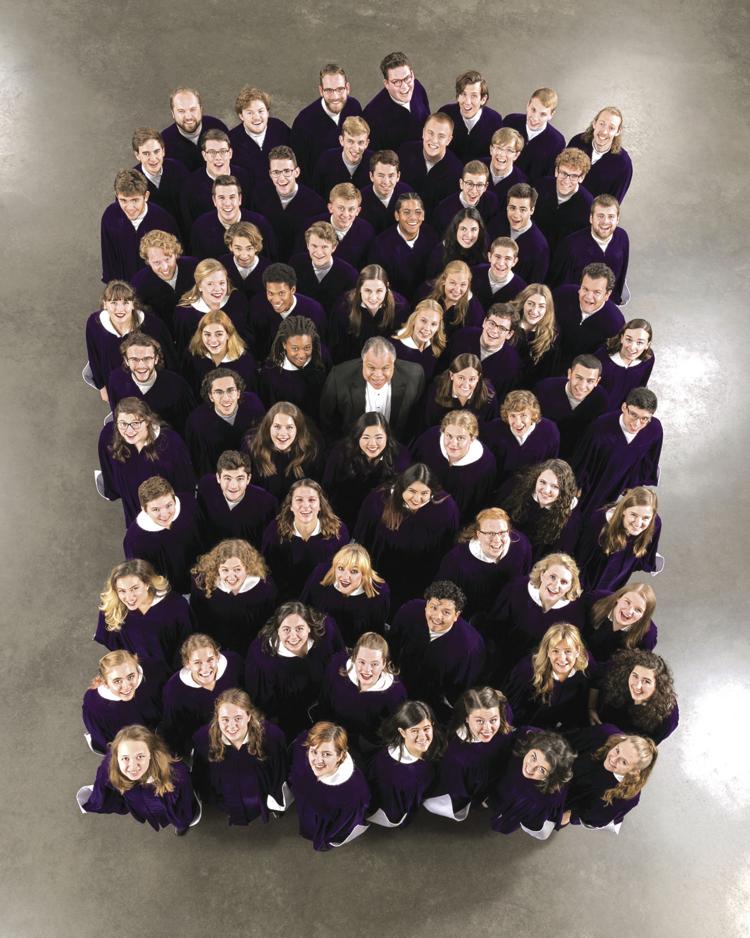 UPDATE: Due to severe weather conditions, the St. Olaf Choir concert planned for 7 p.m. Saturday, Jan. 18, at Andover High School has been cancelled. This decision was made for the safety of audience members and performers.
Although St. Olaf does not refund ticket purchases, they're working to reschedule a concert in Andover, and will honor all current ticket purchases for this future concert. Please check the St. Olaf Choir website for upcoming concert details.
---
The St. Olaf Choir is celebrating the 100th anniversary of its first East Coast national tour during this year's National Winter Tour in the month of January. The tour includes a stop at the Andover High School Auditorium at 7 p.m. Saturday, Jan. 18.
During the National Winter Tour the ensemble's 75 singers will perform in 15 cities from Saturday, Jan. 18, through Tuesday, Feb. 11, in Minnesota, Wisconsin, Illinois, Michigan, Ohio, Pennsylvania, New York, Connecticut, Massachusetts and Carnegie Hall in New York City, New York.
"Hearing the St. Olaf Choir in concert is more than just a musical experience," conductor Anton Armstrong said. "Our singers, performing at the highest artistic level, convey a message of hope. Our music provides a bridge to what can unite us at a time when the world is so divided. We often hear from concertgoers who tell us they are not only struck by the sound and uniformity of the St. Olaf Choir, but also by the earnestness of what comes through the voices of our young singers. Our singers touch the hearts and souls of listeners, and our audiences leave transformed."
The 2020 National Tour also marks Armstrong's 30th year as conductor of the St. Olaf Choir. He's only the fourth to lead the ensemble during its 108-year history.
Armstrong has assembled a program that draws from the St. Olaf Choir's history and includes contemporary works by composers who have had strong ties to the St. Olaf Choir.
The music, both sacred and secular, ranges from works by the Renaissance Jewish composer Salamone Rossi to Jordanian-Canadian Shireen Abu Khader.
The concert program is divided into four sections: "Songs for Praise and Rejoicing," "Songs of Adoration," "Songs of Justice and Compassion" and "Songs of Love and Hope." 
Featured works include Johann Michael Haydn's "Laetatus Sum," Johann Sebastian Bach's "Der Geist hilft unsrer Schwachheit auf," Ralph Vaughn Williams' "Gloria (Mass in G Minor)," 19th century Moravian composer Woldemar Voullaire's "Selig sind die reines Herzens sind," Rosephanye Powell's "Sorida," Alexander Gretchaninov's "Our Father and When Thunder Comes" by St. Olaf College graduate Mari Esabel Valverde, Shireen Abu-Khader's arrangement of the traditional Arabic song "Lammaa Badaa Yatathannaa" and Frederic Weatherly's "Danny Boy" arranged by Joseph Flummerfelt, the American choral conductor who died in March 2019.
Joining the St. Olaf Choir and Armstrong on their tour is violinist and violist Charles Gray, professor of music at St. Olaf. He will lead a 12-person chamber ensemble that will perform with the St. Olaf Choir on this tour.
Tickets to the Andover High School show are $20 for adults and $10 for students. To purchase tickets visit stolaf.edu/tickets or call 1-800-363-5487 ($5 transaction fee will be added to all phone orders).
The high school is at 2115 Andover Blvd. NW, Andover.