Traffic fatalities in Anoka County decreased by more than a third in 2019, but with alcohol as a factor in over half the fatal crashes, more deaths were avoidable.
There were 18 traffic deaths in 16 fatal crashes last year compared to 28 deaths in 27 crashes in 2018, according to preliminary numbers from the Minnesota Department of Public Safety.
Alcohol played a role in at least nine of the fatal crashes in Anoka County in 2019. Statewide at least 102 traffic deaths were alcohol-related.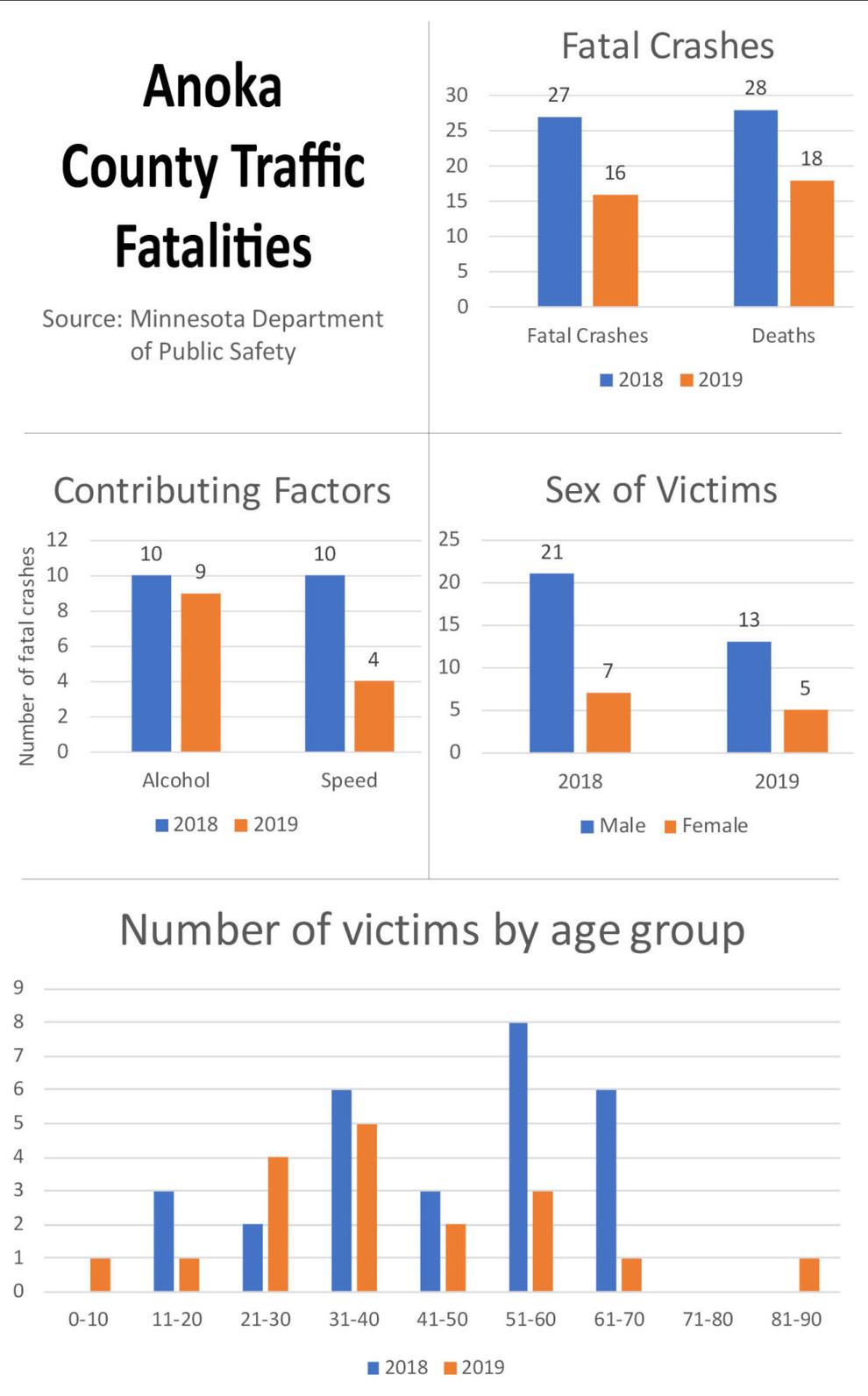 "I think they're all avoidable," Coon Rapids Police Capt. Jon Urquhart said of alcohol-related fatalities.
With ride-share services like Lyft and Uber, in addition to traditional cabs and public transportation, Urquhart said it's easier than ever to find a safe ride home.
"There's really no good reason for someone to be driving impaired in today's day and age," he said.
In 2019 the Coon Rapids Police Department arrested 210 impaired drivers. Since Oct. 1, 2019, the department once again has a dedicated DWI enforcement officer, thanks to a federal grant.
The Anoka County Sheriff's Office made 221 impaired driving arrests last year, according to Lt. Andy Knotz, of the Sheriff's Office. Across Minnesota, the Department of Public Safety's preliminary numbers show there were 27,975 DWI arrests in 2019.
Drunken driving isn't the only preventable factor in traffic fatalities, however.
"The three main things usually in fatal crashes are going to be impaired drivers, not wearing your seatbelt and speed," Urquhart said, adding that distracted driving is also a significant problem.
Last year speed played a role in at least four fatal crashes in Anoka County.
Three of the crash victims who died in the county last year weren't wearing seat belts in their vehicles, and three motorcycle victims weren't wearing helmets.
While distracted driving wasn't listed as a factor in any of the county's fatal crashes, it was only ruled out in two. Statewide at least 27 deaths were known to be distraction-related.
"Sometimes it's difficult to put contributing factors to a situation," Knotz said, but he emphasized distracted driving is a significant danger.
Four of Anoka County's fatal crashes involved motorcycles in 2019; three involved pedestrians; and one involved an ATV. Half the victims were between the ages of 21 and 40. Thirteen were male and five female.
Like Anoka County, Minnesota saw a decrease in overall traffic fatalities in 2019. At 364 deaths it averaged almost one fatality per day, but that was down from 381 deaths in the state the previous year.
Although roads in the winter can be treacherous, summer is one of the most deadly times of the year on Minnesota roads, with the months of June through August accounting for 35% of the state's traffic fatalities last year.
The Department of Public Safety offers the following tips to help everyone stay safe on the roads:
• Plan a safe ride. Designate a sober driver, use a safe, alternative transportation option or stay at the location of a celebration. If you see a person who has had too much to drink, speak up and find them a safe ride home.
• Offer to be a designated driver or be available to pick up a loved one anytime, anywhere.
• Buckle up. Wearing your seat belt is the best defense against a drunk driver.
• Report drunken driving. Call 911 when witnessing impaired driving behavior. Be prepared to provide location, license plate number and observed dangerous behavior.
• If you are with a driver who is distracted, speak up, tell them to put the phone down and offer to be their designated texter.
• Refuse to drive until every passenger is buckled up.
• Slow down. Trying to save a few minutes off your drive isn't worth causing a crash.