The Spring Lake Park-Blaine-Mounds View Fire Department recently honored two retired district chiefs who died last month.
Richard "Dick" Arthur Packenham, 78, of Hugo died Aug. 6, and Wallace "Wally" Charles Schuldt, 87, of Mounds View died Aug. 21. Both served the SBM Fire Department as district chiefs for over 20 years.
The SBM Fire Department paid tribute to both retired volunteer firefighters Aug. 27 by hanging a U.S. flag from a fire truck in their honor. The department shared an image of the memorial on Facebook with the message,
"Tonight we are honoring one of two recently fallen brothers from our past. Retired District Chiefs Richard "Dick" Packenham and Wally Schuldt both served over 20 years on SBM and were instrumental in the transformation of our operations and relief association. It is with a heavy heart that we honor these two Chiefs for their commitment to the communities of Spring Lake Park, Blaine, and Mounds View."
A memorial service was held for Packenham Aug. 16 at the SBM Fire Department Station 3 in Blaine and another for Schuldt Aug. 28 at Messiah Lutheran Church in Mounds View. Both services ended with a "last call" tribute over the department's radios. A fire bell also rang three sets of three chimes, which recalls when the bell rang to start a shift, to call firefighters to an alarm and to signal an alarm had ended.
"Each of these men served over 20 years in this community, and that speaks for itself," Retired SBM firefighter Jim Hansen said. "They really cared for this community."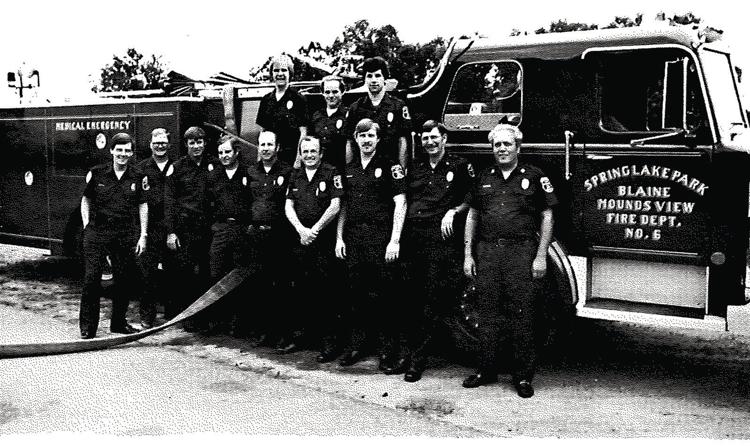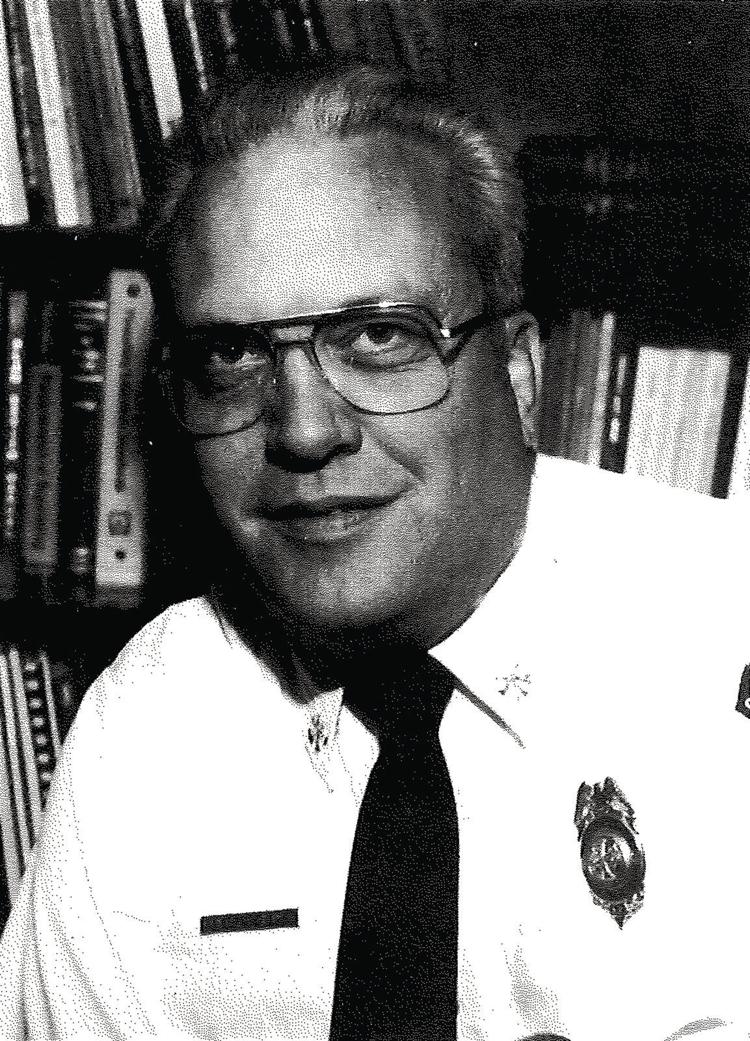 Richard "Dick" Packenham died Aug. 6 at Good Life Senior Living in Hugo. Packenham was born July 31, 1941. He previously lived in Blaine when he was serving as a firefighter and later retired to Chetek, Wisconsin.
Packenham served as a volunteer firefighter with the SBM Fire Department 1969-1990. He was appointed as a district chief in 1976. A district chief is an operational supervisor over multiple battalions.
"We knew our Dad always as a man of service to others," Packenham's family wrote in his obituary.
Hansen said he remembers Packenham as "a fun loving guy."
"Dick was always a jokester," retired SBM firefighter Larry Myslicki said. "Even in the middle of the worst he was always making jokes."
Retired SBM Fire Chief Nyle Zikmund served under Packenham when he was district chief.
"Dick had the most laid back personality," Zikmund said. "He was real easygoing and knew how to get things done while still having fun."
Zikmund said Packenham's biggest contribution as a firefighter was developing the department's Firemen's Relief Association pension fund. He served on the association's board of directors as treasurer, where he connected the Fire Department with a professional money manager to help improve the department's pension plan, including adding spousal benefits.
"It was his legacy to the Fire Department," Zikmund said.
Packenham mentored Zikmund on finances and pension plans. When Zikmund became president of the Firemen's Relief Association, he used Packenham's model to help develop the Statewide Volunteer Firefighter Retirement Plan in 2012.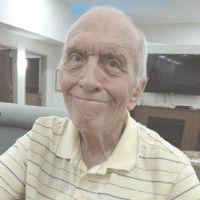 Packenham worked more than 30 years at the Minnesota Mutual Fire and Casualty insurance company. He started in the mail room but rose to vice president before retiring.
Packenham recently served as the president of the Chetek Lions Club and was awarded the Melvin Jones Fellowship Award for humanitarian work. He also enjoyed fishing for walleye in Canada.
Packenham was preceded in death by his wife Sandra Jo Packenham. Together they raised their son Thomas and daughters Ellen and Linda. They also had two grandchildren.
"In all situations life brings to children who grow into adults our dad was always there for us," Packenham's family wrote in his obituary. "We knew he would be there no matter what. A call to dad meant we would have an ear and advice. We didn't always want the advice, but it was good advice and made us into better people. We always felt love and respect. Always! This man could not have been more loved by his family."
A memorial service was held for Packenham Aug. 16 at the SBM Fire Department Station 3 in Blaine.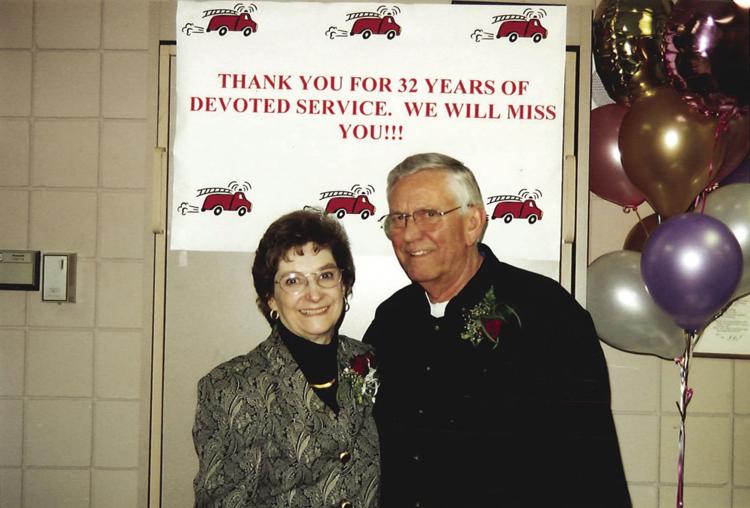 Wallace "Wally" Schuldt died Aug. 21 in Mounds View. Schuldt was born July 10, 1932, in Clear Lake. He graduated from Clear Lake High School, where he still holds the record for most points scored in a basketball game because the school has since closed.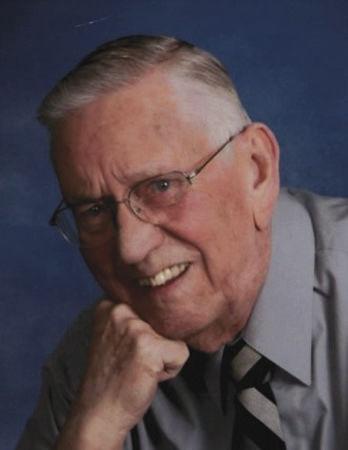 Schuldt served four years in the U.S. Navy and was primarily aboard the U.S.S. Yorktown aircraft carrier during the Korean War.
"He was very proud of his service to our country, and he said it was the best time of his life," Schuldt's daughter Carole Peterson said.
After returning home from his military service, Schuldt married his wife Janet in 1959. They were married 60 years and had four daughters (Julie, Nancy, Carole and Debbie), 13 grandchildren and three great-grandchildren.
Peterson said her parents "truly loved each other through thick and thin. They had this precious way to say goodnight or goodbye. They would kiss each other five times in a row. One for my mother and one for each of us daughters. This continued to the very end."
After his military service, Schuldt continued his education at the University of Minnesota and Brown Institute. His career was in manufacturing engineering and plant management.
Schuldt served as a volunteer firefighter with the SBM department 1963-1984. He was appointed a district chief in 1980.
"Very often he would fly out of dinner or in the middle of the night wearing his pajama top and a pair of pants," Peterson recalled about her father's time as a firefighter. "He would back out of our long driveway at lightning speed to get to the station quickly. He loved working with the other firefighters and enjoyed serving his community this way."
"Wally was always a quiet guy, but always had a smile on his face," retired SBM firefighter John Kuitrud said. "He was a very laid back guy."
Hansen said he was a rookie when Schuldt became district chief. "Wally was the guy we looked to for leadership on the fire scenes, drills and elsewhere," Hansen said. "He was so confidant as a district chief."
"No matter how bad a situation was, it would never shake him up," retired SBM Firefighter Kevin Vito said of Schuldt. "He was always cool and calm on the fire scene."
Vito said he only saw Schuldt get angry once in the late 1970s during a call in the middle of winter.
"It was a tough winter and there was a lot of snow and we had to pull a whole line all around the house because a deck was on fire. ... Wally could walk faster through the snow than we could, and he kept yelling at us to get moving," Vito said laughing. "That was the only time I saw him upset when he thought we were taking too long to get that hose out."
Schuldt's wife Janet served the SBM Fire Department as an executive assistant 1971-2003. She worked under chiefs Ron Fagerstrom and Nyle Zikmund.
Schuldt "was known as a man of strong faith and his deep love for his family and friends," his daughter Nancy Titus said.
Schuldt and his wife were active members of Messiah Lutheran Church since 1962. For 20 years, the Schuldts' started and ran a ministry for the church that brought DVDs of the services to parishioners who were homebound, according to their daughter Julie Bateman.
Nancy said her father was known as a "fierce prayer warrior" who would read from his Bible every morning, which was scribbled with notes, thoughts and prayers. His favorite was Psalm 51. "My dad had a tender heart and loved God immensely," Nancy said.
Schuldt's youngest daughter Debbie Brandes added, "That time with the Lord changed him ... and he was a great example to us in that way."
Schuldt's favorite Bible passages and hymns were performed during his memorial service Aug. 28 at Messiah Lutheran Church in Mounds View.