March is Women's History Month, a time to honor the contributions and achievements of women in history. This year the U.S. also celebrates the centennial of the 19th Amendment, ratified Aug. 18, 1920, which gave women across the country the right to vote.
In honor of Women's History Month this year, ABC Newspapers each week is featuring women from around Anoka County who are making a difference. The lists are far from comprehensive, but they seek to highlight a few of the notable women from the area.
Baraa Al-Jasim
Blaine High School innovator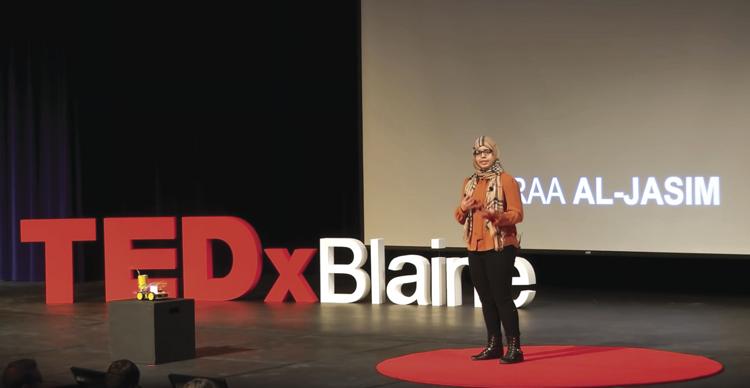 Seventeen-year-old Baraa Al-Jasim, of Coon Rapids, became interested in engineering at age 8 when she started doodling and building prototypes of bridges, homes, buildings and cars out of anything she could find — Popsicle sticks, cardboard, paper. She taught herself about mechanical engineering and architecture through YouTube tutorials and books.
Now a junior, Al-Jasim has been a member of the Blaine High School G.E.A.R. Robotics Team for three years, but after a grease fire destroyed the home of her mother's friend, Al-Jasim wanted to build her own firefighting robot. So she set out to learn coding and other skills she'd need.
"Self-teaching myself is much better because I can control the information I get, and I can use what I need when I'm applying it," she said. "If you take a class, some of the information you'll use, and most of it you won't use, especially with what I wanted to build."
Al-Jasim's fully autonomous firefighting robot detects a flame, locates it and extinguishes it with a water pump.
She presented a prototype May 18, 2019, at TEDxBlaine at Blaine High School, where she gave a talk.
"Robotics, specifically artificially intelligent robots, are becoming more and popular and advanced," Al-Jasim said during her TEDxBlaine talk. "I want to change the way people use and interact with technology. I'm attracted to knowing how things work and being able to build robots that can do what humans can do."
Al-Jasim said her firefighting robot reduces the risk for firefighters and improves call response times. In 2019 she won Intel's Computer Science Award and the United States Naval Office of Naval Research Science Award.
Al-Jasim will present at the 2020 International Science of Engineering Fair, planned for May 12-15 in Anaheim, Calif., if it's not canceled or rescheduled due to the COVID-19 pandemic.
Al-Jasim said there aren't enough women, especially Muslim women, in STEM fields. But she encourages women to not be afraid to fight for their dream.
"Engineering, math and physics is a male-dominated hierarchy that breeds a culture of sexism," Al-Jasim said. "Talent is not what's keeping women away from science. ... We're only starting to tackle the problem, but we have a long way to go."
Brynn Nguyen
Active leader at CRHS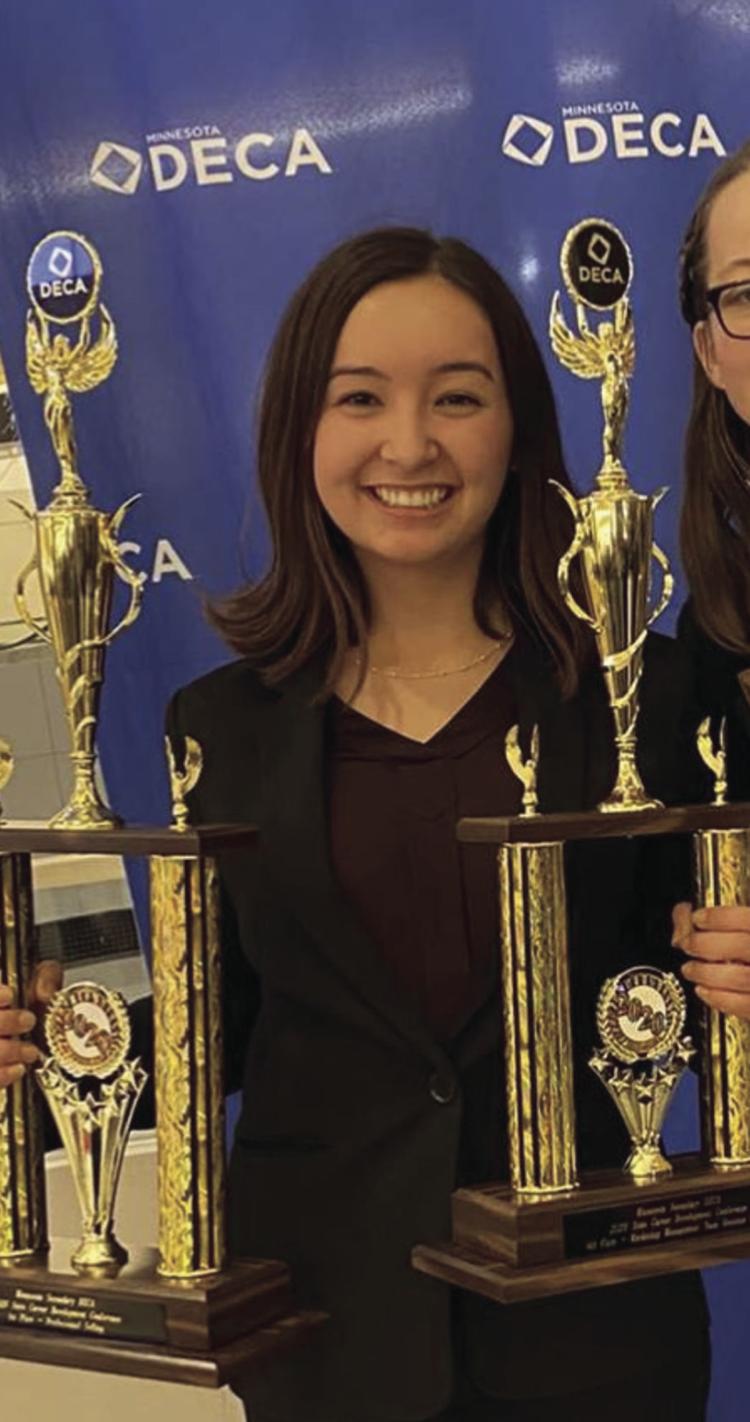 Coon Rapids High School senior Brynn Nguyen stays heavily involved in her school district by taking on numerous leadership roles.
Her passion and the people she works with keep her motivated year-round.
"It's fun and satisfying to be as involved as I am," Nguyen said. "My roles have made me a better speaker and a better leader."
Nguyen is the high school's DECA chapter president, a role she's been working toward since freshman year. In 10th and 11th grade she was the chapter's vice president, and last year she was Minnesota District 4's regional president.
DECA, a business leadership program for youth, helped Nguyen recognize her passion for business. This, on top of her world traveling, has influenced her to pursue international business or global studies (or maybe even both).
"I love bringing things together," she said.
On top of DECA, Nguyen is a student board member for the Anoka-Hennepin Educational Foundation, an organization that raises money for different schools and programs districtwide.
There's also Cardinal Connections, which helps bridge the gap between high school students and businesses looking to hire them.
"We help high schoolers get their food in the door," she said.
In addition, Nguyen is part of the National Honor Society.
As a girl, Nguyen didn't realize the barriers she'd have to break down as a biracial woman.
"I never saw a difference," she said.
But in high school she's learned about gender-based discrimination and stereotypes.
"Putting that into perspective with what I've been able to accomplish, I ... think it's pretty amazing that we've been able to progress so much that I'm able to meet my goals by hard work just like anybody else is able to."
Rivers Thomsen
Compassionate organizer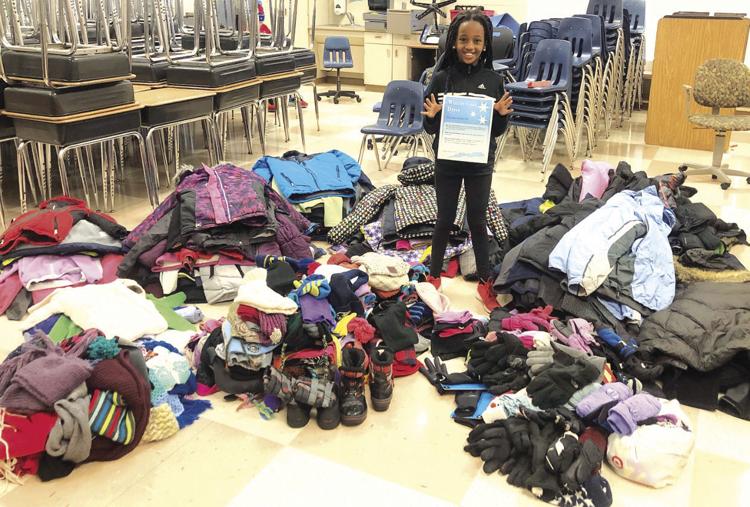 One 10-year-old Rum River Elementary student showed her leadership during the holiday season when she decided to collect winter gear for families in need.
Over two weeks Rivers Thomsen gathered 116 coats, 36 pairs of snow pants, 146 hats, 153 mittens, 38 scarves and two pairs of boots, she said.
"I made flyers and I did an announcement at my school, and they just collected them in the room next to my classroom," Thomsen said.
She gave out suckers and other materials to donors who dropped off items.
Thomsen was inspired to do the coat drive by a character in the book "Wonder" by R. J. Palacio, who collected coats .
The Thomsens donated the winter gear to Urban Ventures in Minneapolis, a faith-based organization dedicated to breaking the cycle of poverty.
"We got to actually help the families find coats for their kids, and mittens, so it was first-hand experience, which was kind of neat to see where everything went, and it was heartbreaking at the same time," Rivers' mom Shelley Thomsen said.
Thomsen learned how happy and excited people in need become when you help them, she said. Next year Thomsen hopes to do it again, possibly at an earlier time or including other schools in the effort, she said.