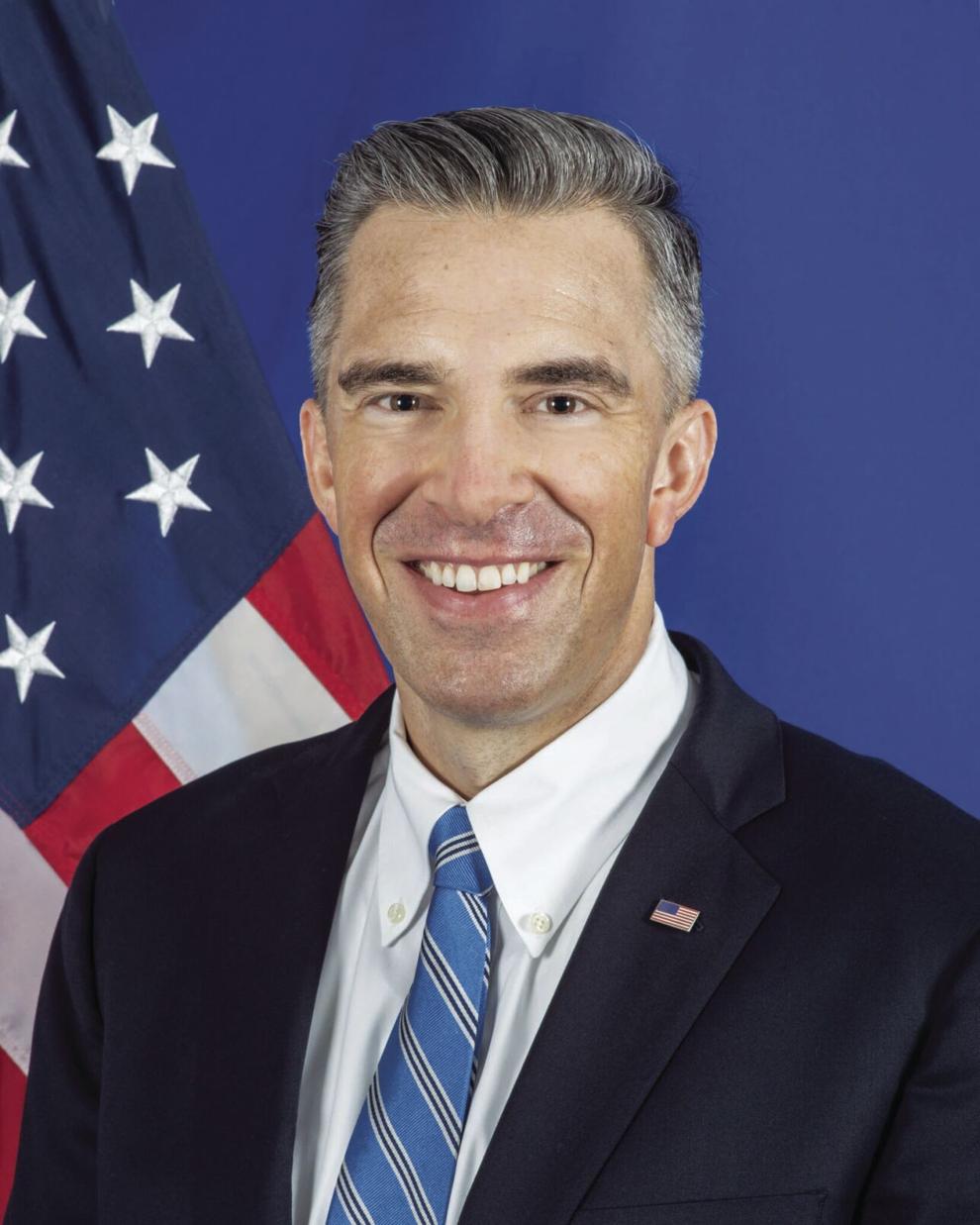 Sept. 11, 2001, was a turning point for Brett Holmgren.
"I still remember ... watching the events of that day on television live, and it will be forever seared into my memory," the 1999 Blaine High School graduate said.
Although he studied political science and journalism at the University of Wisconsin-Madison, the tragic events of that day motivated him to pursue a different career — one that could help prevent another attack on the U.S. He became an analyst at the Defense Intelligence Agency.
Little did he know that two decades later he would lead the oldest civilian intelligence agency in the U.S.
On Sept. 15, just days after the 20th anniversary of the 9/11 attacks, Holmgren was sworn in as assistant secretary of state for intelligence and research, placing him at the helm of the Bureau of Intelligence and Research, a little-known intelligence service that plays a significant role in foreign affairs.
Growing up in Blaine, where his family still lives, Holmgren came up through Anoka-Hennepin schools, attending Jefferson Elementary and Roosevelt Middle School before graduating from Blaine High School.
Public service was "front and center" in Holmgren's family.
His mom taught at Coon Rapids High School, and his dad was a teacher and then principal in the Mounds View School District. His grandparents were World War II veterans.
"We were constantly surrounded by family and teachers and mentors who, you know, instilled in us a sense that government and working for the government, public service, is an opportunity to really serve that community and those with whom you live."
At school, many teachers shaped Holmgren, but legendary high school football coach Dave Nelson sticks out as a role model.
"In my view, Coach Nelson really embodied what it meant to be a leader," Holmgren said.
A leader is "someone who listens, who shows compassion and humility and whose decisions are guided by values and principles," Holmgren said, adding that the most important lesson he learned from Nelson was the importance of giving your best effort and leaving "everything on the field."
Holmgren believes Nelson influenced a whole generation of student athletes from Blaine High School who have gone on to do "great things and to really make a positive contribution to society."
After high school Holmgren earned a bachelor's degree from the University of Wisconsin and ultimately a master's in global security studies from Johns Hopkins University.
Once Holmgren decided to work in national security, he wanted to join either the military or the intelligence community.
He chose the intelligence world because at the time "it was an opportunity to be on the front lines of the war on terrorism."
"That's where the action was," he said.
Holmgren spent eight years as an analyst, first at the Defense Intelligence Agency and then the CIA. His job took him to war zones to support counterterrorism operations, and the pressure was high.
"The specter of another large-scale, catastrophic attack on the U.S. loomed large over the country for a long period of time," Holmgren said. "So as an analyst, you felt an enormous sense of responsibility, and also a tremendous amount of weight on your shoulders to get it right and to connect the dots," he said.
One of the valuable lessons he took from that period of his career was that you can't do it alone.
"There's way too much information, and you really have to work across different federal departments and agencies as a team focused on a shared mission to ... successfully connect the dots and to prevent ... another attack," Holmgren said.
In 2011 Holmgren shifted from analyzing intelligence to influencing policy when he joined the National Security Council's staff as director for counterterrorism. For the next six years he'd serve in some of the highest levels of the country's defense and intelligence operations under the Obama administration.
His titles included special assistant to the president and senior director for intelligence programs, senior policy adviser to the assistant to the president for homeland security and counterterrorism, and special assistant to the deputy secretary of defense.
"For me the biggest challenge moving from the intelligence community to the policy world was that I had to get comfortable ... recommending certain courses of action and implementing policy decisions, where theretofore my entire career had been there's a bright red line between intelligence analysis and policy," he said.
Holmgren saw the privilege of working in the White House as unrivaled. Walking into the office every morning with the West Wing in front of him never got old. Neither did riding on Air Force One.
But the issues he worked on weren't simple; they could literally be matters of life and death.
"I will always recall vividly one day in 2014 when I was on the NSC staff serving as a senior adviser to the president's homeland security and counterterrorism adviser when, you know, over the course of a few hours we were managing and dealing with a devastating hostage situation, an outbreak of Ebola cases in the country, there was an ongoing sensitive counterterrorism operation, and there had been a mass shooting, all in the course of a few hours. So any one of those issues on any given day would be enough to manage, but collectively I'll never forget. ... It was an incredible set of responsibilities, but also, you know, stressful and emotionally taxing at the end of those days."
With so much pressure at work, people need to decompress, and one of Holmgren's favorite pastimes is reading history.
"Give me a good presidential biography and I can zone out for hours," he said.
Because he went to the University of Wisconsin, he's also an avid Badgers fan.
"In the fall and in the winter and spring ... Badger football and basketball is just a great way to disconnect from the world," he said.
The 'biggest little intelligence agency'
When the Obama administration left power in 2017, Holmgren transitioned to the private sector for a few years, where he served as vice president for technology risk management at Capital One, an experience he said taught him valuable management lessons.
In 2020 he joined the Biden-Harris Transition Team as deputy for nominations, and earlier this year President Joe Biden nominated him to lead the Bureau of Intelligence and Research. The Senate confirmed the choice Sept. 13, and Holmgren was sworn in two days later.
Although many people haven't heard of the Bureau of Intelligence and Research, also known as the INR, it plays a vital role in supporting U.S. foreign policy.
"Simply put, the Bureau of Intelligence and Research is the State Department's intelligence agency," Holmgren said. "We provide ... intelligence, analysis and information to support the secretary of state and other senior department officials and U.S. diplomats. ... We're the only agency — intelligence agency — whose primary mission every day is to ensure that the secretary of state has the latest and greatest information."
Holmgren said the INR is the oldest civilian intelligence agency in the U.S.
"We're even older than our CIA brethren," he said.
The INR traces its roots to 1945, when the Research and Analysis Branch of the Office of Strategic Services was transferred to the Department of State and eventually became the INR.
Today the INR focuses on "intelligence at the point of diplomacy" and provides in-depth analysis, mapping, coordination services and more to the secretary of state and U.S. diplomats. It also reaches out to non-governmental experts to explore alternative perspectives, and it conducts foreign public opinion research and analysis.
Holmgren describes the INR as "the biggest little intelligence agency in the U.S. government."
"What I mean by that is despite our relatively small size, INR punches so far above its weight in all dimensions of intelligence-related work," he said.
As the agency's leader, a typical day for Holmgren might include going from a budget meeting to a discussion of the latest intelligence on China and Iran or emerging cyber threats.
"It's a really interesting mix of traditional management and then some of the world's most interesting international security issues," he said.
Holmgren said he "could not be prouder and more honored to lead this historic institution."