On Nov. 2 Fridley School District residents will be asked to approve an $11.2 million referendum.
The proposed levy would be used to construct four additional classrooms at both Hayes and R.L. Stevenson elementary schools for a total of eight classrooms and expand cafeteria spaces, bathrooms and the Hayes Elementary parking lot, in order to support moving all fifth grade students from Fridley Middle School to the district's two elementary schools.
If the levy is approved by voters, design and planning of the facilities would occur November 2021 through February 2022; construction in August 2022 through spring 2023; and relocation and staff training in summer 2023. Fifth graders would start at the elementary schools in September 2023, Barbie Roessler, Fridley Public Schools' director of finance and operations, said at an informational community forum Oct. 7 at the Fridley Community Center.
If the non-renewable levy is approved, it will be in place for 17 years.
The property tax impact for a home valued at $100,000 is estimated at $8 a year. For a $150,000 home it's $15 a year; for $200,000 home $21 a year; for a $300,000 home $34 a year; and for a $350,000 home $41 a year. To find out what your tax impact could be, visit tinyurl.com/wbrmme25.
Other referendums and bonds currently active include the 2019 operating referendum (expires 2030), 2020 capital project levy (expires 2031), 2016A bond (expires after fiscal year 2035), and the 2020A bond (expires after fiscal year 2026), according to Roessler.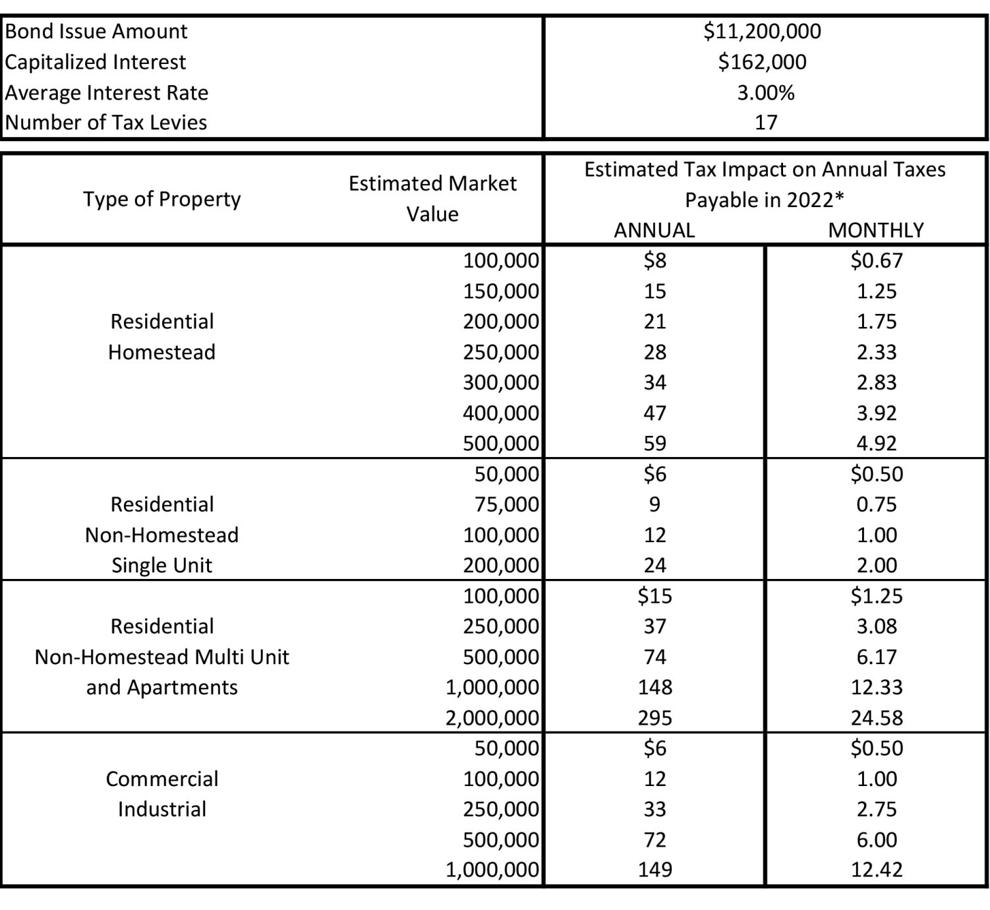 Fridley Public Schools conducted three surveys regarding the levy last April. The first was a survey of all elementary school families, where 83% expressed support for the levy. A feedback-only survey was conducted by all elementary and middle school staff, who overwhelmingly said moving fifth graders back to the elementary schools would be a good move. The last survey was of a sample of Fridley voters, where 63% expressed support for the levy.
The favorable surveys led to the Fridley School Board to vote June 15 to put the referendum on the ballot. Board members believed the move would add an extra year of development and growth before the transition to middle school and would allow fifth graders to develop more socially and emotionally, learn and grow with students of similar maturity levels, develop leadership skills as the "eldest' students in the elementary school buildings, and have opportunities to develop mentoring skills while working with younger students.
Roessler that Fridley Public Schools fifth graders attended the elementary schools until 1995, when they were moved to Fridley Middle School due to size and space constraints.
"What we'd like to do is provide a better option for our fifth graders," Roessler said.