Construction of the planned Hy-Vee store in Blaine may not happen for some time.
The Blaine City Council recently granted a one-year extension on Hy-Vee's conditional use permit, which was originally approved in October 2019. A one-year conditional use permit extension was needed in order for Hy-Vee to keep all approvals in place for the development.
The store will be located on 40 acres at 210 125th Ave. NE, on the southwest corner of the Jefferson Street and 125th Avenue intersection.
The 84,997-square-foot store will have groceries, a liquor store, a restaurant (Market Grill) with outdoor dining, as well as a pharmacy, clinic, Starbucks and postal service. The grocery component will be a 24-hour store and will have 529 parking stalls.
A 10,500-square-foot convenience store/gas station, with a car wash, will be on the northeast side of the site. The gas station is planned to have eight pumps, and the car wash will have four separate bays. The building will have 53 parking stalls.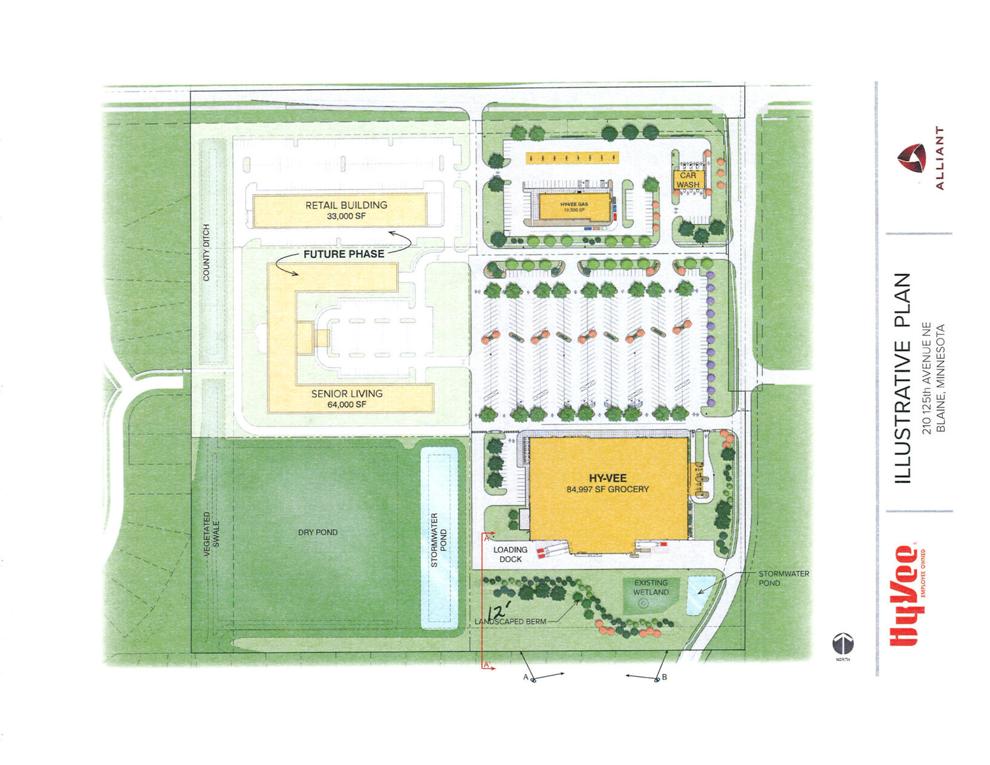 A coffee shop with a drive-thru and a patio may also be built in the convenience store and gas station area.
City Planner Lori Johnson said grading work on the new Hy-Vee store began in fall 2019 and concluded in spring 2020.
"Conditional use permits generally expire if work is not started or continued for a period of one year, and because that grading was completed and no building permits or site plan approvals have been granted a conditional use extension is required to keep the approvals for this development in place and valid," Johnson said. "We have done this for other projects in the past."
She added that if construction does not start by April 19, 2022, another conditional use extension will be required.
Hy-Vee explained in its request for an extension that it's possible that common area improvements such as drives, utilities and public improvements could begin by fall 2021 because of interest in three outlots (retail and multi-family residential land uses) to the west of the store parcel.
Phil Hoey, director of real estate for Hy-Vee, said Hy-Vee has recently gone under contract to sell the larger outlot for multi-family use. He expects permits for the outlots will be submitted within the next few months.
Johnson said Hy-Vee has given no timeline for the start of store construction.
Mayor Tim Sanders said he's constantly getting asked about when construction will start and that he'd like to know himself.
"We're asked frequently when our construction start day is on this project," Hoey said. "Unfortunately, I do not have an answer at this point."
Hoey said city staff will know when construction is about to commence on the grocery store and convenience store when Hy-Vee applies for permits.
"Is there anything else you can give us ... just to help us better understand in granting this extension?" Sanders asked Hoey.

"Our typical plan of action has been consistent in the market that we have looked to acquire sites that we intend to build on," Hoey said. "Some of those we build on right away, some of those (like this) we build out over a period of time. There is not necessarily a threshold that needs to be met, it's just when this store gets slotted for construction start."
Hoey said he didn't know when that would be, but he said it's highly likely that work on the overall plat would start within the next year.
"I know our plan is to still build a store here," Hoey said. "That hasn't changed. We're excited about being in Blaine, and it's still our plan and goal to have a store operated here."
City Council Member Wes Hovland said he would support a conditional use permit extension once but probably wouldn't support another in 2022.
"I don't think it's fair for the residents of that neighborhood [Crescent Ponds] to have grading started and have it torn up for a year, two years at a time waiting for Hy-Vee to come in and finally start construction," he said. "Now I don't want that to be considered as a threat or anything of that nature, because as a community I think we really truly look forward to having a Hy-Vee grocery store here within the city, but at the same time we have an obligation to look at the people living in that area. ... I would really like to see some movement on this project."
Crescent Ponds residents have expressed concerns, or outright opposition to the project, citing potential traffic and public safety impacts.
The City Council voted unanimously to grant the conditional use permit extension.
The Spring Lake Park Hy-Vee store, at 8155 Central Ave. NE, is reportedly still on track and will open at the end of May.