District 31A incumbent Kurt Daudt, R-Crown, faces a primary challenge from Beau Hullermann Aug. 11. The winner will face DFL candidate Brad Brown in the November election. Hullermann did not respond to requests to participate in the following questionnaire.
Kurt Daudt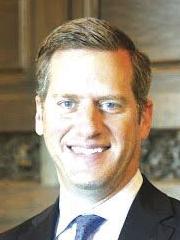 Family: Two black labs, Daisy and Lucy
Education: Attended University of North Dakota
Occupation: State Representative
Years lived in district: Longtime resident
Community involvement: Project 24 founder, a nonprofit that builds orphanages in Kenya, Cambridge Airport Commission Member, NRA Member
What distinguishes you from the other candidate(s)?
I have an unmatched record of conservative victories, and broad support from top conservative groups as well as local Republicans as the only Republican-endorsed candidate in the race. In my first term, I chief authored and passed the last major welfare reform in Minnesota that cracked down on welfare fraud and stopped your tax dollars from being spent on alcohol and tobacco products. I negotiated, passed, and forced former Gov. Dayton to sign into law pro-Second Amendment bills that strengthened and expanded rights for Minnesota gun owners, as well as the largest tax cut in two decades — including tax relief for seniors on Social Security. I have also been leading the efforts in St. Paul to end Gov. Walz's emergency powers. We must restore the Legislature's role as a co-equal branch of government — it is unacceptable to continue allowing Gov. Walz to be the sole decision-maker on critical issues like schools reopening, and restrictions on our businesses.
I'm proud to have earned the Republican endorsement from conservatives in Isanti County and SD31 GOP, and have earned top marks from Minnesota's top pro-gun and pro-life groups including the National Rifle Association, Minnesota Citizens Concerned for Life, and the Minnesota Gun Owners Caucus. I earned these grades because of my proven record of protecting and advancing conservative values at the Capitol.
What are your top three priorities if elected?
With so many still struggling from the impacts of the pandemic and Gov. Walz's shutdown, my top priority will be helping families, farmers, and small businesses recover and rebuild so we can bring back jobs and help our economy come roaring back. I also will be working to stop Democrats from raising taxes to fill the expected budget deficit. With so many Minnesotans sacrificing so much during this crisis, it's only appropriate for government to cut back as well. Lastly, I will continue to be a champion for the unborn and for our Second Amendment rights. Gov. Walz and Democrats will be back next year pushing their radical gun control policies and continuing their push to defund and abolish the police who keep our neighborhoods safe. I will be standing up to their radical proposals and ensure that our shared values are protected in St. Paul.