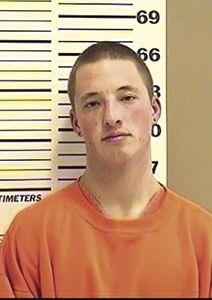 The man shot by police was identified by the Minnesota Bureau of Criminal Apprehension Tuesday, Feb. 23, as Dominic Lucas Koch, 27, of St. Croix Falls, Wisconsin. A statement from the BCA said he "died of homicide due to multiple gunshot wounds."
Joseph William Heroff, 26, of Hammond, Wisconsin, was charged Feb. 23 in Anoka County District Court with one count of first-degree aggravated robbery and one count of fleeing police in a motor vehicle. Both are felony charges. Bail was set at $500,000 with no conditions. Heroff's next court appearance is set for March 15.
According to Blaine Police Chief Brian Podany, the Blaine Police Department responded to a shoplifting-in-progress call at 12:57 p.m. Sunday, Feb. 21, at the Kohl's located at 10311 Baltimore St. NE in Blaine.
According to the criminal complaint, Heroff told investigators that he and Koch had driven to the store in a white Jeep Compass. When Koch decided to shoplift, Heroff did not want to and went to wait in their vehicle, he told police. A short time later Koch allegedly ran out with a cart full of merchandise, which he shoved in the vehicle.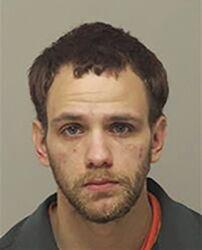 As officers were responding to the scene, they received word that two male suspects were seen leaving in a white Jeep Compass. Officers attempted to stop the vehicle, but it fled the Kohl's parking lot into the adjacent Menards parking lot, according to the criminal complaint. Heroff has allegedly admitted to being the driver at that point.
After pursuing the vehicle through the Menards parking lot, officers stopped the vehicle on the southwest end of the lot using a PIT maneuver. Then Heroff and Koch fled south on foot toward Conquer Ninja Gym, the charges say.
A father and his 9-year-old daughter were in a pickup truck outside the gym waiting for a birthday party to start when Heroff and Koch told them to get out of the vehicle at gunpoint, according to the criminal complaint. Heroff later told police it was Koch who brandished the gun.
The men took the vehicle and fled north on Highway 65, the charges say.
Due to the severity of the suspects' alleged crimes, officers decided to pursue them, Podany said.
According to the BCA's preliminary investigation, officers were pursuing Koch and Heroff on Highway 65 when the suspects' vehicle left the road just north of Hwy. 107 and became disabled.
Koch and Heroff exited the vehicle and fled on foot. Heroff was apprehended by officers but Koch continued to flee and at one point was struck by a motorist's vehicle.
Anoka police officer Jake Sorteberg then deployed his K-9, Bravo. Koch fired his gun, striking Bravo. Blaine police officers Tim Evens and Grant Breems returned fire, fatally striking Koch. Officers rendered medical aid but Koch was pronounced deceased at the scene.
Police say a weapon was recovered at the scene. There is both body camera and dash camera footage of the incident, according to the BCA.
Anoka Police K-9 Bravo suffered a gunshot wound during the shootout and was rushed to the BluePearl Pet Hospital in Blaine and then treated at the University of Minnesota Veterinary Medical Center in St. Paul, according to the Anoka Police Department.
"We are also confident that K-9 Bravo preformed his duties with the greatest act of heroism," the Anoka Police Department wrote in a Facebook post. "K-9 Bravo is not only a partner to our Anoka Police officers, he is our friend and has become the de facto therapy dog for the department."
According to an update from Sorteberg, Bravo was shot in the throat directly on his flat collar, and the bullet exited out his right shoulder. Bravo has a tear on his trachea, spinal fracture and soft tissue wounds in his shoulder, but he is expected to recover.
Bravo is currently resting at Sorteberg's home.
"Doctors at the U of M decided not to do surgery in fear that intubation would tear his throat further," Sorteberg wrote in a Facebook update. "His vitals are good and he was able to eat some food and get outside on his own. He will be out of duty for some time, it's hard to say now if he will return to work but things are looking good. Thank you to all my brothers and sisters for reaching out. The last 24 hours have been a blur and we are very thankful to have this warrior still with us. The good guys always win."
Once the BCA investigation is complete, the BCA will present its findings without recommendation to the Isanti County Attorney's Office for review. The Blaine Police Department is leading the investigation of the events that took place before the officer-involved shooting.
Agencies that responded to the incident include the Blaine, Anoka, Coon Rapids, Spring Lake Park, Braham and Isanti police departments; Anoka County and Isanti County sheriff's offices; Braham and Isanti fire departments; and the Minnesota State Patrol.
The spelling of Koch's first name has been corrected. It was spelled incorrectly in the BCA's initial announcement.