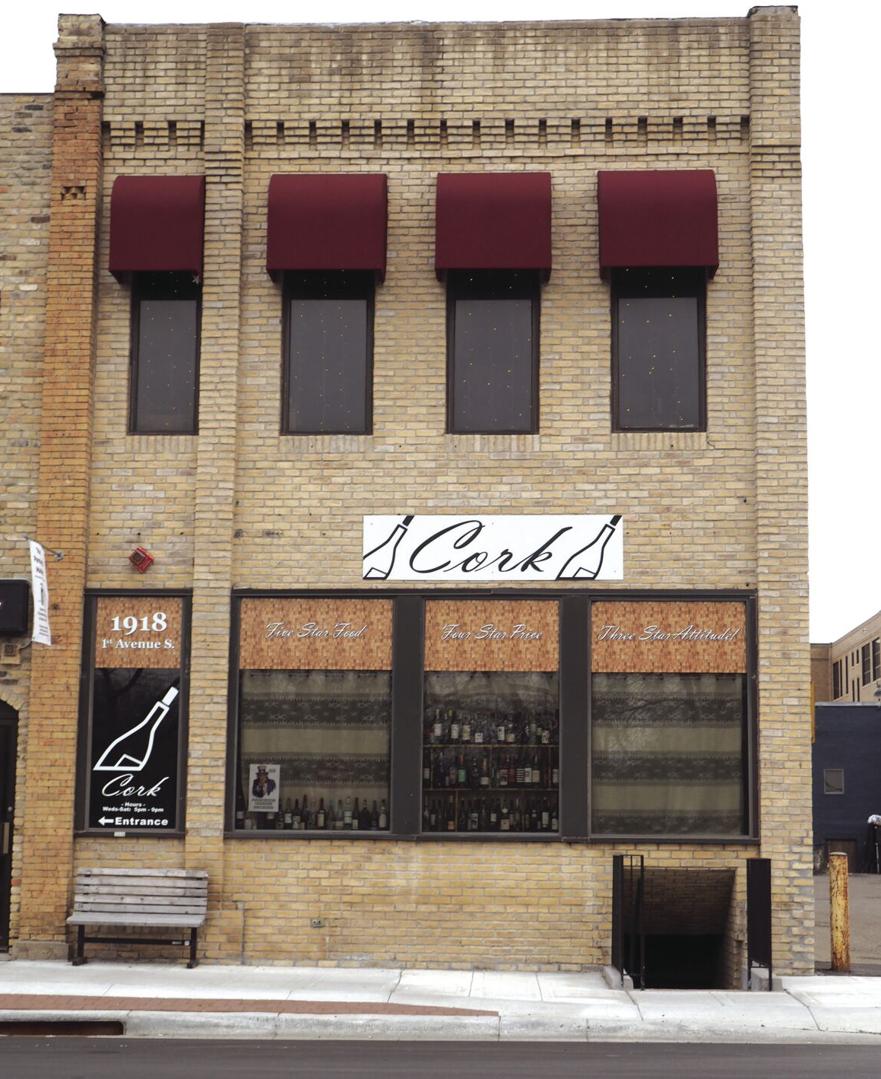 Robert Martin, owner of the Anoka restaurant Cork, knows COVID-19 can be deadly.
"Our grandma died two weeks ago from COVID, so we know it's real," he said Dec. 18. "We understand 100%."
But with mounting financial pressure from being closed to in-person dining for the second stretch this year, Martin joined a coalition of businesses across the state that reopened Wednesday, Dec. 16, in defiance of Gov. Tim Walz's executive orders.
"We've got family. We've got staff. We have to feed people too," Martin said. "I'm frustrated. I'm angry. I'm hurt. I don't know what else to do."
Now Martin has a lawsuit on his hands.
On Friday, Dec. 18, Minnesota Attorney General Keith Ellison's office sued Cork for violating the governor's orders. The lawsuit against Cork alleges the restaurant "flagrantly violated" the governor's executive orders, which have the full force of law under state statute. It asks the court to prohibit Cork from further violating the orders and award the state's legal fees, as well as civil penalties of up to $25,000 for each separate violation of the governor's orders.
"There are 10,000 restaurants and 1,500 bars in Minnesota," Ellison said in a Dec. 18 statement. "By far the vast majority of them have served their communities by complying with the law all along. Of the few that have threatened not to comply and the even fewer that violated the law, many have already pulled back. The two restaurants that we're holding accountable today are among the very few that have refused to live up to their responsibility to keep their customers, employees, and communities safe."
Martin said he is worried about defending against the lawsuit but believes he is, in fact, operating safely and that reopening was the right move in protest of what he sees as unconstitutional restrictions by the governor.
"People still have a choice," Martin said. "And the governor, he decided that nobody gets to make a choice."
Despite protests from business owners like Martin, the courts have so far sided with the governor, upholding his COVID-19 executive orders in multiple lawsuits this year, including a suit brought by a coalition of businesses and legislators including East Bethel's Cal Bahr over the summer.
According to the lawsuit against Cork, "Minnesota Department of Health's contact tracing investigations have shown that apart from long term care settings, bars and restaurants are among the settings most frequently associated with COVID-19 outbreaks in Minnesota."
Unlike some establishments that reopened last week, Martin said he is taking pains to operate as safely as possible. He said the restaurant is offering three seating times (5, 6:30 and 8 p.m.), only allowing 12 customers in the restaurant at each seating time and following distancing guidelines between tables.
When too many guests showed up at the restaurant's Dec. 16 opening, Martin said he asked some to leave.
"I don't want to seem rude, but I still want to stay true to the safety of others," he said.
Martin said he feared having to shut down his 7-year-old restaurant permanently if he didn't resume serving customers. Cork's typical fare of fresh, high-end cuisine doesn't work well for takeout and delivery orders, he said. Plus, online takeout and delivery partners take a cut of sales.
"We're not looking to rebel," Martin said. "We're just looking to survive."
Cork wasn't the only Anoka County business to join the coalition that reopened last week. Body Revival Lounge in Coon Rapids also had its name on the public list of participants.
Karla Kuehl, owner of Body Revival Lounge, said she doesn't believe the governor's orders make sense and believes Minnesotans are "losing our freedom."
She said her business has been hurt severely by the restrictions and she's "not going to listen to something that makes no sense anymore."
The Minnesota Chamber of Commerce has also advocated for the governor to end the restrictions that keep businesses closed, arguing that businesses are ready to reopen safely, that small businesses are "at a crisis point" and that ongoing closure could mean some businesses never reopen.
The state is taking some action to mitigate the damage. The governor's Dec. 16 decision to extend some business restrictions through Jan. 10 came on the heels of a vote by the Minnesota Legislature to pass a bill with about $216 million in relief for businesses affected by the pandemic, including about $88 million to be distributed to restaurants, bars and other eligible establishments that have seen a 30% drop in business.
For his part, Ellison said he'd rather not have to sue businesses over executive order violations.
"Once again, I'm asking all restaurants and bars to do the right thing and comply with the law and orders that are designed to stop the spread of COVID-19," he said in a statement. "I don't enjoy using the enforcement tools I have available because I'd much prefer people do the right thing on their own, but I will use them when I have no other choice to protect Minnesotans from this deadly virus."
In addition to its lawsuit against Cork, the Attorney General's Office this month announced suits against Alibi Drinkery in Lakeville, Boardwalk Bar and Grill in East Grand Forks, Cornerstone Café in Monticello, Neighbors on the Rum in Princeton and Plainview Wellness Center in Plainview.
COVID-19 cases rose sharply in Minnesota in November, prompting Walz to order a "pause" on activities such as indoor dining, gym use and gathering socially. According to a Dec. 17 report from the Minnesota Department of Health, the state saw more than 1,500 new hospitalizations due to COVID-19 each week for three straight weeks in November and more than 400 deaths from the disease during a single week from Nov. 29 to Dec. 5. New cases and hospitalizations have now begun to decline, but state health officials urge people to wear masks in public, practice social distancing and stay home when possible to help avoid a resurgence in cases around the holidays.
Since the start of the pandemic, Minnesota has seen about 400,000 confirmed cases of COVID-19 and more than 4,700 deaths from confirmed cases, according to the Department of Health. More than 20,000 people have been hospitalized statewide due to the virus, and more than 4,400 COVID-19 patients have been placed in intensive care units since March.
Minnesota recently administered its first doses of a COVID-19 vaccine, but it is not yet widely available.