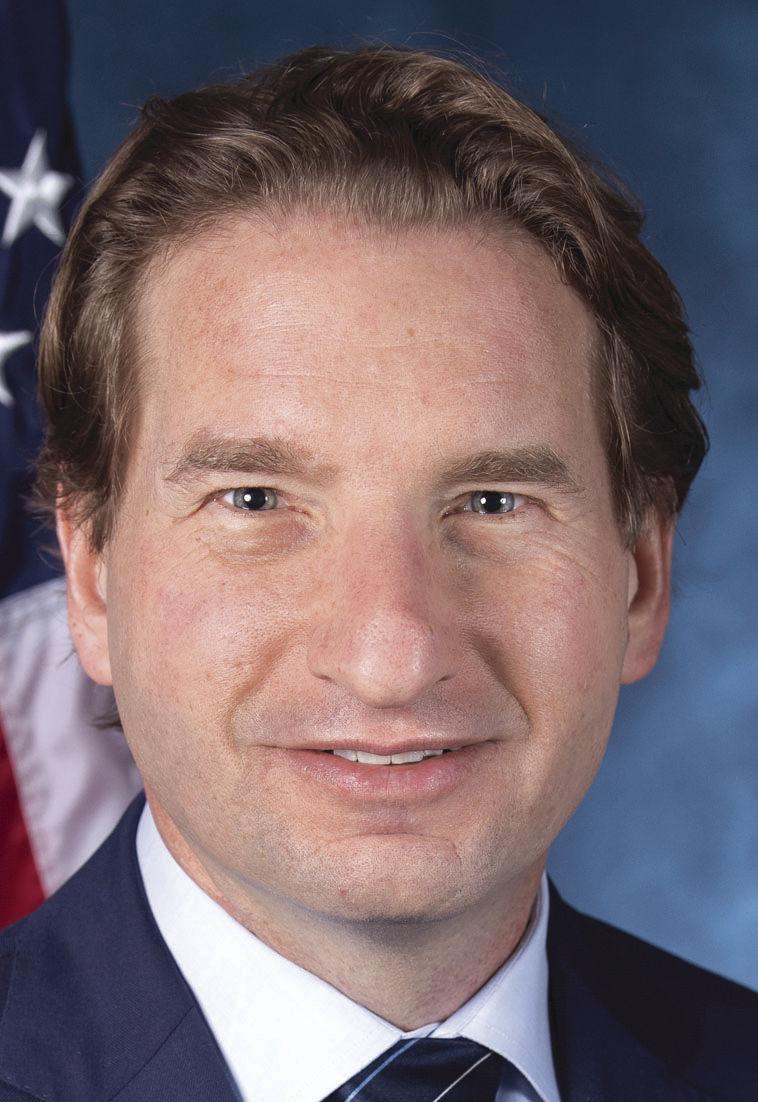 My favorite weekly ritual is one that defines my first 100 days as your representative.
It's when I join with my colleagues in the Problem Solvers Caucus, which consists of an equal number of Democrats and Republicans, to discuss ways we can work together to make things better for all Americans.
Our mission is to bridge the partisan divide and make Congress a more collaborative and productive place. And I'm pleased to report that Congress is a more collegial and friendlier place than the 24/7 news networks or your social media feeds would have you believe. In fact, there are plenty of Members here who are willing to put aside partisan differences to get things done.
And we've already made some headway.
In January, 14 of us met with President Trump in the White House to discuss ways to end the longest government shutdown in our history. We proposed funding the government for three weeks to allow us the time to find a solution. And that's exactly what the president agreed to support.
It was the first major accomplishment of a very productive 100 days. Disgusted by the shutdown, I joined a number of my freshman colleagues to introduce the Shutdown To End All Shutdowns Act to end government shutdowns. We need to ensure our federal workers are never used as political pawns ever again.
Our new Democratic majority is powered by a historic freshman class of reformers like myself who are laser-focused on making government work for the people again. The headlining accomplishment of our first 100 days was H.R. 1, the For The People Act, a historic package of ethics, voting rights and campaign finance reforms that reduces the influence of big money interests and the wealthiest donors and returns power to the people. I was proud to author a series of amendments to strengthen the Federal Election Commission and tighten lobbying restrictions, which were included in the final bill that passed the House.
If there's one issue that's top-of-mind to folks in Minnesota and across the nation, it's health care, and we've been hard at work to make it more affordable and accessible, and to improve quality. I have co-sponsored legislation that would make our health care system work better for more people – including bills to bring down the cost of prescription drugs, support medical innovation by repealing the Medical Device Tax, and strengthen the Affordable Care Act.
And after hearing from teachers, students, parents and administrators alike, I've been working hard on behalf of our public schools. I was pleased to help introduce bipartisan legislation that would fully fund federal education mandates and ensure that the promise of a good education is fulfilled for every student. Students also need access to a free and open internet, which is why I voted for the passage of the Save The Internet Act earlier this month to restore net neutrality.
Another challenge facing our district is the immigration status for members of our Liberian community here under DED, which was set to expire on March 31. Our Liberian neighbors have played by the rules, paid taxes and built businesses in Minnesota for three decades. We worked hard to encourage the White House to agree to an extension – and thankfully, the President did so for one year. Now it's up to us to find a long-term solution, and the first bill I introduced in Congress was a bipartisan proposal to do just that.
But our work does not begin or end in Washington. Representation begins with listening, and every bit of our work is about you, the people of Minnesota. I have been deeply grateful to join you for two town hall meetings and a Community Conversation on H.R. 1 – and we have many more public gatherings on the way.
Dean Phillips represents the 3rd Congressional District in the U.S. House of Representatives. The 3rd District includes the cities of Coon Rapids, Champlin and Rogers in the north and reaches to Bloomington and Victoria in the south.