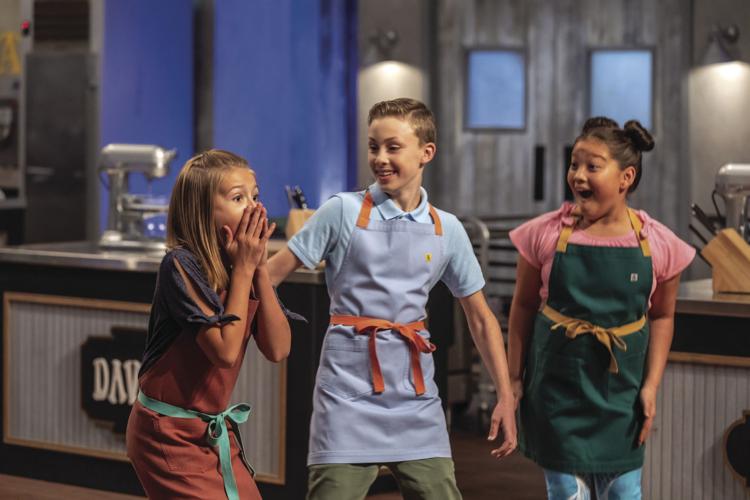 An 11-year-old from Blaine is the winner of this year's "Kids Baking Championship" on the Food Network.
Paige Goehner, a sixth-grader at Hill-Murray School in St. Paul, competed on the show last summer, along with fellow Minnesotan Meadow Roberts, 10, from Minneapolis, but she was sworn to secrecy as the drama unfolded on television. Paige was revealed as the winner in this season's final episode, which aired March 11.
For her prize page she receives $25,000 and will be featured in a spread in Food Network Magazine.
Final episode rundown
Both Paige and Meadow made it to the final episode along with Davis Sams, 13, from Vancouver, British Colombia.
The show is judged by actress and television personality Valerie Bertinelli and pastry chef and "Ace of Cakes" host Duff Goldman.
Bertinelli and Goldman announced that the final challenge of "Kids Baking Championship" would have a bake sale theme. They told the bakers they would have five hours to create a layer cake that would incorporate a bake sale item: toffee, rice cereal treats or chocolate-covered pretzels. The cake would also have a bake sale club theme: Drama Club, Chess Club or Dance Club.
Paige got the theme Chess Club and had to incorporate chocolate-covered pretzels; Meadow got rice cereal treats and Drama Club; and Davis got toffee and Dance Club.
Paige said her biggest competition would be Davis, who won the previous challenge in which he recreated Leonardo Da Vinci's "Mona Lisa" on his lemon-flavored puzzle cookie.
"It's going to take everything in my power to beat Davis," she said. "I've been in the middle, I've been in the top, I've been in the bottom, but I've never won a challenge, yet."
Paige eventually settled on making her "famous" chocolate cake recipe. For the challenge, she had to quadruple the recipe.
Paige added hot coffee to the batter and used oil instead of butter.
"The oil makes it super, super moist," she said.
Bertinelli stopped by Paige's workstation and asked, "What are you going to do if you win?"
Paige said if she won she would buy a laptop and donate some of her winnings to the Arthritis Foundation. Paige herself was born with juvenile arthritis and deals with it on a daily basis.
"I really want to give back to them because of everything they've done for me," Paige said.
As Paige was pouring her batter into her cake pans she realized she didn't have enough batter and had to make another batch.
Later, while Paige was pulling her baked cakes out of the oven, Bertinelli and Goldman announced the "twist" to the challenge. Each baker would have to use fresh cherries somewhere in the cake.
"I have never been so happy about a twist ever," Paige screamed.
She decided to create a cherry mascarpone cream filling for the inside of her chocolate layer cake.
For decorating, Paige made vanilla and chocolate buttercream. The chocolate buttercream would have mashed chocolate pretzels rolled into it.
"For decorating I'm planning on piping a chess board," she said.
As she was decorating her cake, Paige realized she forgot to put the chocolate covered pretzels into her chocolate buttercream.
"That's my key ingredient," Paige said. "This is a finale. If I don't add my chocolate-covered pretzels it's game over. What am I going to do?"
Ultimately she decided to crush up her chocolate-covered pretzels to create a layer that would go on top of the mascarpone cream and cherry-filled layers on top of each cake.
Next Paige decorated the bottom layer of her cake by piping rosettes. She alternated between chocolate and vanilla buttercream to mimic the look of a chessboard. For the other layer of her cake she used a mermaid tail technique where she smeared buttercream alternating between chocolate and vanilla. Paige then cut out chess piece decorations made from chocolate-flavored fondant.
Now it was time for Paige to stack her cakes.
"Next comes chaos," Paige said. "Since my cakes are so heavy and they have so much filling in them, when I stack it up it's probably going to weigh about 30 pounds."
To place her top cake layer on top of the bottom layer, Paige enlisted Davis' help.
"It's so heavy," she said. "In my head I'm screaming, 'Don't drop it Davis! Don't drop it Paige!'"
With minutes left, Paige made a large pawn out of fondant that went on the top layer of her cake.
Kids baking champion crowned
Meadow was first to present her cake. She created a ginger cake with lemon-cherry buttercream and mascarpone frosting for a Drama Club bake sale.
Next, Davis presented his earl grey cake with honey-cherry buttercream and toffee shortbread crumble for a Dance Club bake sale.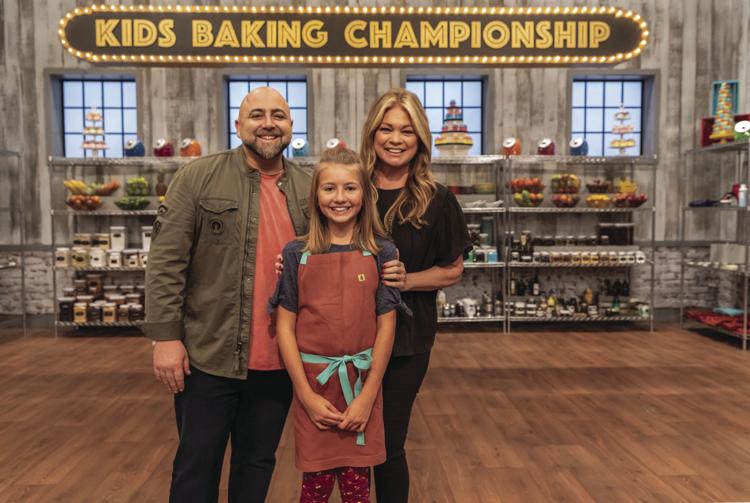 Paige was last to present her cake.
"I love, love, love the way you did a chessboard all around two of the layers. I'm a little disappointed though in that middle tier," Bertinelli said, pointing to the plain vanilla middle layer.
Goldman said he was not impressed with Paige's fondant chess pieces.
"You should've made them bigger on that middle layer because you have a lot of real estate," he said.
After tasting Paige's cake, Goldman and Bertinelli were speechless.
"Between the creaminess of the frosting and the moistness of that luscious chocolate cake, I can actually taste the chocolate covering on the pretzels," Bertinelli said. "It's so good!"
"Look Paige," Goldman said. "Your cake is cute. It's not amazing. It is what it is. This, though, is absolutely incredible. Your chocolate cake is super moist. There is so much of that cherry pie filling in there ... it makes it so much fun. It's so buttery and so rich ... it's super good."
Next it was time to announce the winner.
"We started with a dozen talented, young bakers, and three of you emerged as our strongest competitors," Bertinelli said. "The kids baking champion is ... Paige!"
The bakers and the judges hugged and congratulated Paige and each other.
"For all the kids who said if you didn't win a challenge the entire season you can't win the finale, I'm living proof that, that is not true," Paige said. "This was the ultimate challenge and checkmate."
To follow Paige, visit her bakery, Paigey Bakes' Instagram page at bit.Ly/2VIEDFJ. To make an order, send a direct message to her on the Instagram page.