The Fridley City Council approved plans for a new Caribou Coffee Aug. 24 that includes cabin-like design elements.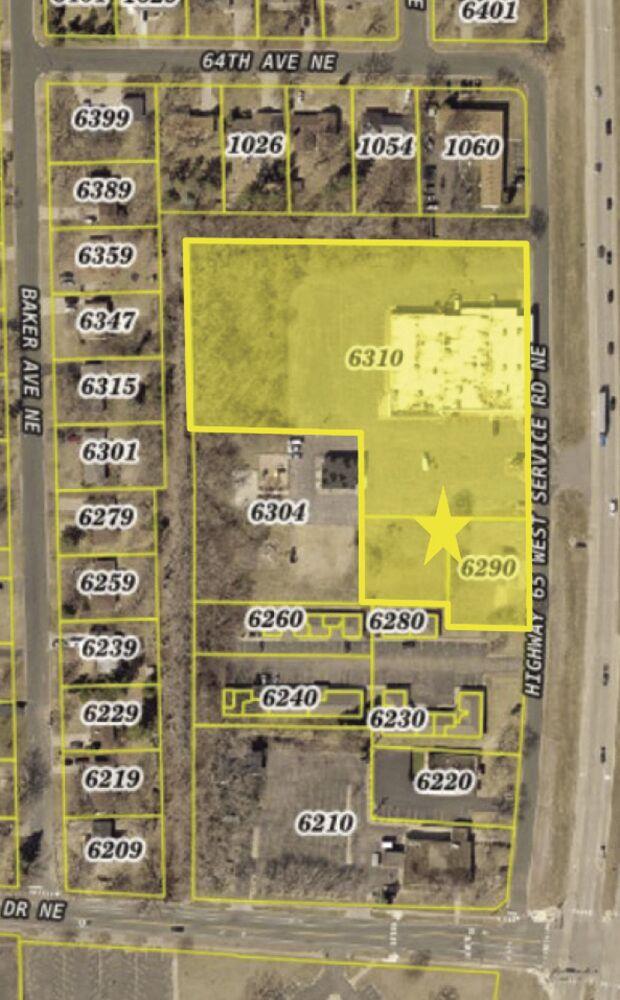 The Caribou Coffee Cabin, also known as Moore Lake Coffee, will be owned by Java Companies, a St. Paul-based commercial real estate brokerage. The company currently has a 3,200 square-foot Caribou Coffee under construction at 8094 University Ave., Fridley.
The new Caribou Coffee Cabin will be located on 35,237 square feet of land on two properties at 6290 and 6310 Highway 65 NE, Fridley.
The property at 6290 Highway 65 NE was the site of a gas station that burned down and Banquets of Minnesota is located at 6310 Highway 65 NE.
The properties are currently zoned C-3, General Shopping which requires a minimum lot size of 35,000 square feet, according to Fridley's Community Development Director Scott Hickok.
On Aug. 10, the council approved a preliminary plat that would combine the vacant property at 6290 Highway 65 NE, a vacant property to the west and an 18-foot strip of land owned by Banquets of Minnesota's owner Asset Properties LLC to create the new property for the Caribou Coffee Cabin. This replat would reduce Banquets of Minnesota's lot size by 4,176 square feet.
The new address for the Caribou Coffee will be 6290 Highway 65 NE.
According to Java Companies Chief Manager Mark Krogh, the Caribou Coffee Cabin will have no interior seating; however, there will be a drive-thru and walk-up window to serve customers. An outdoor patio with tables and chairs will also be on site.
The Planning Commission held a public hearing on the project and unanimously recommended approval.
Dave and Cheri Brown, who own a neighboring residential home, expressed concerns to the council in a letter Aug. 10 about the potential impact the neighborhood to the north from additional traffic the new coffee shop could create.
"We encourage and promote the addition of a new business here in Fridley as very important for our city's economic growth," the Browns wrote in their letter. "The concern we have is the increase in traffic that an additional business would add through our residential neighborhood."
According to the Browns, vehicles, including semi-trucks and speeders, use short cuts through the neighborhood to access businesses on the Highway 65 Service Road.
"An additional business would significantly increase traffic through our residential area. We don't reject, at this time, the proposed planning of the new business but we so have a few options for you to consider while you discuss the planning phase in order to address the traffic issue."
Hickok said the Browns' concerns were valid so the city will do speed monitoring and traffic counts in the neighborhood. After data comes in, the Public Works Department will reevaluate the design plans to see what can be improved.
"I'm glad to hear from Mr. Hickok that Public Works will be looking at this," Mayor Scott Lund. "The real issue is when there's an event going on at Banquets of Minnesota the parking lot is full so there's about a 15 minute deal when they're all dispersing and fortunately it's short lived. Fortunately, a lot of those events are in the evening when there's less traffic. What I see with this Caribou Coffee is there's going to be a lot more frequency of cars. There's going to be constant coming and going from there. I don't mean that as a negative. I'm basically in favor of this, but we do have a larger problem. I don't want these properties to sit because they've been vacant forever, but we do have a problem."
Krogh noted that 90-95% of Caribou Coffee traffic comes before 2 p.m., and many customers will not stay at the shop after getting their drinks. "The banquet hall and the coffee shop are completely opposite," he said.
The council unanimously approved the preliminary plat Aug. 10 and the final plat Aug. 24.
Krogh said construction on the Caribou Coffee Cabin would start construction in early-September.