Anoka County's Crooked Lake wasn't always a high achiever.
Back in the 1980s the lake, which is on the border of Coon Rapids and Andover, earned a C- for water quality on the Metropolitan Council's A-F grading scale. But since then, water quality has been improving, thanks to local efforts to clean up the lake and keep contaminants out.
The lake earned a C+ in the 1990s, a B- in the early 2000s and has been hovering between a B+ and a A- for the last decade, according to the Coon Creek Watershed District.
This year, Crooked Lake saw the best water clarity on record and earned its first solid A grade and landed in the top 10% of metro area lakes, according to the watershed district.
That's a major accomplishment, according to Justine Dauphinais, water quality coordinator for the watershed district, who said water clarity has tripled and nutrients in the water that contribute to algae growth have been cut in half since record-keeping began in the 1970s.
"We hear a lot of praise for the water quality of the lake," she said.
"I think it's outstanding the way the lake has improved over the years," said Andover resident Gary Nereson, president of the Crooked Lake Area Association. "We've gone through a lot and seen a lot, and it's really a pleasure to see it be as nice and clear and water quality as good as it is."
Lake grades are based on the average of summertime measurements of phosphorus concentrations (the amount of nutrients available for algae growth), chlorophyll-a concentrations (the abundance of algae) and Secchi depth (water clarity), according to Dauphinais.
Clarity is measured by dropping a white and black plate (called a Secchi disk after its inventor, Pietro Angelo Secchi) attached to a rope and lowering it until you can't see it anymore. You measure how much rope you let out, and that's the Secchi depth — the deeper it is, the clearer the water.
This year the Secchi depth averaged more than 10 feet.
The amount of algae in the water affects the water clarity, and the amount of nutrients has an impact on how much algae can grow.
"It's all really about balance," Dauphinais said. "If you have too many nutrients, then you end up with too much algae, and then the sunlight can't get down to the bottom to support your plant growth."
Those rooted plants on the lake bed are especially important in shallow lakes, Dauphinais said, because "they not only provide habitat for fish and bugs, but they also stabilize the bottom."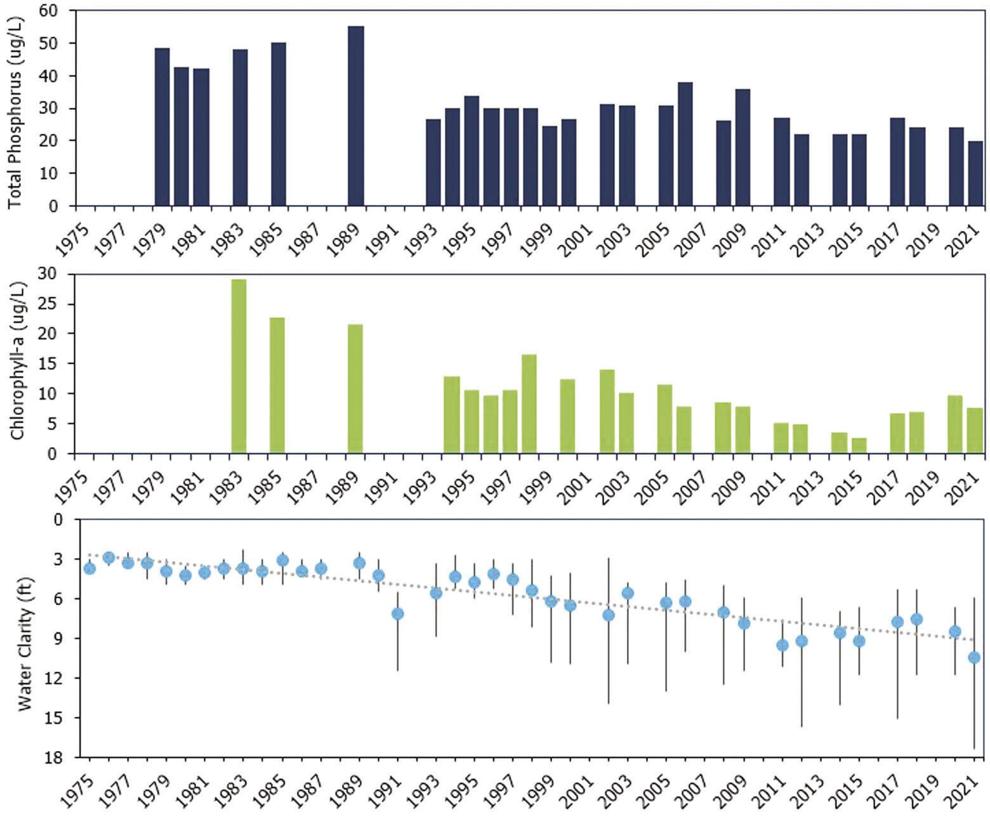 Dauphinais noted that even with the measurable improvement in water quality, she was contacted by someone who spent a lot of time at the public access this year and was worried about the lake. Dauphinais said the public access is in a shallow part of the lake and that with this year's drought, water levels dropped especially low, leaving some areas with little more than mud. But she said that's not a significant concern.
"A lake like Crooked Lake can rebound no problem … once we're back to normal precipitation levels," she said.
Dauphinais credits the lake's improvement over time to efforts by a variety of partners, including the Crooked Lake Area Association, which she called an "amazing steward of the lake," the watershed district, the cities of Andover and Coon Rapids, the Anoka Conservation District and the Minnesota Department of Natural Resources — as well as the residents who do their part to keep the lake clean.
Projects that have helped improve the lake water range from implementing lake-friendly lawn care to targeted street sweeping, and from adding rain gardens for stormwater collection to controlling aquatic invasive species.
How are other lakes doing?
Crooked Lake is just one of the lakes in Anoka County that's improving, and according to Jamie Schurbon, watershed projects manager for the Anoka Conservation District, the outlook for Anoka County Lakes in general is good.
"I would say that, on the whole, our lakes are improving over time in terms of the water quality," he said.
He called Crooked Lake one of the "success stories" in the county.
"It feels great," he said. "In a lot of ways it feels like a career accomplishment as a team. These lakes do take time to change, and to move that much in a positive direction is a big deal. ... It's not just about this year. It's about multiple years. And that's part of the success of Crooked Lake. We didn't see one good year. We saw a longterm progression in a positive direction that culminated this year in a solid A letter grade."
Other lakes showing substantial improvement over time include Martin Lake and Typo Lake, both in Linwood Township, Schurbon said.
Those lakes are still a long way from getting an A, but Martin Lake has gone from D grades to almost all C's, and Typo Lake has moved from getting F grades to occasionally earning a D, Schurbon said. The progress at Typo Lake may not be as noticeable to the public, but the water clarity has increased from about 4-6 inches to around 12 inches, and that's significant, Schurbon said.
The conservation district is also keeping an eye on a handful of lakes showing reason for concern.
One of those is Lake George in Oak Grove.
"That's one that a lot of people would know about because it has an excellent county park," Schurbon said.
The water quality in Lake George is very good, often earning A's, but "when your A student gets a B, you notice," Schurbon said, and the conservation district is watching trends over time.
"Over the scale of 10 or 20 years, there is a very slow trend of declining water quality," Schurbon said. "It is something that most users probably wouldn't notice."
The district has begun projects, such as lakeshore stabilization work, to help steady Lake George's water quality.
Even as she celebrates Crooked Lake's success, Dauphinais is reminding people that they can have an impact on the quality of local water bodies, even if they don't live on the lakeshore.
"Every individual resident has a role to play in stormwater and local water … draining to all of our area lakes and streams and the Mississippi River," Dauphinais said. "So think about your actions."
Schurbon echoes that sentiment.
"There's a phrase I've heard a number times that, in a sense, we're all shoreline landowners," he said. "We often think about what happens in a lake relating just to what's in a lake and the shoreline maybe. But the truth is all land around a water body … drains to that water body. ... What you do on your property matters, even if you're not on the lake."
Dauphinais said even little actions make a difference, such as picking up your pet waste and not over-watering or over-fertilizing your lawn. If you want to be even more proactive, you could volunteer to adopt a storm drain at adopt-a-drain.org.