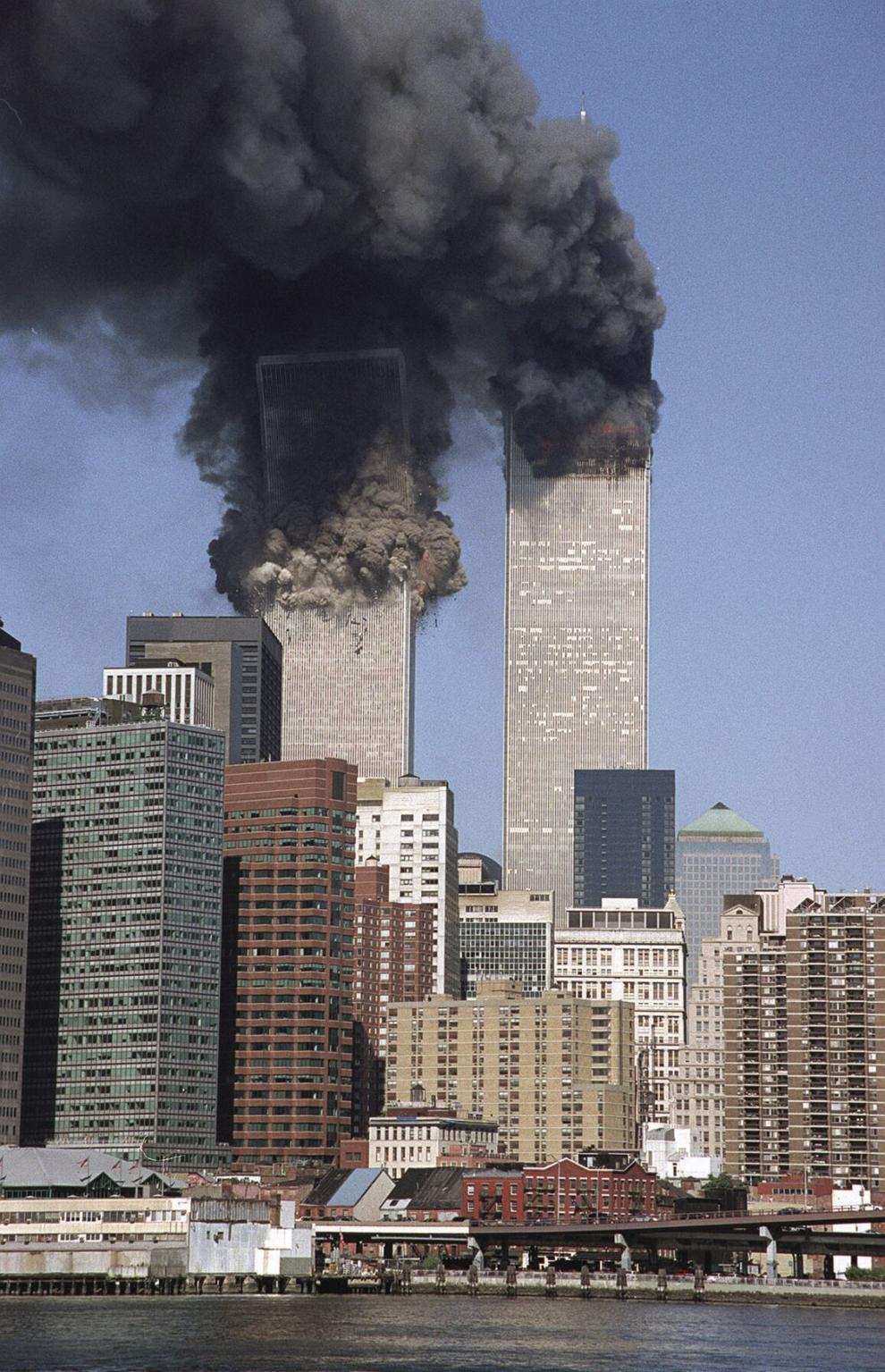 A loud crash from above. Was it another bombing?
It sounded like he was under a bowling alley.
The whole building shook.
He grabbed the railing for support before continuing to descend the stairwell to evacuate the building.
Kent Rehm didn't know it yet, but United Airlines Flight 175 had just struck the south tower of the World Trade Center seventeen minutes after the north tower was hit by American Airlines Flight 11.
Saturday marks 20 years since the Coon Rapids resident survived the attacks that changed America on Tuesday, Sept. 11, 2001, which he experienced from the 61st floor of the south tower of the World Trade Center. For the 20th anniversary of 9/11, Rehm is reflecting on his experience.
"It was a very traumatic experience," Rehm said. "I feel grateful that I survived."
Kent Rehm arrives in New York City
Rehm, 62, has lived in Anoka County for more than 30 years. He and his wife, Karen, have three adult daughters, who are all graduates of the Anoka-Hennepin School District.
In the summer of 2001 Rehm, then 42, had recently been hired as a financial adviser at Morgan Stanley Dean Witter & Co.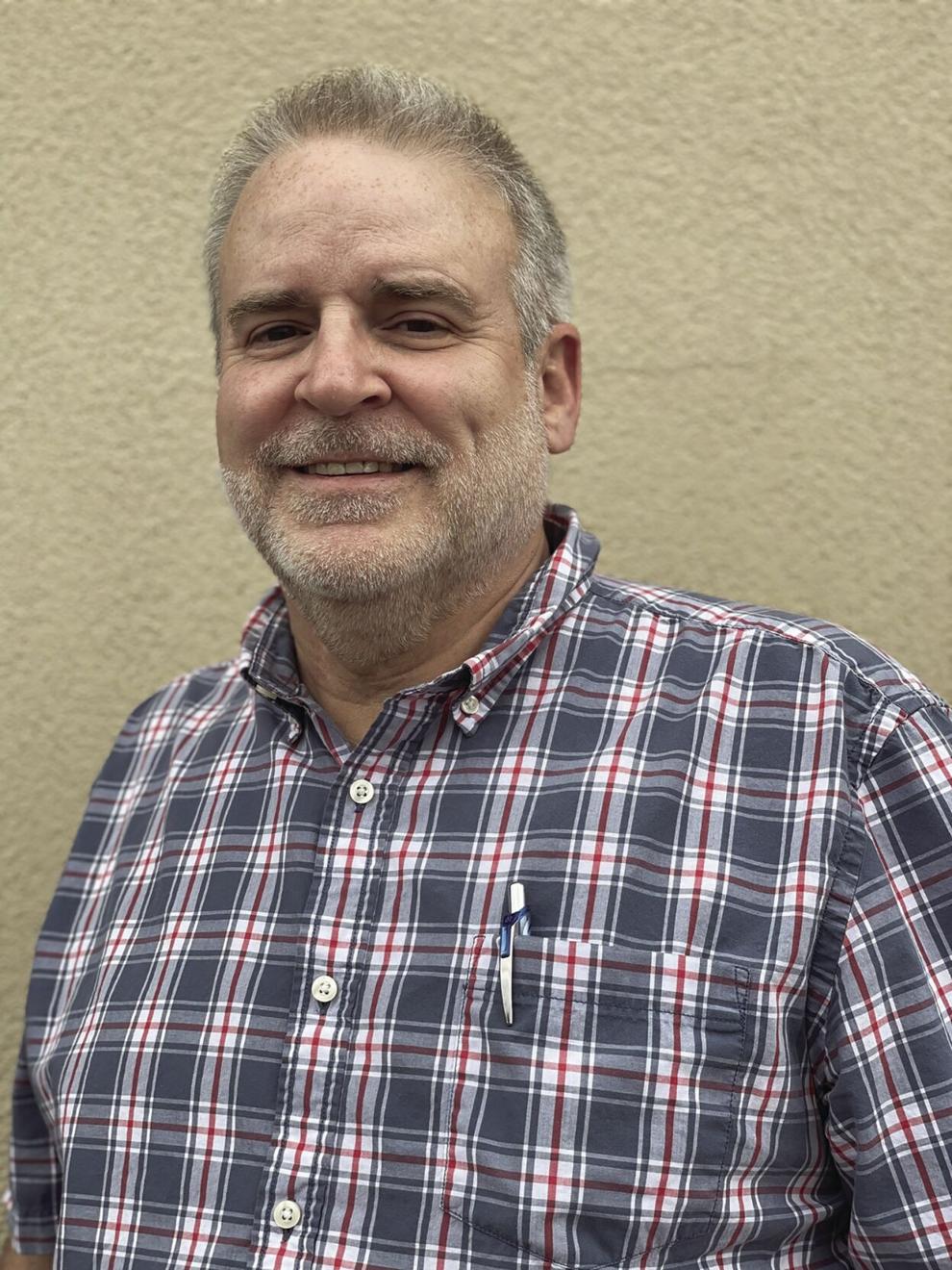 Rehm traveled to New York City a few days before Tuesday, Sept. 11, 2001, to take part in training sessions at the Morgan Stanley offices in the World Trade Center. The company had more than 2,700 employees based on 22 floors in the south tower and 1,000 more in the 5 World Trade Center building, both of which collapsed in the attacks, according to the New York Times.
Rehm and a few other trainees, three of whom were from Minnesota, were set up in a hotel near Central Park in Midtown Manhattan. Other trainees stayed at various other hotels across the city.
On Sept. 10, Rehm started his training sessions in a conference room on the 61st floor of the south tower of the World Trade Center. His first recollections of the twin towers are that "they were huge and definitely stood out."
The training was supposed to last three weeks, Rehm said, but on the second day "all hell broke loose."
North tower attacked
Sept. 11, 2001, was "a nice sunny day," Rehm recalled.
"The night before it had been raining heavily," he said. "I always remember that because it was kind of ominous."
At 8:46 a.m. Eastern Time five hijackers from the militant Islamist terrorist group al-Qaida crashed American Airlines Flight 11 into the 110-story north tower of the World Trade Center between floors 93 and 99.
Training started early on 9/11, Rehm said, and his group was on a break when the north tower was hit.
"We were on break so a lot of people had cleared out of the building," he said. "They were off getting a cup of coffee. The smokers had literally gotten in the elevator right away and gone downstairs, so there were some people in my group from the 61st floor on the ground level having a cigarette — so people were kind of all over the place. I was still in the classroom, killing time when the plane hit [the north tower]."
"I could hear the plane hit [the north tower], and you could see a lot of paper flying through the air, on fire, floating down," Rehm said.
He described the sound of the impact as "an air-conditioner grinding to a halt."
Rehm didn't see the plane hit the north tower and believed a bomb had gone off. He remembered the 1993 attack on the World Trade Center, when a truck bomb was detonated in the underground level beneath the north tower, killing six people and injuring more than 1,000. The bomb knocked out the World Trade Center's emergency lighting system and filled stairwells with smoke, making it difficult to evacuate, according to the National Commission on Terrorist Attacks upon the United States.
After the 1993 attack, substantial enhancements were made to power sources and exits. Fluorescent signs and markings were added in and near stairwells — all of which would prove useful for people evacuating the twin towers on 9/11.
According to the New York Times, Morgan Stanley was the largest tenant in the World Trade Center, and after the 1993 bombing it updated its evacuation plans, which apparently helped save many employees' lives on 9/11. The company's director of security, Rick Rescorla — who was a former British Army paratrooper and U.S. commissioned officer during the Vietnam War — developed the evacuation plan and required employees to practice it over and over again.
Rehm said one of the mantras for Morgan Stanley was, "Evacuate, and get out!" Not long after the north tower was hit on Sept. 11, Rehm said, an announcement came on the PA system on to evacuate.
After hearing the announcement, Rehm immediately exited the conference room and headed toward the stairwell, he said.
"I was fortunate," Rehm said. "I got to grab my handbag that I had with all of my papers. I had my wallet. Some people ended up with nothing. I remember one guy in my group didn't have a wallet, so people were handing him cash to get through. It was all chaotic."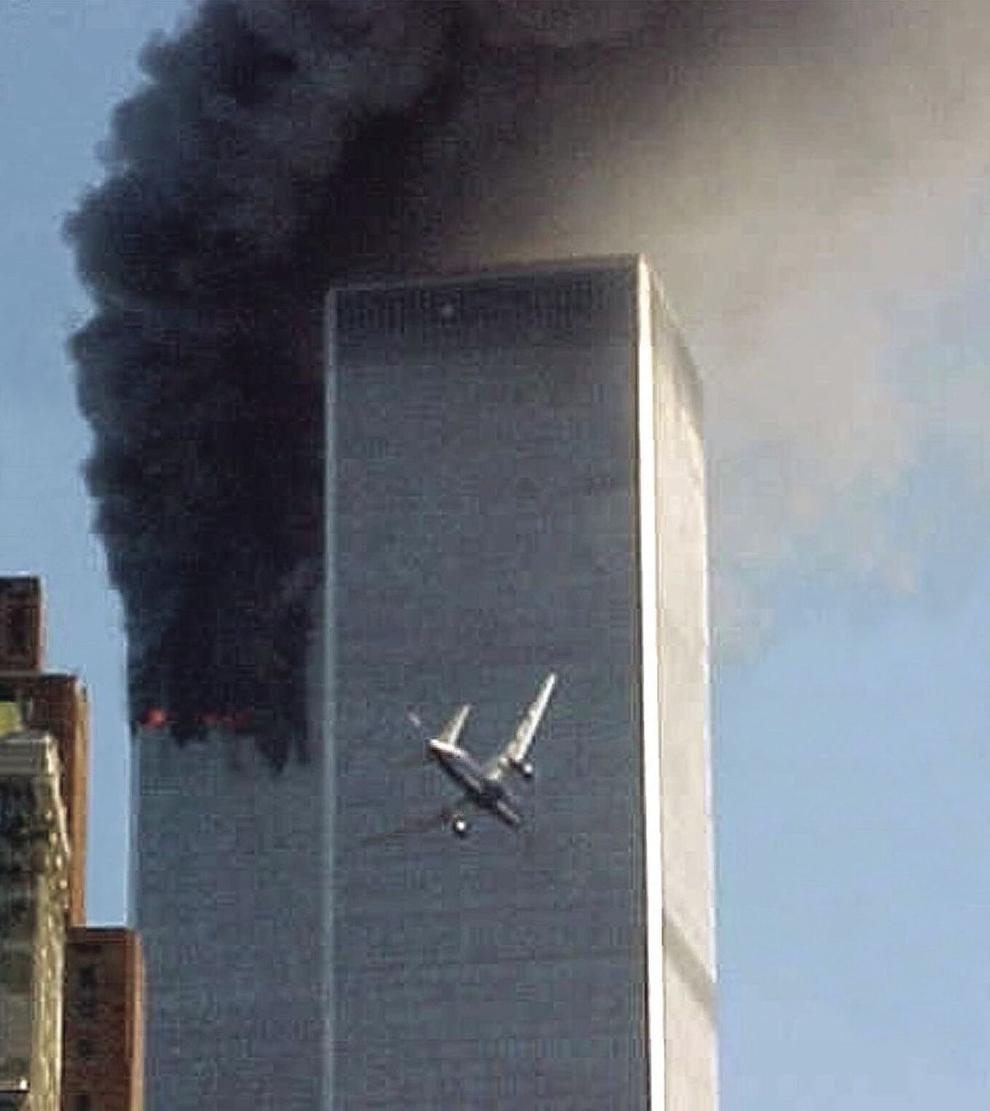 South tower attacked
Seventeen minutes after the north tower was hit, five al-Qaida terrorists crashed United Airlines Flight 175 into the 110-story south tower of the World Trade Center between floors 77 and 85 at 9:03 a.m.
"I was around the 20th floor when the second plane hit the [south tower]," Rehm said. "I've described it like being under a bowling alley — that's what it sounded like. You could hear the plane crash and the beams kind of ringing like they were the pins as the plane was hitting it. It was loud."
Rehm said the building shook on impact.
"I grabbed the rail and just kind of held on as it shook a little bit," he said.
The stairwell started filling with smoke, and it became more and more crowded, Rehm said. He said people were exiting in a single line, but when the plane hit the south tower the pace picked up, and double lines began to form.
"Everybody was on the stairwell, moving as fast as they could," Rehm said. "The stairwell was lit up, and people were jibber-jabbering. Everyone was speculating on what was going on. I wasn't with anybody because I didn't really have any friends or acquaintances that had been sitting in that room. I was kind of by myself at that time so everyone around me was kind of a stranger."
Rehm doesn't remember thinking about what caused the large noise above him in the south tower; he was focused on exiting the building.
"I can't really remember what more I thought of at that point," Rehm said. "Nobody at that point really knew what was going on. In those days I had a flip phone, so it's definitely not like today where you'd be able, in five minutes, to see on your cellphone what was going on."
While Rehm was in the stairwell, he said, the Port Authority issued an announcement on the public address system in the south tower to remain calm and for employees to stay in their offices or at their desks.
Morgan Stanley's Rescorla, who was on the 44th floor, ignored the Port Authority announcement and grabbed a bullhorn, walkie-talkie and cellphone and ordered all Morgan Stanley employees to evacuate, including the employees in 5 World Trade Center.
After successfully evacuating 2,700 employees, Rescorla went back into the south tower to help evacuate people. He was last seen on the 10th floor of the south tower when it collapsed at 9:59 a.m. His remains were never found.
Like Rescorla, Rehm ignored the Port Authority announcement, and so did most of the people on the stairwell, he said. He made it to the ground plaza level after walking up an escalator and saw firefighters directing people out of the building.
Rehm said he never encountered Rescorla during the evacuations because Rehm evacuated the south tower of his own accord. He later learned of Rescorla's actions.
Rehm didn't see anyone die during the attacks, but he said the three Minnesotans in his training group saw people crash to the ground after falling or jumping from higher levels of the south tower.
"Me, for whatever reason, I didn't see any of that," Rehm said, saying he was primarily focused on getting to safety. "I just saw a bunch of debris."
Rehm immediately walked away from the scene, but he took a few moments to look back.
"People were standing around looking," he said. "I stopped a few times and paused and looked, and then I turned around and kept walking."
Rehm said he headed to the closest subway station and got on one of the last subways before the trains were shut down due to the attacks. He traveled on the subway 60-70 blocks back to the hotel.
"I remember being in the subway talking to some guy, and I said, 'I think your workday is over today,'" Rehm said, saying the man was unaware of the attacks. "He was on his way to work, going north somewhere."
When Rehm arrived at his hotel, he turned on the TV in his room and saw what happened. He witnessed the south tower collapse at 9:59 a.m. and the north tower at 10:28 a.m. on television with the rest of America.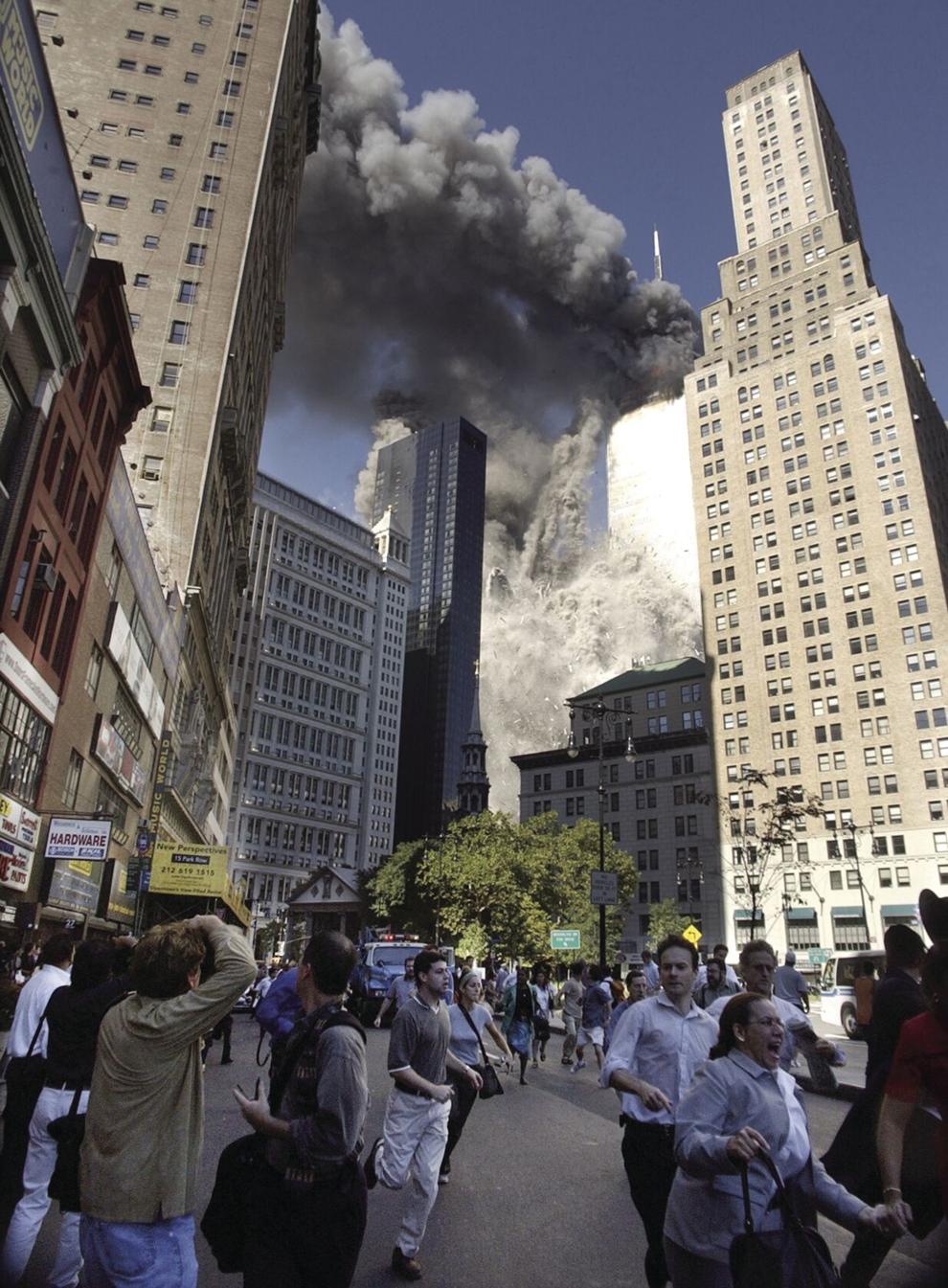 A call filled with relief
On the morning of Sept. 11, 2001, Karen Rehm was getting her three daughters (Rebecca, 8, Katie, 6, and Andrea, 4) ready for school in the Rehms' Coon Rapids home when she received a call from a girlfriend.
"Are you watching the news?" the friend asked.
"No," Karen responded, "I'm not watching the news. Why?"
"Well, a plane just crashed into the World Trade Center," the friend said. "Isn't that where Kent is?"
Karen said she knew her husband, Kent Rehm, was in New York City but didn't know where his training sessions were taking place.
The friend said her husband told her that Kent was doing his training seminars at the World Trade Center.
"Initially when I started having children, I was a little worried about losing my husband because I love him, and I wanted him around to raise these children with me," Karen said. "My initial reaction was, 'This is it,' and my second response was I had this super feeling of calm come over me right after that thought, and I thought, 'Oh this is going to be okay. He's going to be okay.' I believe that was God comforting me."
Karen ended the call with her girlfriend, brought her kids to their school bus and tried calling Kent's hotel room, but there was no answer.
"Sending my kids off to school was weird, because I didn't want to scare them," Karen said. "They were just elementary school kids. It was a very strange morning."
Karen said she waited by the phone for a call from her husband.
In Midtown Manhattan, Kent went down to the plaza of his hotel to use a pay phone because his cellphone wouldn't go through. Shortly after the south tower fell, Kent said, he tried calling his wife a few times on the pay phone, and eventually he got through.
Karen said she felt "extreme relief and thankfulness" after receiving a call from her husband, who told her he was OK.
Karen kept the call brief because she remembered people have a difficult time getting phone calls to go through during a national emergency, because the phone lines are too busy.
"I know you're OK," Karen told her husband. "Stay where you're at. Let's get off the line so other people can connect with their loved ones."
Karen said she called her children's school, Morris Bye Elementary School, in Coon Rapids, and a secretary at the elementary school pulled Karen's daughters out of class to tell them their father was safe, because they knew he was in New York City.
Kent and Karen went back to their televisions and continued watching the news coverage.
Kent later reconnected with members of his training group, who were staying at his hotel. Everyone in his group made it out alive.
Kent said a couple of days later he experienced overwhelming body aches and pains.
"My body hurt so bad from the adrenaline," Rehm said. "I was in intense pain throughout my body. In hindsight, my adrenaline must've been in overdrive as I was exiting the building."
The aftermath
After the twin towers were attacked, five al-Qaida terrorists flew American Airlines Flight 77 into the west side of the Pentagon in Arlington County, Virginia, at 9:37 a.m., causing a partial collapse of the building's side.
Four al-Qaida terrorists also took control of United Airlines Flight 93 and flew it in the direction of Washington, D.C. The passengers of the plane, including Bloomington resident Tom Burnett, overpowered the hijackers and tried to take control of the plane, but ultimately it crashed in a field in Shanksville, Pennsylvania, at 10:03 a.m. It was the only plane not to reach its target. Investigators believe the target was either the White House or the United States Capitol.
During the attacks, 2,977 people were killed, 19 hijackers committed murder-suicide, and more than 6,000 people were injured. The death toll included 265 passengers on the four planes, 2,606 people in the twin towers and the surrounding area, and 125 workers at the Pentagon. There were a total of 2,507 civilian casualties, and 343 firefighters, 72 law enforcement officers and 55 military personnel were killed.
Seven Minnesotans died in the attacks, including Burnett, 38, who was on United Airlines Flight 93, and Gary Koecheler, 57, and Gordy Aamoth Jr., 32, who were in the twin towers when they collapsed.
Many people also became sick or died from 9/11-related injuries and illnesses after being exposed to hazards and toxins that day. As of June 2021, the U.S. government's World Trade Center Health Program has a total of 112,042 people registered as potentially vulnerable of being at risk of health effects from dust inhalation. An official death toll of 9/11-related illnesses is unknown, but Mount Sinai Health System estimates there have been over 2,000 deaths.
Osama bin Laden, the founder of al-Qaida and the mastermind behind 9/11, said the attacks were motivated by Western support of attacks against Muslims, U.S. support for Israel, the presence of U.S. troops in Saudi Arabia, and sanctions against Iraq.
On May 2, 2011, the U.S. Navy's SEAL Team 6 shot and killed Osama bin Laden inside a private residential compound in Abbottabad, Pakistan.
"I was glad of that," Kent Rehm said of bin Laden's death. "It's why we were over there. It took a while to get him."
Reflection on 9/11
Kent Rehm said he eventually received the financial training he was supposed to get on Sept. 11, but he only spent a year at Morgan Stanley. Since then he has done various jobs including, most recently, working as a sales representative for Comcast for 13 years, he said.
Kent said he felt anger and confusion about why the attacks occurred.
"As far as people go, they have a capacity for evil," he said. "It's hard to understand why they would want to do mass destruction of people and property. ... People go crazy at times. Sometimes individuals go off track, but as far as a group, they're way out there. It's hard for our society, or Western thought, to think why they would even want to that. It's senseless."
Kent feels disappointment seeing the Taliban now in control of Afghanistan. According to CNN, the Taliban continues to have strong relations with al-Qaida.
"In Afghanistan now, it continues to be a big mess," Kent said. "I'm shaking my head like, 'how can this be?' We'll have to raise our guards again if people want to destroy the West again."
Karen Rehm said that every year she takes the anniversary of 9/11 off work because the day is still emotional for her.
"That day, and every year since then, it has always been kind of weird, because I'm thankful my husband came home to me, but there are so many people whose husbands didn't come home to them," she said.
Karen believes her husband suffered from survivor's guilt in the wake of the attack and said he rarely spoke about what happened.
"I think it was very rough for my husband for a bit," she said. "I don't think he'd say he has survivor's guilt, but I feel like maybe he did. I think it was hard for him, like, 'Why did I make it out alive from there when so many others didn't?' and 'I wish I could've helped more.'"
For the 20th anniversary, Karen and Kent Rehm said they'll both reflect on the 9/11 attacks and pay homage to those who perished.
Originally, Kent had planned to take a trip to New York City, where he was hoping to visit and pay his respects at the National September 11 Memorial and Museum. Unfortunately he had to cancel due to the COVID-19 pandemic. He hopes to visit the site in the near future.