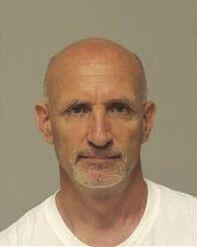 A Blaine man has been charged after he allegedly left a phone message for Gov. Tim Walz stating he'd like to kill him and burn his body.
Shawn Peter Simonson, 51, was charged by warrant with one felony count of threats of violence. If sentenced he could face up to five years in prison or a $10,000 fine, or both.
Simonson's warrant was cleared when he was arrested Aug. 29 and placed in the Anoka County Jail. He was released Aug. 31. Bail was set at $30,000.
According to the criminal complaint, Minnesota state troopers were requested to investigate a threatening message that was left on Walz's public phone reception line at 3:01 p.m. Sunday, Aug. 2, at the Minnesota State Capitol in St. Paul.
The male caller expressed discontent that Walz endorsed U.S. Rep. Ilhan Omar (CD-5) for reelection, and for his approval of purchasing the Bix Produce Co.'s former cold storage facility in St. Paul for $6.9 million to be used as an emergency morgue warehouse to store bodies of COVID-19 victims.
The message on the voicemail was as follows: "So you just endorsed Omar? The one that married her brother so he could become a citizen. You're a f***-tard. Let me tell you something about that $6 million building you bought, that refrigerated building that you bought that is standing empty. Your f****** dead body is going to be the only body in that building. We're gonna put your dead body in that building and then we're gonna burn it down. F***-face."
The Minnesota State Patrol sent the phone number the message was left under to the Bureau of Criminal Apprehension Fusion Center. The phone number was listed under Simonson.
On Aug. 4, a trooper called the phone number twice and a male, who was later identified as Simonson, answered on the second attempt. The trooper told Simonson he was investigating a message left on Walz's phone reception line.
Simonson allegedly said he recalled leaving the voice message and acknowledged he was the one who left it, according to the criminal complaint.
Simonson allegedly apologized and claimed to the trooper, "I wasn't thinking straight when I said those stupid things," and that he was sick that day.
Simonson also claimed he was "no threat," and that he's "frustrated about the virus and the riots."
Simonson also said he feels he isn't allowed to voice his opinion on Facebook, because he's banned when he does.
The trooper then asked for the man's name, date of birth and address. Simonson then identified himself.
Simonson said he had called Walz's office when the shelter-in-place order started in April. After the April phone call, he met with a state trooper and a Blaine police officer where he said he wasn't a threat and that he needed to work on his anger management, according to the criminal complaint.