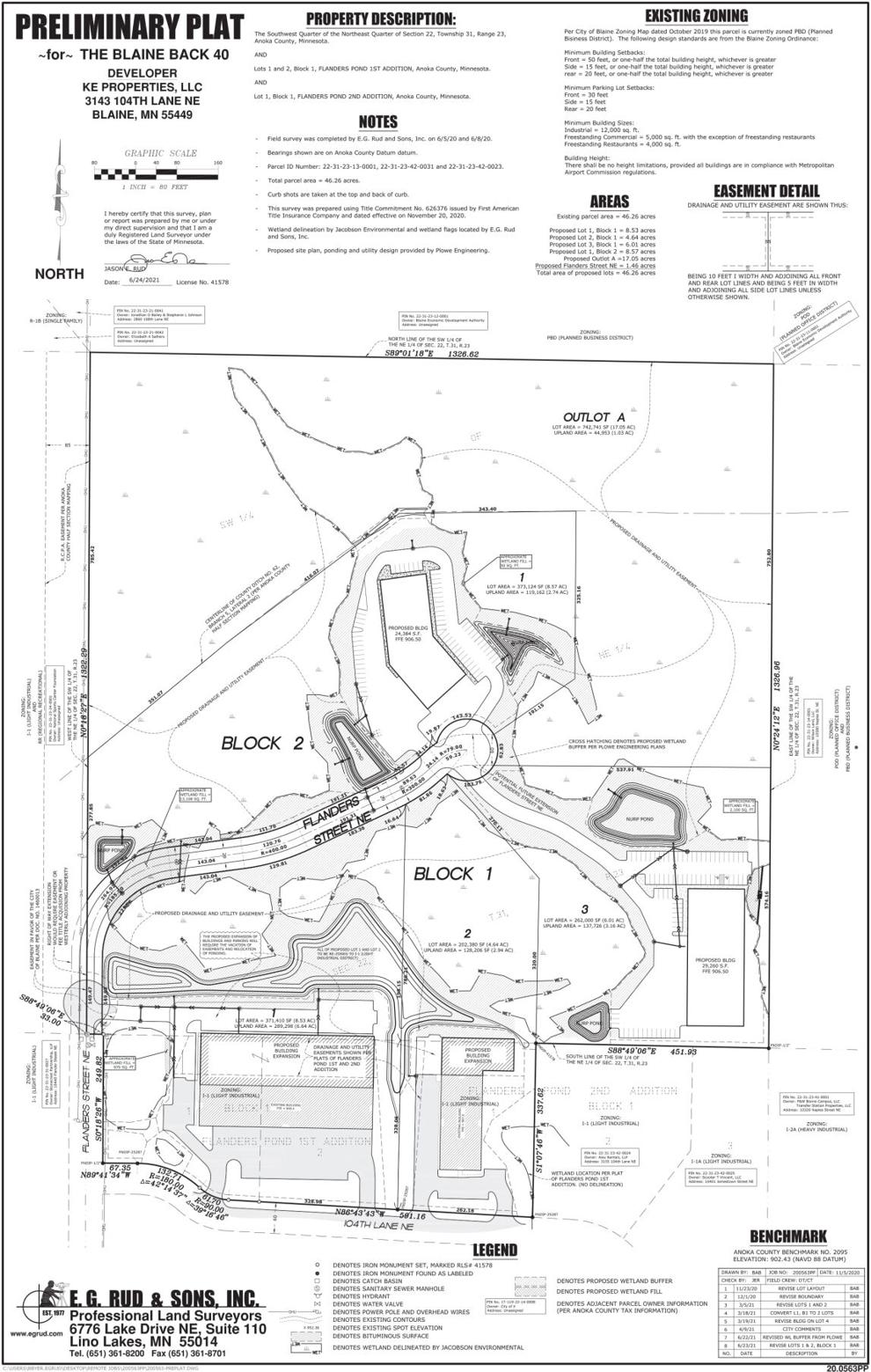 Blaine will get two new industrial buildings on the northern edge of the city.
Aerojet LLC, a Blaine company located at 3143 104th Lane NE that provides water-jet cutting services, is planning to construct the two buildings for office space, manufacturing and/or warehousing, Community Development Director Erik Thorvig told the City Council Monday, Oct. 18.
The buildings will sit on a 46.3-acre property near the intersection of 104th Lane and Flanders Street NE.
The first industrial building, located on the southeastern side of the property, will be 29,260 square feet, Thorvig said. It will be called The Blaine Back 40.
The second industrial building, located on the northern side of the property, will be approximately 24,284 square feet.
Dave Erickson, a representative for Aerojet and a former partial owner and former president of Aerofab, told the Blaine Planning Commission Sept. 14 that for 10 years he has owned the property where the two industrial buildings will be located. 
Erickson does also have partial ownership of a building that Aerofab leases at 3023 104th Lane NE, Blaine, which is located south of where the two new buildings will be located. 
Erickson said the new buildings may or may not be used by either Aerojet or Aero Fab, which does metal fabrication work. Instead, he said, the buildings will likely be built to lease, given the growing need for manufacturing space in the north metro.
A new roadway will be constructed on the property for access to the two lots.
The northern side of the property is primary wetland and cannot be developed, but other portions of the property are suitable for future development, Thorvig said.
The Blaine City Council Oct. 18 unanimously approved rezoning two smaller parcels on the southern portion of the property, from planned business district to light industrial.
In addition, the City Council unanimously approved a preliminary plat to subdivide the property into four lots, with one outlot to be known as The Blaine Back 40.
Construction on the two industrial buildings is planned to begin this fall or possibly next spring, according to Shawn Kayne, Blaine's associate planner.